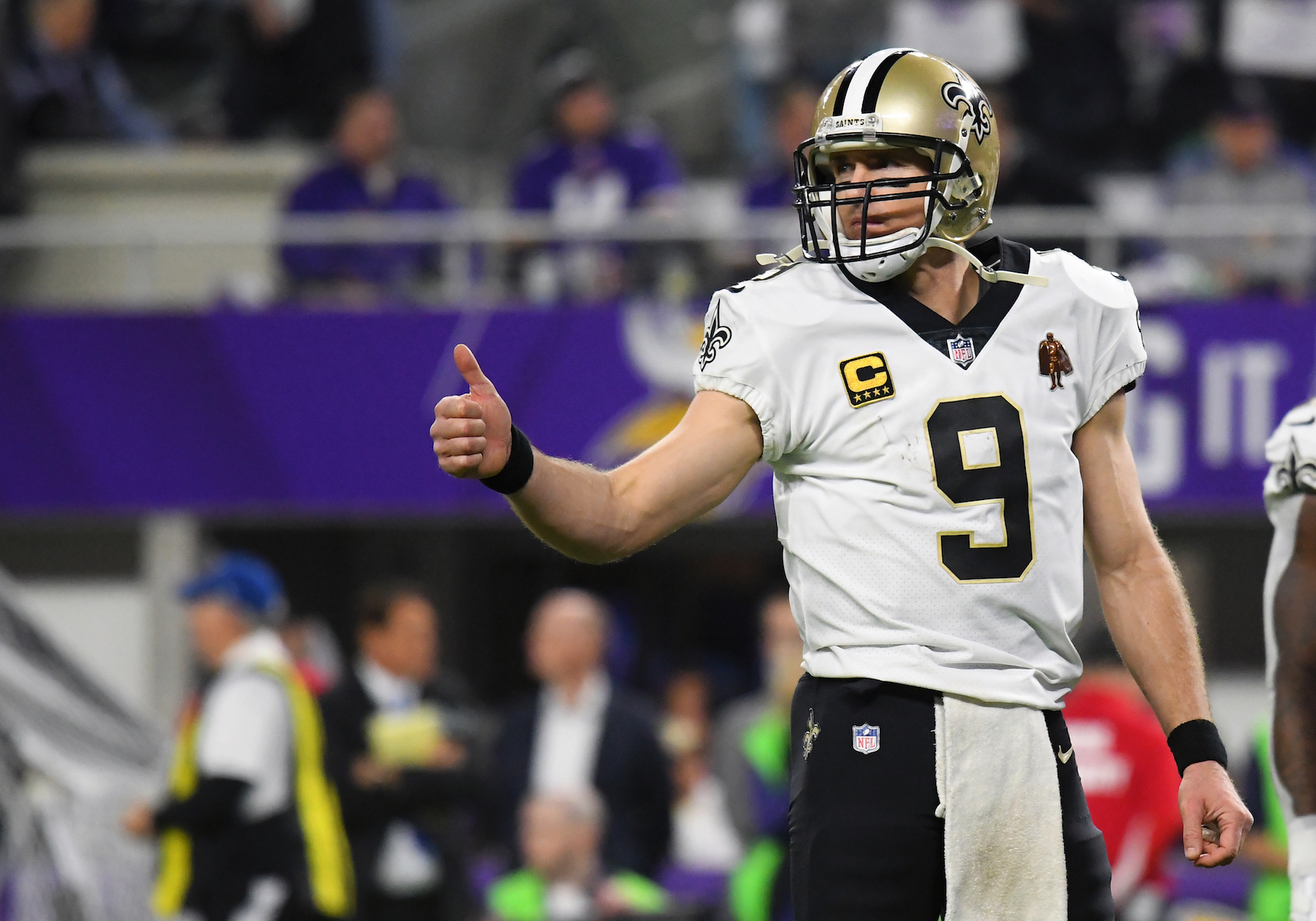 Drew Brees' Injury Update Will Have New Orleans Saints Fans Breathing a Sigh of Relief
While Drew Brees' injury had some New Orleans Saints fans fearing the worst, the quarterback shared some encouraging news on social media.
As any longtime fan can tell you, injuries are simply an unfortunate part of sports. In one moment, your favorite team is cruising along, looking like one of the top teams in the league; in the next, a star player goes down, raining on your (admittedly premature) championship parade. That's the experience New Orleans Saints fans had on Sunday after Drew Brees left the game with a rib injury.
While the prognosis initially looked grim, Drew Brees himself has since taken to social media to share his perspective on the injury. Although the quarterback probably isn't breathing too easily right now, his message will have New Orleans Saints fans everywhere letting out their own sigh of relief.
Drew Brees is still going strong at age 41
These days, it's not exactly groundbreaking to say that Drew Brees is an elite offensive player. The quarterback, however, has had to prove plenty of doubters wrong during his career.
Coming out of high school, Brees was deemed too small to play quarterback for a powerhouse program; he made his way to Purdue, where he posted eye-popping offensive numbers. At the 2001 NFL draft, teams still couldn't look past his height, and Brees slipped into the second round.
While life in the NFL didn't get easier—Brees got his start in San Diego before suffering a career-threatening injury—the quarterback eventually found a home with New Orleans Saints. What initially seemed like a marriage of convenience has turned into a match made in heaven.
In the Big Easy, Brees has started 225 games over 15 seasons, throwing for 485 touchdowns and more than 67,000 yards; he also won a Super Bowl title along the way. While time waits for no man, the quarterback is still going strong at 41-years old and has the Saints sitting atop the NFC South.
Suffering a brutal injury blow in Week 10
On the whole, the 2020 NFL season has been going pretty well for the New Orleans Saints; despite some Michael Thomas-related drama, the team is playing well and looking poised for another playoff run. On Sunday, however, an injury potentially complicated things.
In the second quarter of the Saints' victory over the San Francisco 49ers, Drew Brees absorbed a crunching sack from Kentavius Street. While the half finished without a hitch, the quarterback removed himself from the game.
While initial suspicions were that Brees had suffered a minor injury that impacted his range of motion, an MRI revealed that he had fractures on both sides of his rib cage and a punctured lung. It's not clear how long he'll spend on the sidelines but no team, let alone one trying to hold onto the top spot in their division, wants to be without their starting quarterback for any length of time.
Drew Brees provided an update that should have Saints fans breathing easier
It doesn't take a medical degree to know that broken ribs and a punctured lung aren't ideal for anyone, let alone a 41-year-old football player. On Monday, however, Drew Brees took to social media to share a more positive update on his injury.
The quarterback shared an image of himself being 'examined' by his three children and their toy doctor's gear. He added the caption, "Who Dat Nation: I've got the best medical team in the world…will be back in no time!"
While it's easy to cynically suggest that Brees is just playing the public relations game and putting on a happy face for the cameras, Saints fans will be encouraged by the quarterback's message. Even if he doesn't return in no time,' the fact that he's already thinking about getting back in action seems like a positive sign.
Looking at the Saints' upcoming schedule, there's a fairly easy stretch of games on the cards: New Orleans will face the Atlanta Falcons twice, along with the Philadelphia Eagles and the Denver Broncos, in the next four weeks. In theory, they should be able to win those games without Brees, letting him recover for the home stretch and the playoffs.
When a star player suffers an injury, fans will cling to any hint of positivity, hoping things won't be as bad as they seem. Drew Brees threw New Orleans Saints fans that exact lifeline on Monday.
Stats courtesy of Pro-Football-Reference