Drew Brees Is About to Wage an Unwinnable War With Donald Trump
Add a public war of words between New Orleans Saints quarterback Drew Brees and President Donald Trump to the strange year known as 2020.
After Brees recently apologized for his beliefs that players shouldn't kneel for the anthem, Trump criticized the longtime Saints star on Twitter. Brees responded to Trump, this time on Instagram.
By publicly responding to Trump, Brees may have just entered an unwinnable war with the President.
Drew Brees landed in hot water over the national anthem
RELATED: Shannon Sharpe Says Retirement is Drew Brees' Best Option After Losing Teammates' Respect
The 2020 season is four years since Colin Kaepernick first knelt during the national anthem. Kaepernick explained at the time, and has since, he did so to protest racial injustice, police brutality, and social inequality.
Drew Brees didn't agree with that idea, even all of these years later. In a recent interview, Brees said he will "never agree with anyone disrespecting the flag of the United States of America or our country."
Many other athletes, including some of Brees' Saints teammates, openly criticized the future Hall of Fame quarterback. Brees issued two separate apologies and said he made "insensitive" comments.
Saints receiver Michael Thomas was among those who publicly accepted Brees' apology.
Donald Trump joined the anthem conversation and criticized Brees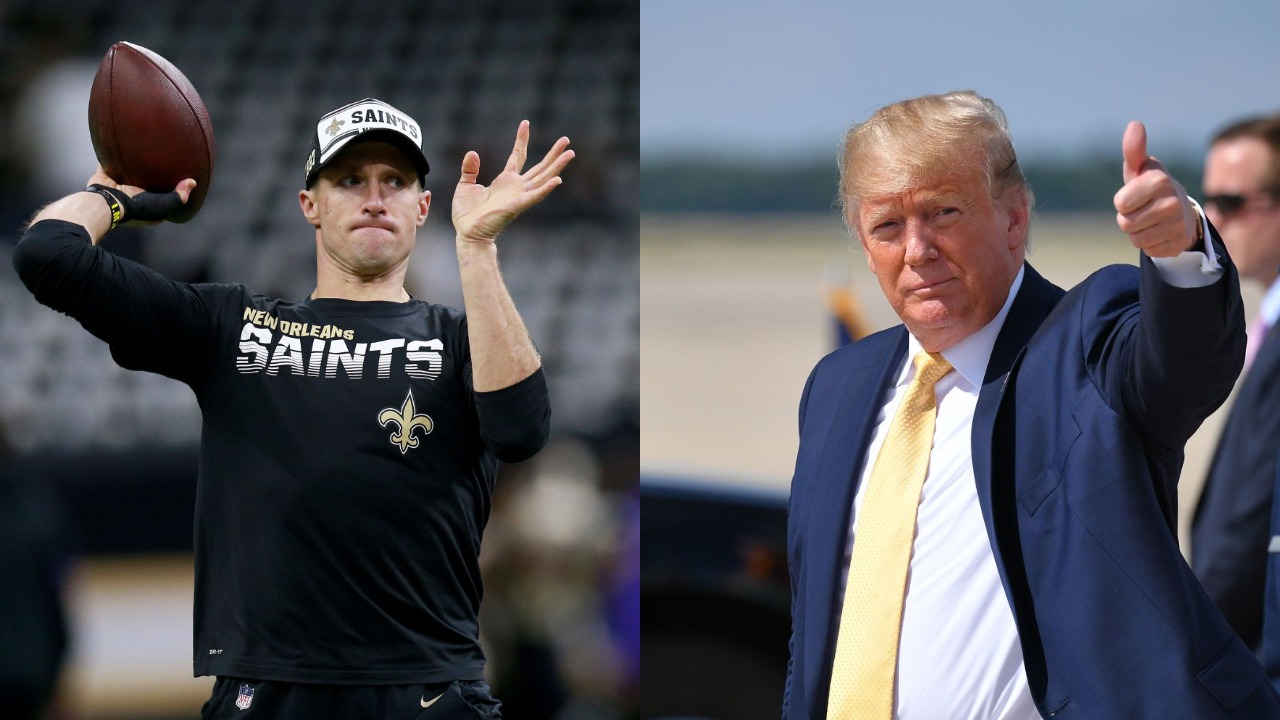 RELATED: Drew Brees May Have Cost Himself NBC Sports Job With Insensitive Comments
Donald Trump openly feuded with the NFL when and after Kaepernick knelt. Trump famously called Kaepernick a "son of a b—-" in 2017, months after the former NFC champion's final NFL down.
Now, Trump is back raging a war on NFL quarterbacks about the anthem.
Trump began a recent tweet by praising Brees — as a player. Trump said he is a "big fan" of Brees, who is the NFL's all-time leader in passing yards and passing touchdowns.
Drew Brees' on-field accolades weren't enough to spare him from Trump's ire. Trump wrote Brees should "not have taken back his original stance on honoring our magnificent American Flag."
In a follow-up tweet, Trump added there should be "NO KNEELING" for the national anthem or the flag.
Drew Brees' response may have set up a battle with Donald Trump
RELATED: Fantasy Football 2020: Drew Brees Was Already a Risky QB1 Option Even Before Controversial Comments
Drew Brees could have let sleeping dogs lie and not respond to Donald Trump. He instead chose a different path.
Brees posted an Instagram picture with three words: "To President Trump." Brees tagged Trump in a comment and said he realized the issue at hand wasn't about the American flag.
"We must stop talking about the flag and shift our attention to the real issues of systemic racial injustice, economic oppression, police brutality, and judicial & prison reform."
The post received nearly 200,000 likes as of early June 6, 2020.
Drew Brees showed incredible maturity in acknowledging he misspoke and vowing to change. But publicly challenging Trump is a decision he and the NFL may soon regret.
The NFL saw first hand in 2016 and 2017 what happened when Trump ripped the league. Ratings went down and the league took various public relation hits.
Donald Trump is up for re-election in November. All three presidential debates are scheduled to be held after the NFL season begins in early-September.
The NFL cannot afford another year of fighting Trump over the anthem. Trump is persistent in what is on his mind, whether it's in speeches or through Twitter.
The NFL has enough problems on its hands to potentially endure months of Trump ripping the league and Brees over the anthem.
Donald Trump takes all challengers and it appears Drew Brees, who for years did no wrong, is his next foe.