Drew Brees Once Showed His Teammates He Knew How to 'Let His Hair Down' by Using 'Grey Goose' and a Cup of Ice: 'Vodka Is Just Running Down His Arm'
Throughout most of his NFL career, Drew Brees had a great image with the New Orleans Saints and San Diego Chargers. He seemed like a pretty likable guy who also worked hard, which resulted in him becoming one of the greatest quarterbacks to ever play. However, he did know how to have fun every once in a while.
In fact, one of Brees' former offensive linemen said the QB once showed some of his teammates he knew how to "let his hair down" by using a bottle of Grey Goose and a cup of ice.
Drew Brees and the New Orleans Saints were a solid team in 2006
After spending his first five years on the Chargers, Brees first played for the Saints in 2006 and had a spectacular season. He threw for an NFL-leading 4,418 yards to go with 26 touchdowns and 11 interceptions. This helped him earn Pro Bowl and first-team All-Pro honors.
Team-wise, Brees helped the Saints turn things around tremendously. The Saints went from going 3-13 in 2005 to going 10-6 in 2006 and making the playoffs.
Their offense was a key reason for their success that year, as it ranked fifth in the NFL with 25.8 points per game. Brees ultimately had some solid players around him like Deuce McAllister, Reggie Bush, Marques Colston, and Joe Horn.
Those guys, and a defense that allowed 20.1 points per game, helped New Orleans get the first-round bye in the playoffs that year due to a weaker NFC. In comparison, the No. 2 and No. 3 seeds in the NFC both had 10-6 records, while the No. 3 and No. 4 seeds in the AFC were both 12-4.
That wasn't Brees and the Saints' fault, though, and they used that bye week for team bonding.
The QB used vodka to prove he could have a good time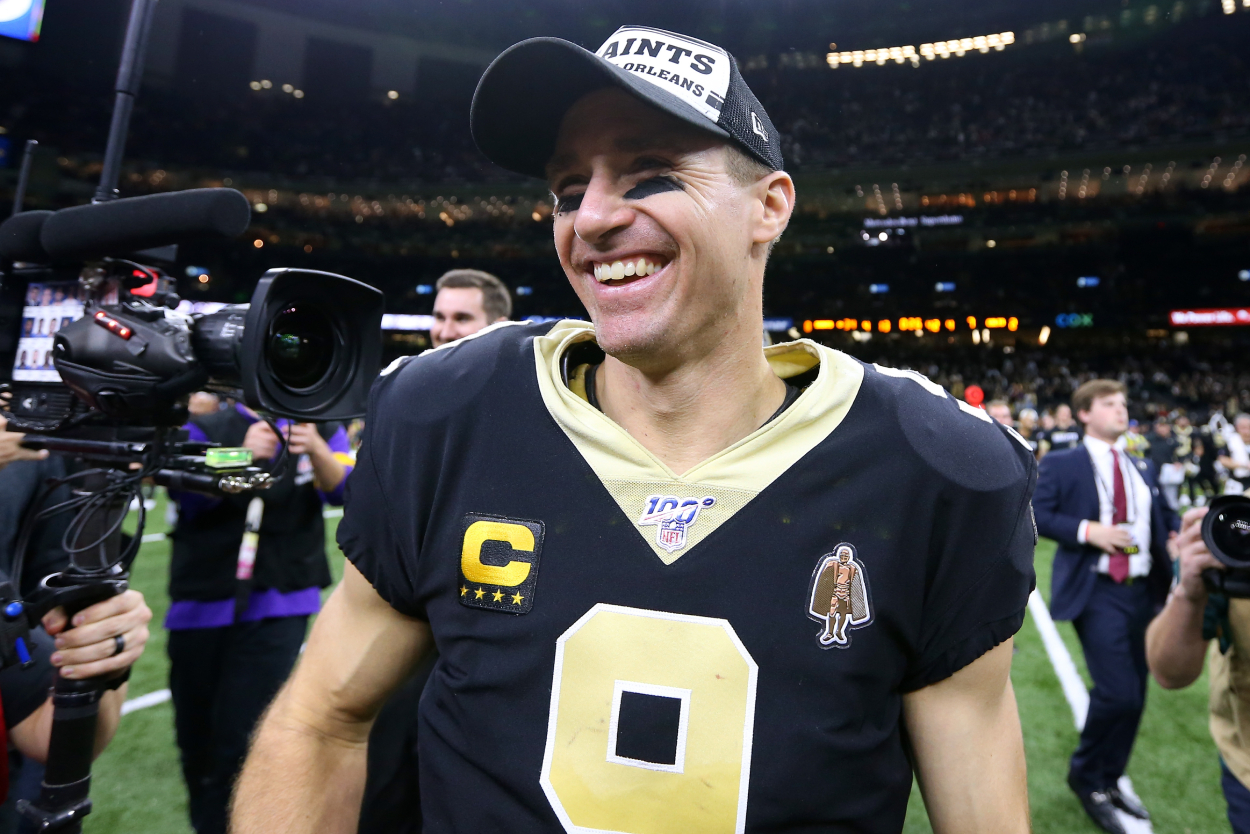 Zach Strief was an offensive lineman on the Saints from 2006 through 2017, and he became a consistent starter for New Orleans, only missing two games from 2013 through 2016. However, the 2006 season was his rookie year, and he was just a seventh-round pick.
In a piece by ESPN that celebrated Brees' 40th birthday in 2019, Strief discussed what the Saints did to have some fun during that bye week in 2006. It just so happened that it landed on New Year's Eve, too.
"Drew reserves a big section at the Republic [a trendy nightclub in New Orleans] — which is in and of itself something Drew would never normally do. And he invites anybody who wants to come," Strief said, according to ESPN.
Given that Strief was a rookie, he, obviously, decided he had to go. He said Brees had his brother, wife, and about 12 to 15 players and their girlfriends or wives out at the club.
At some point during the night while they were all having a good time, the quarterback decided he wanted to be "a stunt bartender."
"(He decides) he's gonna like show us all of the tricks he can do," Strief added. "Well, he can't do any of the tricks. And he decides at one point, we have this big bottle of Grey Goose, and Drew has a glass of ice in his left hand, and he's gonna hold this bottle over his head and he's gonna pour it into the glass over his head."
So, did Brees make it?
"The vodka is just running down his arm. Like, he comes up eight inches short. And he's got this really triumphant smile on his face like, 'Check this out.' … But he does in fact let his hair down occasionally," Strief said.
OK, so Brees has no future in bartending. Good thing he was plenty successful at his day job.
Drew Brees became an NFL legend with the Saints
With the Chargers, Brees had some decent years but had not proven to be one of the best quarterbacks in the league yet. He earned just one Pro Bowl selection in those five seasons in San Diego.
With the Saints, though, Brees became an NFL legend.
He ultimately earned 12 of his 13 Pro Bowl selections in New Orleans and led the NFL in passing yards a whopping seven times. Brees holds the second, fourth, fifth, sixth, and 11th spots on the most passing yards in a single season list, with his best coming in 2011 when he threw for 5,476. Brees also led the NFL in touchdown passes in four different seasons.
While all his individual success was great, Brees led the Saints to the Super Bowl during the 2009 season, and they beat Peyton Manning and the Indianapolis Colts, 31-17. He even won the Super Bowl MVP award.
Brees announced his retirement after the 2020 campaign. The future Hall of Famer finished his career with 80,358 passing yards (first all-time) and 571 passing touchdowns (second all-time).
Brees may not have been a great "stunt bartender," but he was tremendous as an NFL quarterback and proved to be one of the greatest to ever play the position.
Stats courtesy of Pro Football Reference