Drew Brees May Not Be Ready to Move On, But New Orleans Saints Fans Definitely Are
As Drew Brees stepped off the Superdome field after the New Orleans Saints' playoff defeat to the Tampa Bay Buccaneers, everyone awaited the inevitable announcement of his retirement. A workout video that surfaced earlier this week had us questioning whether or not Brees really has his mind made up. His fans, on the other hand, already have, and he probably doesn't want to hear what they have to say.
We may not have seen the last of Drew Brees
RELATED: Drew Brees Potentially Ruined the Hopes and Dreams of Saints Fans With His Extremely Consequential Decision
Despite the Saints' failure to win a Super Bowl, all signs seemed to point to Drew Brees' retirement. Earlier this month, according to NFL reporter Mike Triplett, he restructured his contract from $25 million to the veteran minimum of just over $1,000,000.
The last two years have shown that his window to win a second Super Bowl has almost completely shut. Across those seasons, he missed nine games due to multiple injuries. In the 15 seasons prior to 2019, he missed only four. During Brees' absences, Saints head coach Sean Payton has had ample time to test the capabilities of Taysom Hill and Jameis Winston, either of whom could serve as Brees' successor.
According to NFL reporter Ian Rapoport, Drew Brees will go on the reserve/retired list after June 1 due to cap reasons. It's more than likely that even if he does return for the 2021 season, it won't be in a Saints uniform.
Saints fans have moved on from Drew Brees
RELATED: Tom Brady Should Be Thrilled by Chris Godwin's Comments About His NFL Future
In the wake of the release of Brees' workout video, the Rich Eisen Show's Twitter polled Saints fans as to whether they even wanted him back as their quarterback for 2021. The final results, as you can see above, paint a grim picture.
To be fair, it is a Twitter poll. While it does specifically ask Saints fans for their vote, there's nothing stopping a fan of a rival team from giving their input. Still, these results don't look flattering for someone who was once considered a demi-god for an entire state.
Granted, he probably still is, and there may one day be a statue for him outside of the Superdome. But if he does plan on coming back to the Saints, it will create an awkward situation.
Why the Tom Brady comparisons don't work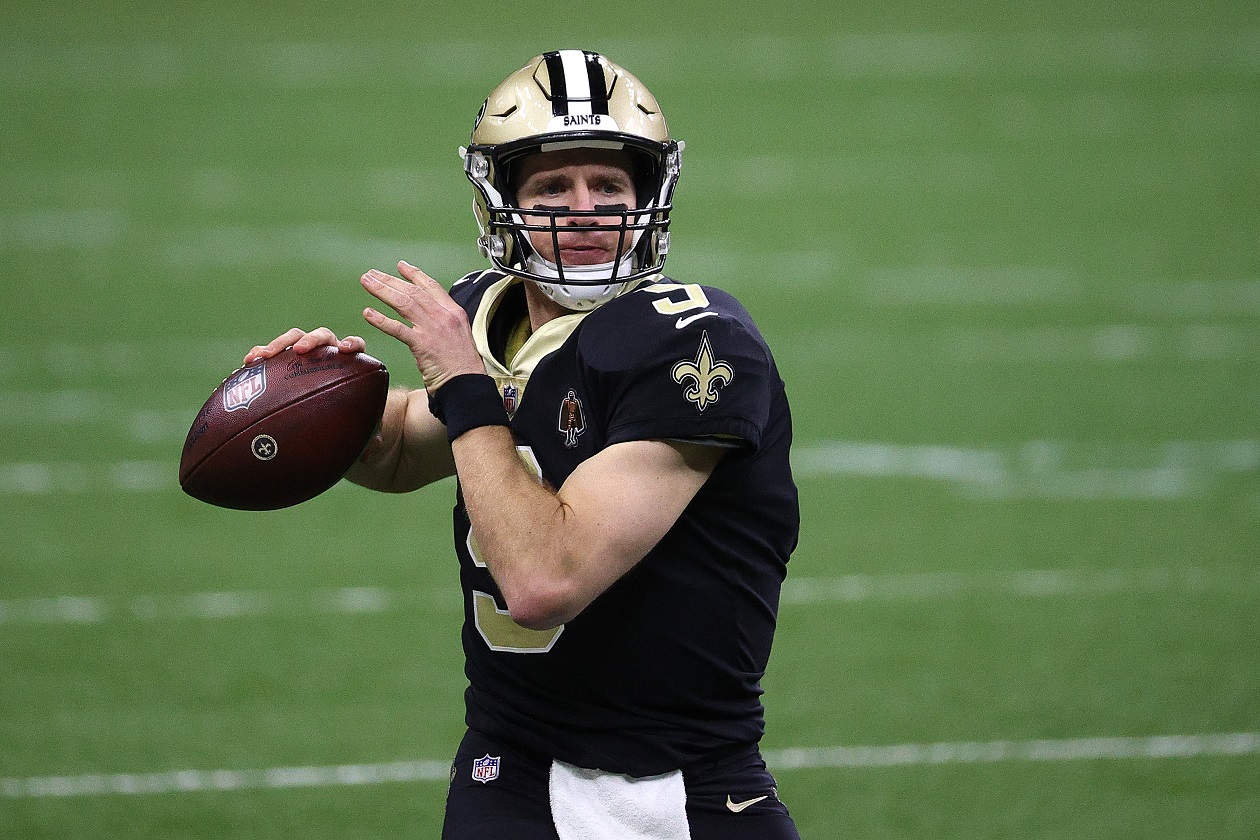 If Drew Brees does play one or two more seasons, the natural comparison is to Tom Brady. It's easy to forget now that he's just won his seventh Super Bowl, but Brady's final season with New England was below his usual standard. This led many, including other NFL teams, to believe he was past his prime.
This analogy doesn't quite work for Drew Brees. He holds the advantage over Brady in some career statistical categories (specifically, completion percentage and passing yards) but hasn't been able to get it done in the playoffs in recent years. And, again, Drew Brees' most recent game was a loss to Tom Brady.
Unlike previous playoff losses which one could argue were out of Brees' control, the loss to Tampa absolutely was. Brees threw three crucial interceptions, two of which led to touchdowns in the 30-20 loss to the Buccaneers. He finished with an abysmal quarterback rating of 38.1 for the day.
Brady had accomplished everything that could be done in New England and wanted a fresh start elsewhere. Brees may have hit a wall in New Orleans that he can't quite overcome.