Drew Brees Should Have the NFL on Notice After His Bold Proclamations About Justin Herbert
If you had any lingering doubts about Los Angeles Chargers quarterback Justin Herbert, let NFL legend Drew Brees ease your concerns.
During a recent media session, Brees offered praise about Herbert that should have the rest of the NFL on notice. 
Drew Brees said the 'sky's the limit' for Justin Herbert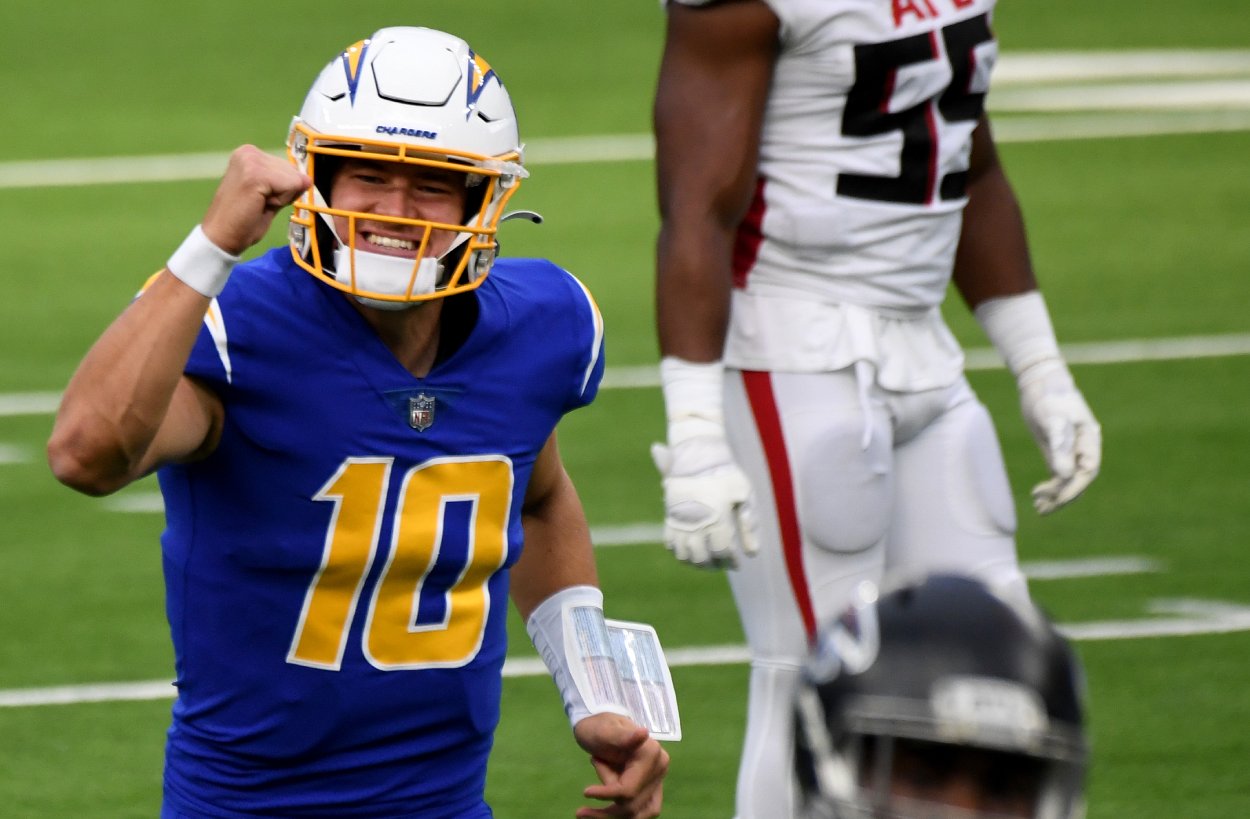 Drew Brees is jumping on the Justin Herbert bandwagon at the perfect time.
Brees, who retired earlier this year as the NFL's all-time leader in passing yards, recently spent time at the Los Angeles Chargers' minicamp. As he observed practice with the Chargers' ownership, the NFL legend gathered his thoughts about Herbert, the sixth overall pick in 2020. 
According to Sports Illustrated, Brees shared his thoughts with reporters. Chargers fans should be extremely excited after hearing and reading the future Pro Football Hall of Famer's analysis.
"I think [Herbert's] physical tools are as good as anybody I've ever seen. By all accounts, he's a great worker. He's got great leadership qualities; he's got a lot of intangibles. So I think the sky's the limit for a guy like him."

Drew Brees
Brees and Herbert faced one another on Monday Night Football last October. The Chargers' rookie threw four touchdowns and no interceptions in a 30-27 overtime loss to the Saints that night. 
Brees made a strong stand with his comments about Herbert
The Chargers drafted Brees in 2001, and he spent his first five seasons in sunny San Diego. Two decades later, his praising of Herbert only has so much to do with their shared roots.
People listen when Brees talks, and that's a major reason why NBC Sports hired him as an analyst before he even retired. He is a quarterback who saw it all and lived it all in a 20-season career.
Don't simply roll your eyes when Brees raves about Herbert's leadership and physical traits. Those two qualities allowed the former Saints star to become one of the most prolific quarterbacks in league history despite standing six feet tall.
This is not an instance of a recently-retired player providing safe answers to avoid controversy. When an all-time legend offers that level of praise, people understandably pay attention.
Herbert could enjoy a tremendous 2021 season if all goes to plan
Barring any injuries, Herbert should have plenty of opportunities to prove Brees correct during the 2021 season.
The Chargers will begin their season on Sunday, September 12, against the Washington Football Team on the road. Of the Chargers' first six games, only one — a September 19 matchup with the Dallas Cowboys — came against a team that had a losing record in 2020. The Cowboys, of course, are expected to have Dak Prescott in the starting lineup that day.
There is good news for the Chargers, however. They appear to have a bonafide franchise quarterback in Herbert, who set rookie records last season when he completed 396 passes and threw 31 touchdowns in 15 starts. His 4,336 yards narrowly trailed the 4,374 that Andrew Luck totaled as a rookie in 2012.
If Herbert lives up to Brees's expectations, don't be surprised to see the Chargers in the 2021 NFL playoffs. He has the skillset and traits to make his new mentor very proud.
Like Sportscasting on Facebook. Follow us on Twitter @sportscasting19.
RELATED: Tua Tagovailoa's Doubters Need to Remember What They Thought About Peyton Manning