Drew Brees: Proving the Critics Wrong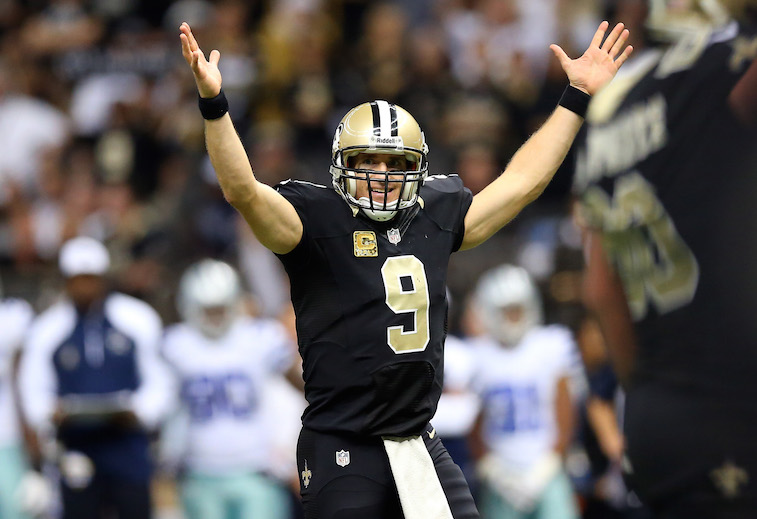 Drew Brees was born on January 15, 1979, in Austin, Texas. His parents welcomed his younger brother, Reid, into the world two years later, but they divorced just a few years after. Growing up in a split-home family, the Brees brothers became especially reliant on each other and their affinity for sports. Athleticism ran in the family, as their grandfather was a high school coaching legend in Texas and their uncle was a former Texas Longhorns quarterback.
Drew was no different, playing basketball, baseball, and football in high school. He likely could've gone pro in baseball, but chose to stick with his best sport: football. Brees led his high school team to a 28-0-1 record during his two years as a starting quarterback, winning the state championship both years. His senior season was particularly outstanding, as he threw 31 touchdown passes.
But Brees wasn't highly recruited by the bigger schools, prompting him to take a scholarship at Purdue, in large part because of their outstanding academics. It was at Purdue that Brees really caught the eye of several NFL teams and vaulted himself into the national conversation.
Purdue and the NFL Draft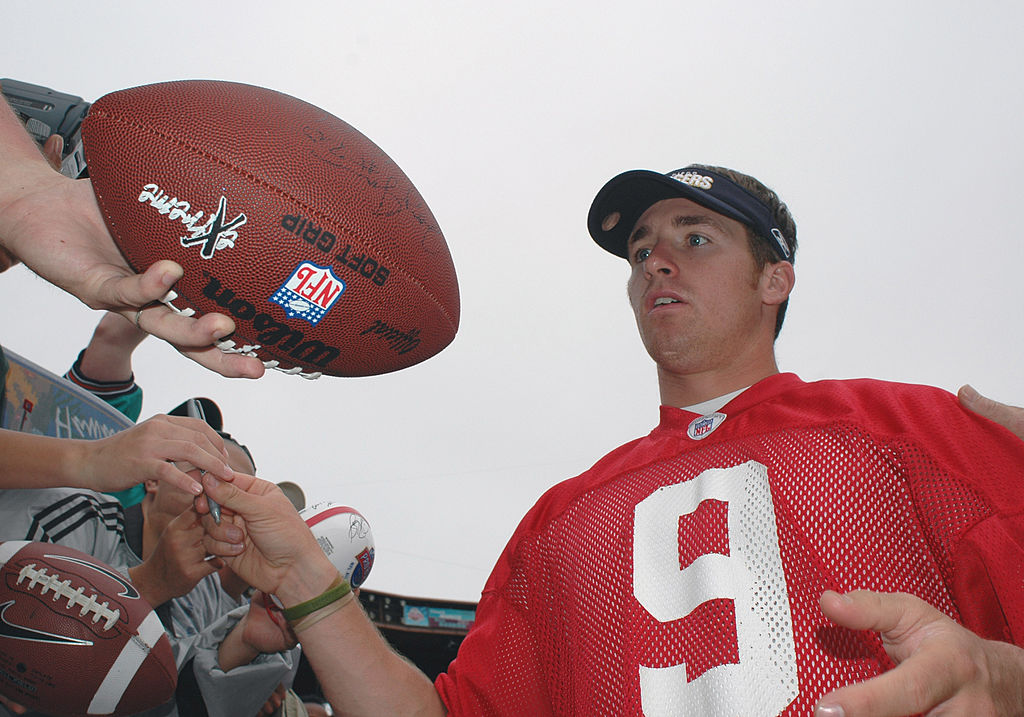 After barely getting into the action as a freshman in 1997, Brees moved into the starting role during his sophomore season at Purdue. Over his next three seasons, Brees would be magnificent. He led the Big Ten Conference in completions and passing yards each year, and was number one in completion percentage in 1998.
As a sophomore, Brees led Purdue to a 9-4 record, including a victory in the Alamo Bowl over Kansas State. The next year, Brees and the Boilermakers were 7-5, losing to Georgia in the Outback Bowl. And in his final season as a senior, Brees led Purdue to an 8-4 record and an appearance in the Rose Bowl against Washington. Purdue lost that game 34-24.
Brees finished his career in a slump, with eight interceptions and just five touchdowns over his final three regular season games. He won the Maxwell Award for the most outstanding player in the nation in 2000 anyway, and he finished his collegiate career holding several records between his Big Ten Conference records, passing yards, touchdowns, total yards, completions, and attempted passes.
But despite it all, Brees was looked at skeptically compared to other players in college football. Michael Vick of Virginia Tech was the consensus number one pick, but NFL teams were concerned with Brees' arm strength. He was discussed as a pick in the middle of the first round, then later in the first round, and finally the talk settled on him being a second-round pick. Such players as David Terrell, Gerard Warren, Jamal Reynolds, and Damione Lewis were all drafted before Brees was taken by the San Diego Chargers with the first pick of the second round, and none of those players ever made even a single Pro Bowl appearance.
2001 and 2002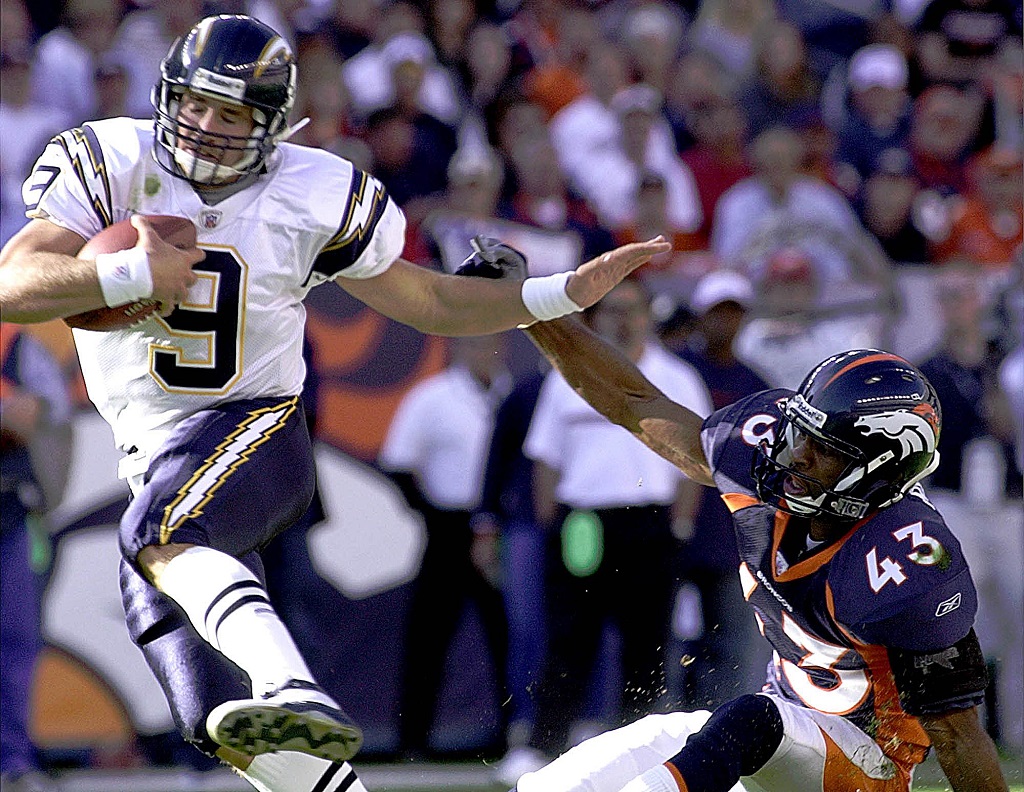 When Brees arrived with the Chargers in his rookie year, 39-year-old quarterback Doug Flutie had also been signed to be the starter until the 22-year-old was ready to take the reigns. It wouldn't be that year. Brees only made it into one game as a rookie, coming into a 25-20 loss to the Kansas City Chiefs and going 15-for-27 passing with a touchdown, no interceptions, and 221 yards. In starting all 16 games, Flutie threw just 15 touchdowns to 18 interceptions and led the Chargers to a 5-11 record.
That was enough for head coach Mark Riley to get the boot, with Marty Schottenheimer taking his place. Brees was given a chance to win over the starting job, and he did just that. The 40-year-old Flutie was relegated to backing up Brees, who started all 16 games in his second year in the NFL. He completed 60.8% of his passes with 17 touchdowns, 16 interceptions, and 3,284 passing yards, taking the Chargers to 8-8 on the year.
The best game of the season for Brees came in his very first start, in which he led the Chargers to a 34-6 victory over the Cincinnati Bengals. He was 15-for-19 passing in the game, good for 79%, and threw two touchdown passes. His first year wasn't anywhere near his best, but it was a good first step into the league for the young quarterback from Texas.
2003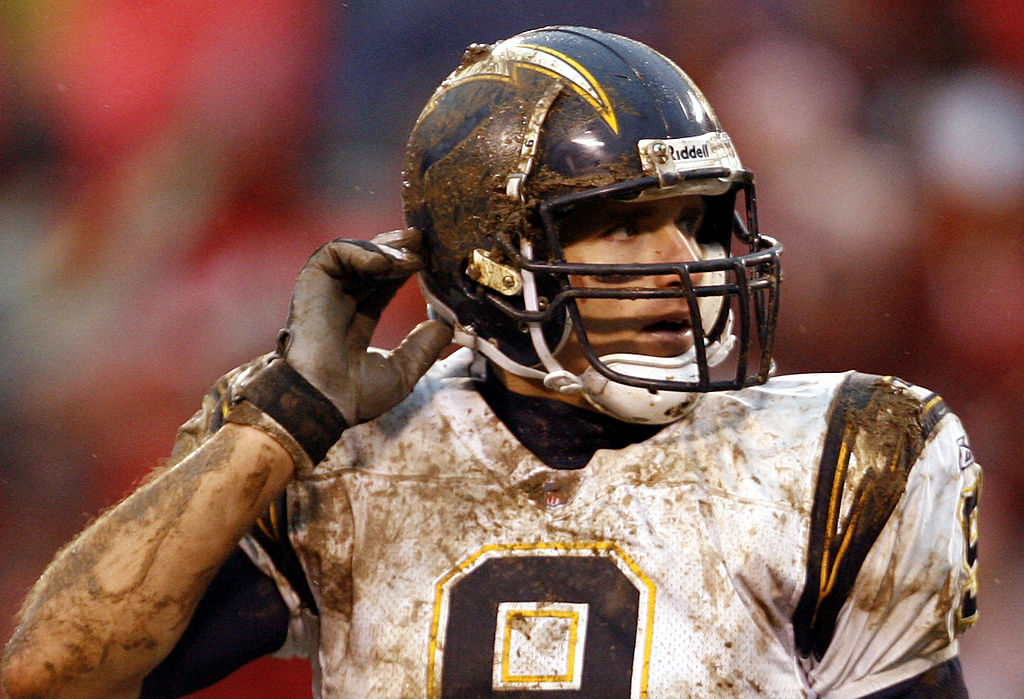 The following year, things got ugly for Brees. He began the year as the starter with some quality players around him. Running back LaDainian Tomlinson was in the backfield, coming off a season in which he rushed for 1,683 yards and scored 14 touchdowns. San Diego also had just drafted tight end Antonio Gates and signed wide receiver David Boston, who was coming off an injury-prone season with the Arizona Cardinals but was one of the premier receivers in the game just two years prior.
Things were set up perfectly for the Chargers to improve on their .500 finish in 2002, but it wasn't meant to be. Brees struggled mightily early on, putting together a 63.7 passer rating with seven touchdowns and 12 interceptions through his first eight games of the season. Things came to a head for Brees and the Chargers in their 20-7 loss to the Chicago Bears, which dropped them to 1-7 on the season. Schottenheimer made the decision to take the ball out of the hands of his young QB, and go back to Flutie.
That project lasted five games, with Flutie not really performing all that well either. Brees was installed as the starter again with three games to play in the season, and he continued his mediocre performance. The Chargers finished the year with a 4-12 record, while Brees finished with 11 games played, 57.8% completions, 2,108 yards passing, 11 touchdowns, and 15 interceptions.
After one decent season as a starter and the dreadful 2003 in his third year as a pro, the Chargers began to think their future wouldn't be with Brees leading them. The following spring, they made a draft day deal that landed them star North Carolina State quarterback Philip Rivers, who had been taken number four overall by the New York Giants.
2004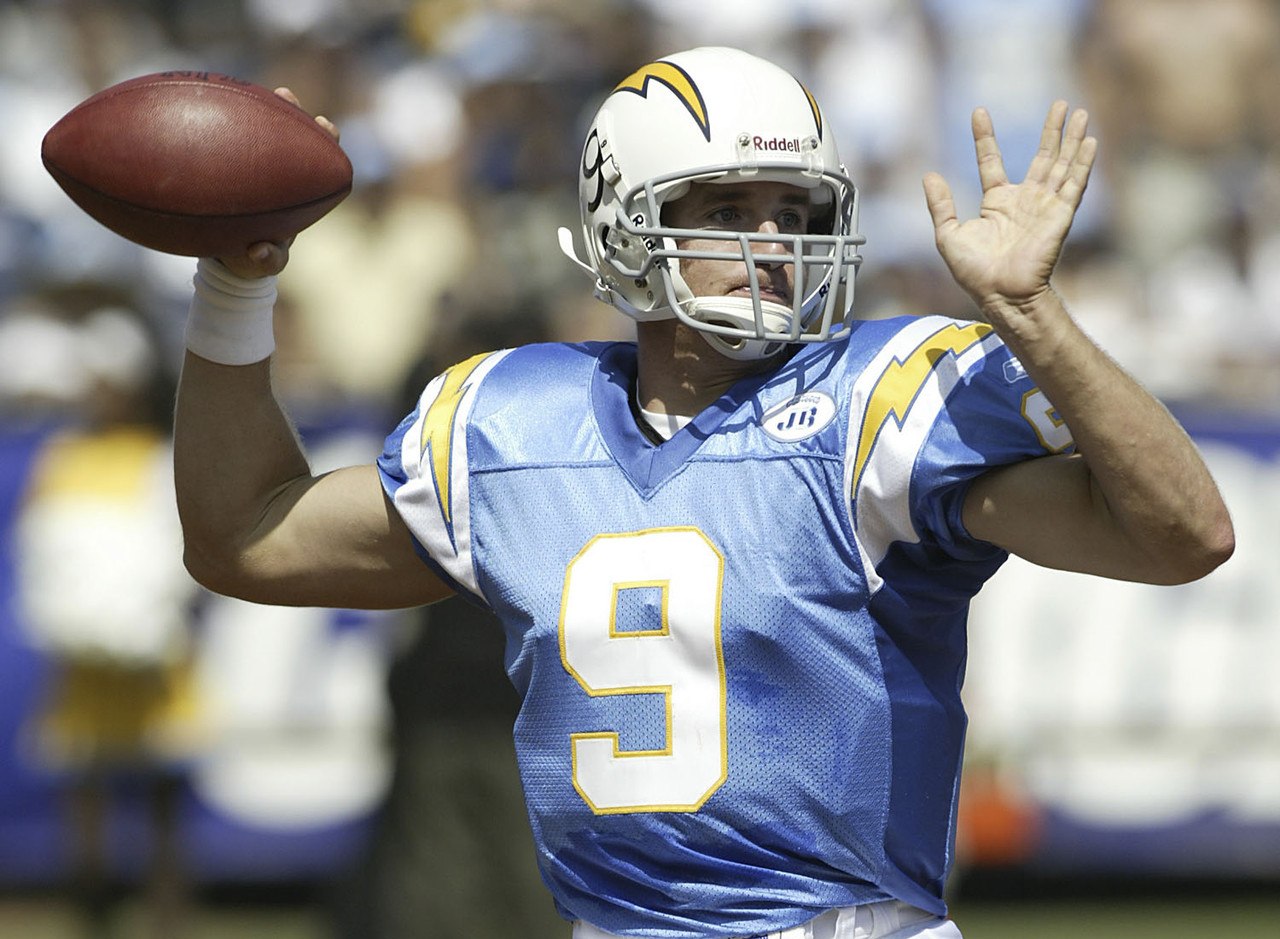 With their newly acquired young stud, many thought that the Chargers would simply bench Brees and hand the ball to the rookie. But as luck would have it, Rivers had a long contract holdout after being drafted that didn't end until late in August, essentially allowing Brees to take hold of the starting job during training camp and enter the season with the confidence of the coaching staff.
Then, it was his performance that began to complicate things. Brees was outstanding again, starting 15 games — Flutie started one — and leading the Chargers to a 12-4 record. He threw for 3,159 yards with a 65.5% completion rate, 27 touchdowns, just seven interceptions, and a 104.8 passer rating that placed him in the upper echelon of the NFL. His best game of the regular season came against their divisional rival, the Oakland Raiders, when Brees was a jaw-dropping 22-for-25 passing (88%) with 281 yards and five touchdowns.
In his first ever playoff game, Brees and the Chargers hosted the New York Jets in the wild card round. They fell in a hole early, trailing 17-7 heading into the fourth quarter. But after an early field goal, San Diego held the Jets off the board and Brees led the team on a final fourth quarter drive that featured three completed passes to Gates for a total of 66 yards. That all culminated in a game-tying touchdown with just 16 seconds to go, forcing overtime.
Brees yet again drove his team down the field in overtime, but a 40-yard field goal by kicker Nate Kaeding was no good. That left the game right there for the Jets to steal, and two big plays later they were burying the Chargers with a 28-yard game-winning field goal of their own. Brees finished with 319 passing yards on 31-for-42 with two touchdowns and an interception in the game, as well as the loss.
2005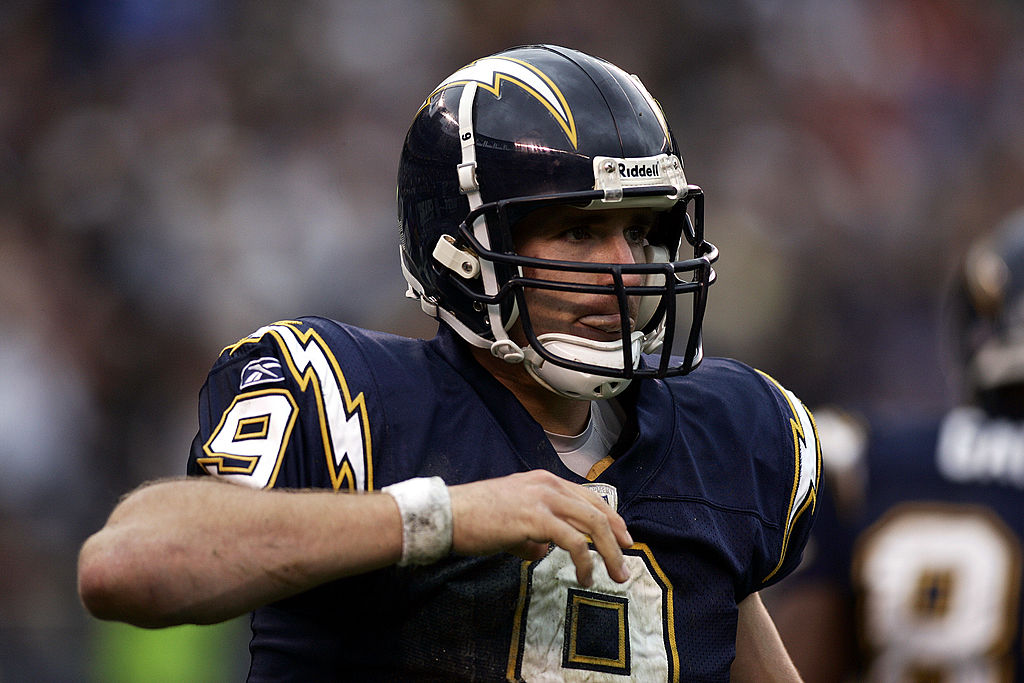 Brees returned to San Diego yet again after such an excellent season in 2004, with Rivers sitting on the bench behind him one more time. He was hit with the franchise tag, which would've still allowed him to sign with another team at the time, while the Chargers would receive draft pick compensation. Then-general manager A.J. Smith put on an act, pretending as though they intended to keep Brees all along.
"Franchising him is a no-brainer because if we didn't, we wouldn't get any compensation and he wouldn't be here, he'd be going to the airport," general manager A.J. Smith said. "We want him to be our quarterback. I mean, a little bit over $8 million for one year, for a quarterback, I think, tells you clearly what we think of his abilities and his talent. We want him to be our quarterback."
In the end, Brees never signed elsewhere and the quarterback controversy kept rolling for the Chargers while the highly-paid Rivers continued to sit on the bench. Now 26 years old, Brees had another solid season but very clearly regressed from where he was the previous year. He started all 16 games, completing 64.6% of his passes with 3,576 yards, 24 touchdowns, 15 interceptions, and an 89.2 passer rating. The Chargers would go 9-7 and miss the playoffs, with a 1-3 stretch over the final four games sealing their fate.
Unfortunately, Brees hit tough times over those final four games. A slump saw him post a passer rating of 76 with four touchdowns and four interceptions, which can be directly correlated to the losing pattern and how the team fell out of the playoff chase. But even worse than his performance was the fact that Brees tore his labrum in his throwing shoulder in the final game of the year, ending his season a few minutes early but putting his career in serious doubt.
2006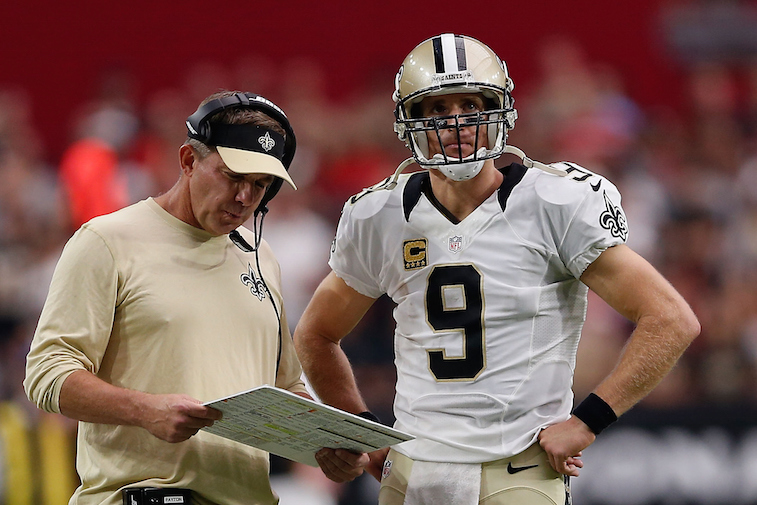 In free agency, the New Orleans Saints offered Brees and his newly-repaired shoulder a six-year, $60 million contract that was laden with incentives based on his performance. It was a gamble, but it ended up being the right move for a franchise that was directionless for quite a while. The Saints were coming off a 3-13 season under Jim Haslett that left many wondering if the franchise would stay in New Orleans — which had just been ravaged by Hurricane Katrina — for the long-term.
"… I just felt that energy in New Orleans," Brees said. "From the very beginning there was a genuine feeling that they wanted me there. They believe I can come back from this shoulder injury and lead them to a championship. They were as confident as I am, and that meant a lot."
Brees' shoulder made a miraculous recovery. Dr. James Andrews, a famous surgeon known for operating on the arms of professional athletes, was astounded by what Brees was able to do given the severity of his injury.
"All expectations were that he had a career-ending shoulder injury. But he had such a good work ethic, and he was so well taken care of by physical therapist Kevin Will, in Birmingham, who worked with him for a solid four months, that some way, somehow, he got well. But I have to give him and the therapist all the credit, not me. He was an unbelievable comeback. And he's still playing."
Under Brees, newly drafted running back Reggie Bush, and new head coach Sean Payton, the Saints had a revival in 2006. They went 10-6, winning the NFC South for the first time since 2000. Brees had one of his best seasons to date, passing for 4,418 yards with 26 touchdowns and 11 interceptions, while completing 64.3% of his passes.
Brees had a strong game in the NFC Playoffs against the Philadelphia Eagles, going 20-for-32 passing with 243 yards and a touchdown in the Saints' 27-24 victory. That propelled them to the NFC Championship Game in Chicago against the Bears, where things didn't turn out so well. Brees hit Bush for an 88-yard touchdown pass to bring the Saints within 16-14 in the third quarter, but an intentional grounding in his own endzone cost New Orleans two points, and the Bears jumped all over them in finishing off a 39-14 win.
2007 and 2008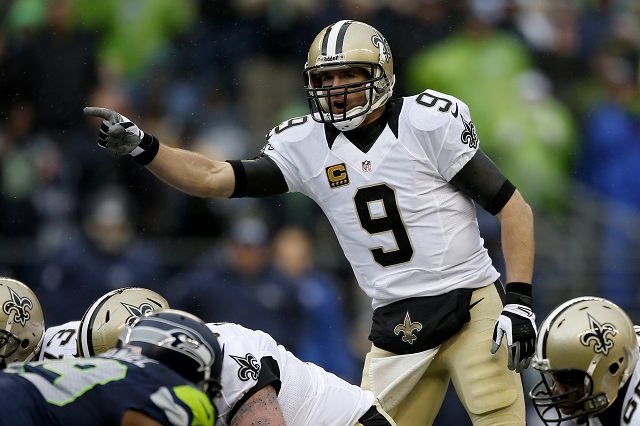 Brees continued to be very good for the New Orleans Saints over the next two years, even if the team on the field couldn't match the 2006 team. He stayed healthy, playing in all 16 games both years, and passed for over 4,400 yards in both years as well — including an NFL-best 5,069 in 2008. Brees led the NFL in passes and completions in 2007 and '08, completing over 65% of his passes, and he set a career-high with touchdowns in 2008 when he converted 34 of them — which also led the league.
But the Saints just weren't as good as 2006. The '07 team finished with a disappointing 7-9 record, after failing to really get any traction at any point in the season. They started 0-4, won their next four, then lost five of their last eight. The good news was how well second-year wide receiver Marques Colston gelled with Brees, catching 98 passes for over 1,200 yards on the season.
The next year wasn't much better on the field. The Saints were number one in the NFL in offense, but their awful defense really let them down as they finished with an 8-8 record. Brees was magnificent, spreading the offense around among three running backs — Bush, Deuce McAllister, and Pierre Thomas — while operating with talented receivers such as Colston, Devery Henderson, Robert Meachem, and Jeremy Shockey.
The good news for Brees in 2008 was that he came away with the AP Offensive Player of the Year award, which is a big deal for a guy who had a torn labrum in his throwing shoulder and was basically cast off from the San Diego Chargers. But the Saints missed the postseason again, leaving the team halfway through its contract with Brees and nothing to show for it but a single playoff victory over the Eagles.
2009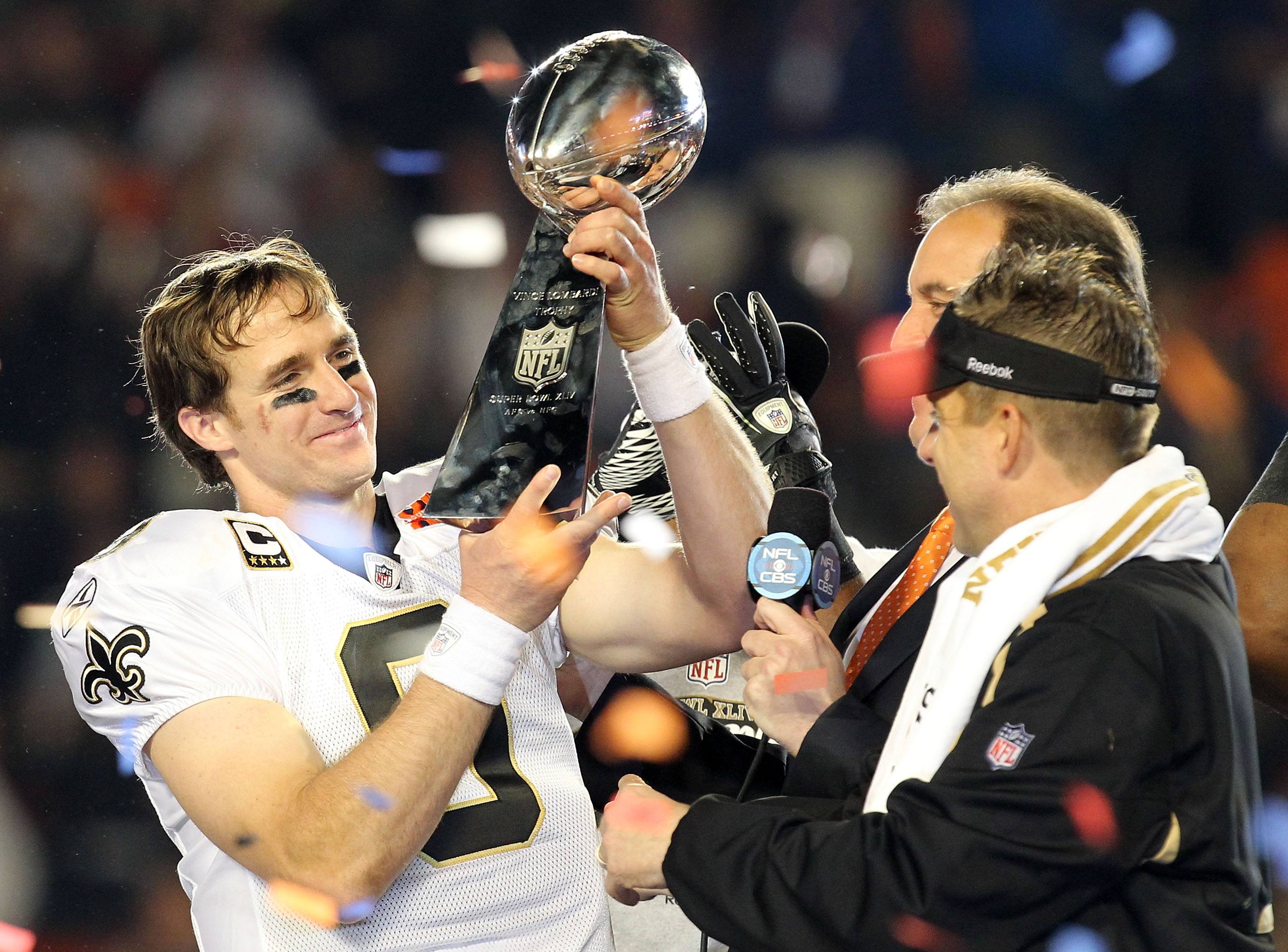 Things turned around for the Saints in a big way in 2009. Brees again led the best offense in the NFL, averaging 31 points per game. New Orleans got off to a very hot start, winning their first 13 games of the season — many of them blowouts. Brees had several amazing games, including a six-touchdown game in Week 1 against the Detroit Lions and a five-touchdown game in a 38-17 victory over Tom Brady and the New England Patriots.
But the 13-0 start and all the high expectations that Saints fans had would be tempered with a three-game losing streak to end the season. Brees started the first two games, throwing two touchdowns and one interception combined — losing to the Dallas Cowboys and Tampa Bay Buccaneers. With the playoffs around the corner and their playoff spot clinched, the Saints started backup QB Mark Brunell in the season finale. Brees ended the season leading the NFL in completion percentage (70.6), touchdown passes (34), and passer rating (109.6).
The Saints got back to their winning ways in the postseason. In their opening game against the Arizona Cardinals, New Orleans took a 21-point lead into halftime and won the game by a final score of 45-14. Brees was on top of his game, going 23-for-32 with 247 passing yards and three touchdowns.
That vaulted the Saints into their second NFC Championship game in four seasons, this time against the Minnesota Vikings and Brett Favre. Brees had another solid game, this time going 17-for-31 with 197 passing yards and three touchdowns. The game went into overtime, tied at 28 after an Adrian Peterson touchdown in the fourth quarter. A couple of completed passes by Brees, in addition to a few costly penalties by the Vikings' defense, got the Saints into field goal territory. Kicker Garrett Hartley was able to knock in the game-winning 40-yard field goal to send the Saints to the Super Bowl for the first time.
In Super Bowl XLIV, New Orleans would face off against Peyton Manning and the Indianapolis Colts — the same team that beat the Bears in the Super Bowl back in 2006. The Saints struggled with their offense early, falling behind 10-0 after the first quarter. A couple of field goals by Hartley kept them in it, down 10-6 at halftime. Coming out of halftime, though, Payton called his riskiest play: a surprise on-side kick. The ball hit Colts receiver Hank Baskett and was recovered by the Saints, leading to a 16-yard touchdown pass from Brees to Pierre Thomas. That gave the Saints a 13-10 lead.
In the fourth quarter, New Orleans would again find themselves trailing, 17-16. With just under six minutes to go in the game, Brees hit tight end Jeremy Shockey for the go-ahead touchdown and then passed to Lance Moore for the two-point conversion. That gave the Saints a 24-17 lead, which they clinched when cornerback Tracy Porter picked off Manning and ran it back for a touchdown with just over three minutes remaining.
Brees finished Super Bowl XLIV 32-for-39 passing with 288 yards and two touchdowns, taking home the MVP.
2010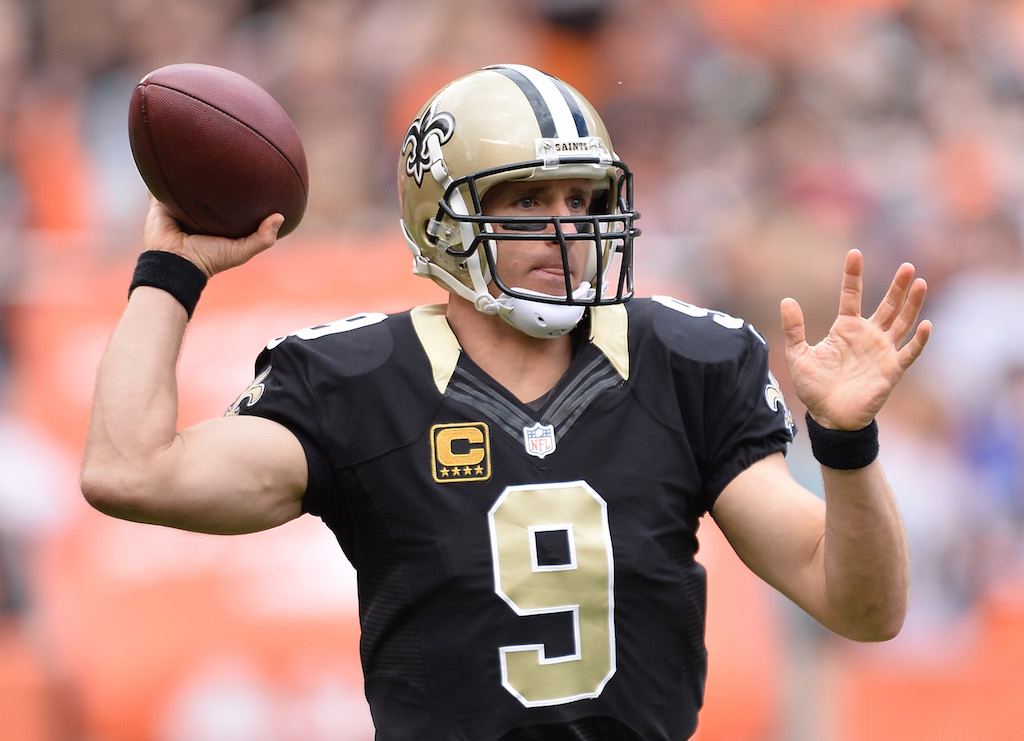 The following year, there was a bit of a Super Bowl hangover in New Orleans. The Saints were no longer the top team in scoring, dropping from 31 points per game to just 24 — and the 11th-best offense in the league. Their defense did improve, coming into the top-10 after sitting around number 20 the year prior. Brees, of course, was phenomenal yet again.
He started all 16 games, again leading the league in completion percentage (68.1). He threw 4,620 passing yards and 33 touchdowns, but also a career-high 22 interceptions. That left him with a good, but not great, passer rating of 90.9. But those are the type of numbers that just about any quarterback in the NFL would love to have — and it represents a down year for Brees.
The Saints went 11-5 during the regular season, making the playoffs yet again and going into the wild-card round against the Seattle Seahawks. Because of the nature of the playoff structure, the Saints had to go on the road to face the 7-9, NFC West division winners. New Orleans fell behind, 34-20, heading into the fourth quarter. A rally by Brees and the Saints would make it close, but they'd end up losing the game, 41-36.
Brees was outstanding in the game, but the attack on offense was completely unbalanced. The team rushed the ball with their lead running back, Julius Jones, just 15 times. Reggie Bush carried the ball only five times. But Brees was forced to throw 60 passes, completing 39 of them for 404 yards and two touchdowns. In the end, it just wasn't enough.
"It's no fun to lose in the first round, obviously, because we had high aspirations and expectations for this team as we looked at the playoff picture, and just felt like, 'Hey, we're as good as anybody, and we've got as good a shot as anybody. And how many teams can say that they've gone back and repeated as Super Bowl champions?" Brees said. "Everything that we've been through this year, especially early on when we started 4-3, and I think a lot of people wanted to talk 'Super Bowl hangover,' and yet we kept it in tight and stuck together and found a way to come up with some big victories. It's hard to come off a championship season and put together the season that we did."
2011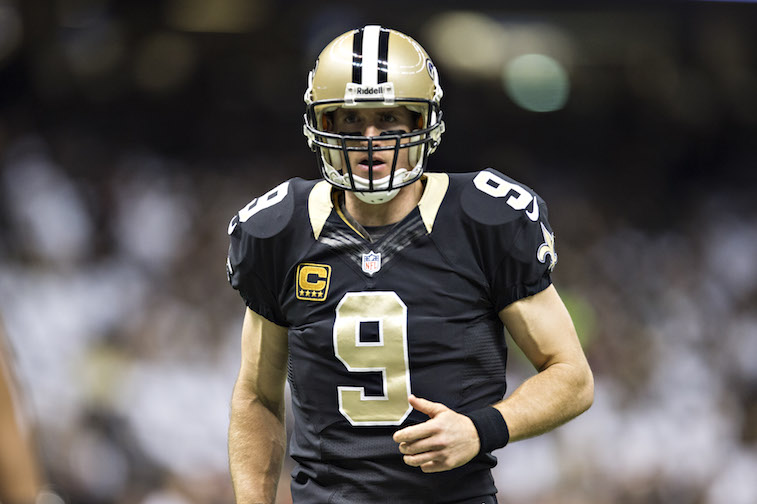 The 2011 season would represent Brees' best year on the football field, at least for individual statistics. After the Saints started the season 5-3, they went on an absolute tear to finish the year — going on an eight-game winning streak and ending the season 13-3. They were again one of the top-scoring offenses in the NFL, averaging over 34 points per game with a defense that allowed just 21 points per game. The Saints were blowing out their opponents.
So things looked good for New Orleans to make another trip to the Super Bowl. Brees was extraordinary, setting career-highs in completion percentage (71.2), passing yards (5,476), touchdown passes (46), and passer rating (110.6). He also led the NFL in all of those categories with the exception of passer rating. Brees' most impressive victory — possibly of his entire career — came with a 62-7 victory over the Indianapolis Colts in which he threw five touchdown passes on 31-for-35 passing with 325 yards.
His 5,476 passing yards set a single-season record for the NFL, breaking Dan Marino's 27-year-old record with a touchdown pass to Darren Sproles in the second-to-last game of the season.
"Honestly, I was really trying not to think about the record or anything," Brees said. "I knew we were close. A couple guys mentioned stuff to me on the sideline. I didn't want to hear it. It's like a pitcher with a no-hitter, I guess."
The record stood until Peyton Manning beat it by a single yard in 2013, passing for 5,477 that year. But for his effort, Brees was named the AP Offensive Player of the Year for the second time in his career.
In the playoffs, Brees and the Saints had no trouble with the Detroit Lions in the wild-card round. Brees threw three touchdown passes and was 33-for-43 passing with 466 yards in a 45-28 victory, which sent them on to play the San Francisco 49ers. While Brees was once again very good, leading his team back from a 17-0 deficit to take a 32-29 lead late into the fourth quarter, it wasn't meant to be for New Orleans.
Brees finished with four touchdowns and two interceptions, to go along with 462 passing yards. A 66-yard touchdown pass to tight end Jimmy Graham looked to have put the game away, but 49ers quarterback Alex Smith hit tight end Vernon Davis for the game-winning score with just nine seconds remaining on the clock. That ended the season for New Orleans, while San Francisco would go on to lose in the NFC Championship to the New York Giants.
2012 and 2013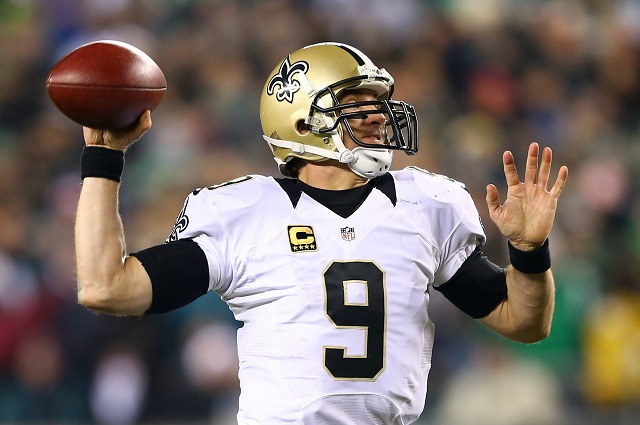 Before the 2012 season even got started, the Saints locked up Brees on a long-term deal. The two sides agreed on a five-year, $100 million contract that would take Brees through the 2016 season and pay him a whopping $40 million in his first year.
"I appreciate the diligence and steadfast efforts by both sides to get this deal done," Brees told ESPN's Ed Werder. "I love my organization, team and the city of New Orleans. Thank you especially to [owners] Gayle and Tom Benson for the opportunity. Now I need to go earn it."
But the actual football season was a massive bust for the Saints, who started out 0-4 and struggled to recover, finishing with a 7-9 record and missing the playoffs. But Brees, who was now 33 years old, was still just as good as ever. The offense was ranked third in the NFL in points scored at 28.8, and Brees again led the NFL in several offensive categories: passing yards (5,177), touchdowns (43), and unfortunately, interceptions (19).
Things turned around for New Orleans in 2013. They got off to a much better start, this time going 5-0. The Saints took a 9-2 record into a Week 13 matchup with the Seattle Seahawks on Monday Night Football, and things really spun out of control. The Seahawks destroyed New Orleans, winning the game 34-7, with Brees throwing for just 147 yards and one touchdown. The season spiraled from there, with New Orleans sputtering to an 11-5 finish.
But it was yet another good year for Brees. He completed 68.6% of his passes for 5,162 yards, with 39 touchdowns, 12 interceptions, and a passer rating of 104.7. The playoffs started well, with Brees going 20-for-30 passing against the Philadelphia Eagles and helping guide his team downfield for the game-winning 32-yard field goal as time expired. That sent the Saints into a rematch with the dangerous Seahawks, again on the road in Seattle.
But again, the game wouldn't turn out like Brees would have liked. New Orleans didn't even get on the board until the fourth quarter, and never got closer than the final score — 23-15, after a touchdown with 26 seconds remaining in the game. Brees was 24-for-43 passing with 309 yards and one touchdown, which wasn't enough to take down the mighty Seahawks defense. Seattle would go on to beat the Denver Broncos in the Super Bowl.
2014-2016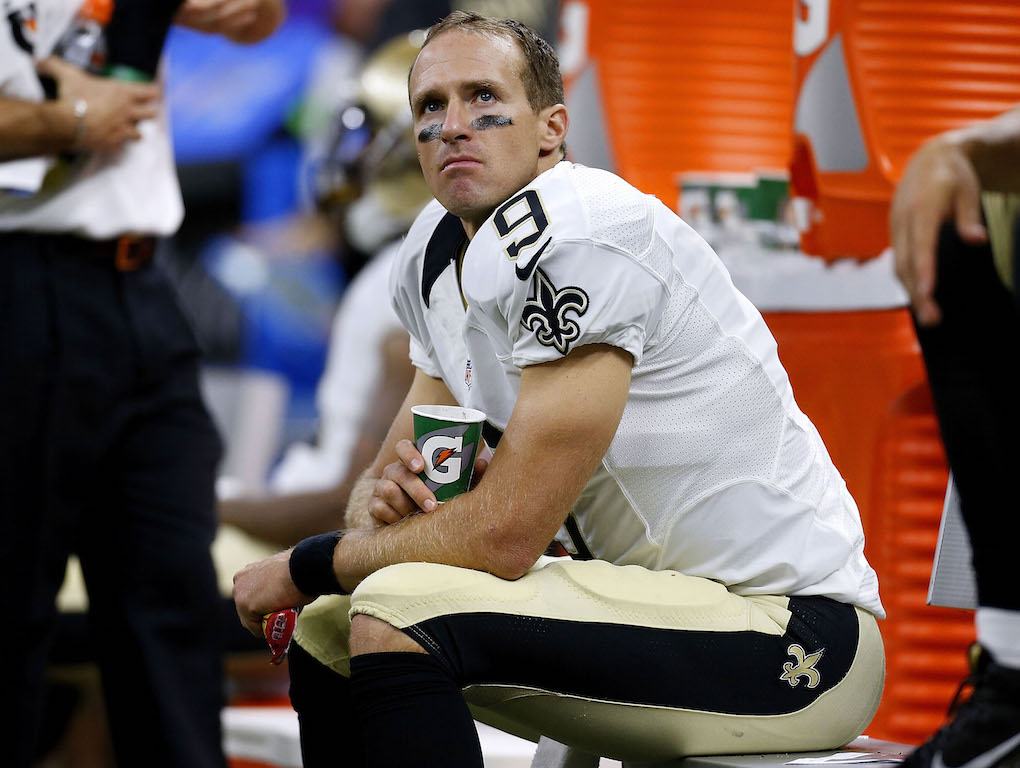 The twilight of Brees' career has been kind to the stat sheet, but not so much for the Saints on the field. They've failed to qualify for the playoffs since 2013, finishing with a 7-9 record in each of his last three seasons on the field. But Brees has continued to perform, even with diminishing talent around him.
Brees has led the NFL in passing yards in each season, from 2014-2016, including 5,208 passing yards in 2016 — the second-highest total of his career. That coincided with Brees completing 70% of his passes, another absolutely outstanding number. He has a 99.9 passer rating over those three years, starting all but one game out of a possible 48.
Now at 37 years old, Brees has played 16 years in the NFL, has made 10 Pro Bowls, won two AP Offensive Player of the Year awards, and has a Super Bowl MVP to his record. Brees' 96.3 passer rating ranks him number five among active quarterbacks and number seven all-time, and his 66.6% career completion percentage ranks him number one in the history of the NFL.
In September of 2016, Brees signed a contract extension with the Saints that would pay him $24 million in 2017. It's unclear what will come of Brees after that year, as he would be 39 years old heading into the 2018 season. He's still performing at the top of his game, however, so there's a realistic chance that he could continue playing for at least a few more seasons.
"I plan to play for longer than two years," Brees told the media after announcing his extension. "This is what was in the best interest of the team."
Charity, business interests, and the future
Throughout the majority of his career, Brees has been heavily involved in charity. The Brees Dream Foundation is his way of helping people that need it the most: those that are dealing with cancer.
"The Brees Dream Foundation was founded in 2003 and is a reliable source of charitable funding globally. Our mission is to improve the quality of life for cancer patients and provide care, education and opportunities for children and families in need. Since our inception 12 years ago, we have contributed over $25,000,000 to charitable causes globally. We would not be where we are today without the endless support from our many partnerships and from those who donate to our cause daily."
On the business side, Brees has made investments in a sandwich franchise he fell in love with while in school at Purdue. Jimmy John's, a company operated out of Champaign, Illinois, has been spreading like wildfire over the last several years due to their fresh food and fast delivery. Brees has purchased multiple franchises in the New Orleans area. It's really one of his major passions outside of football.
"I was back on the Purdue campus doing some charity work and stopped in a Jimmy John's," Brees said. "I was eating a No. 9, and I called him and said, 'I want to bring Jimmy John's to New Orleans.' He said, 'If you're serious, let's talk.'"
That turned into Brees committing to opening 23 locations in and around New Orleans, a place that he and his wife Brittany now consider to be their home. Even after his playing days are over, it looks like there will be more than just football tying Brees to the town that truly made him a star.
Statistics courtesy of ESPN and Pro-Football-Reference.