Drew Brees Is the Most Underrated QB in NFL History, and That's a Fact
New Orleans Saints quarterback Drew Brees has already accomplished enough during his illustrious NFL career to be safely considered a first-ballot lock to be inducted into the Pro Football Hall of Fame in his first year of eligibility.
He led the Saints to a Super Bowl title in 2009 while the city of New Orleans worked to rebuild after being decimated by Hurricane Katrina; he has earned All-Pro honors four times; he has led the league in passing yards six times and touchdown passes four times; and he has won the NFL Offensive Player of the Year award twice.
Heading into the 2016 season, nobody knew what to expect from Brees. The 6-foot, 209-pounder celebrated his 37th birthday during the offseason, and it was no secret that the Saints' roster was a flat-out mess. As it has turned out, the nine-time Pro Bowler responded by playing some of the best football of his career. He reminded everyone that he doesn't need a supporting cast full of All-Pros to play at a high level. In fact, we'd go as far as saying that the Saints could very well be in a similar position to that of the Cleveland Browns right now if they didn't have Brees under center.
In a game against the Denver Broncos, Brees became just the third quarterback in NFL history — joining Brett Favre and Peyton Manning — to throw 450 or more touchdown passes (Tom Brady will be joining the club later this season). What set Brees' accomplishment apart from Favre, Manning, and eventually Brady, is the fact that he reached such an amazing milestone without ever having a Pro Bowl or All-Pro wide receiver at his disposal.
Granted, he did have a couple of All-Pro tight ends to throw to — Antonio Gates during his time with the San Diego Chargers and Jimmy Graham for five years in New Orleans — but he never had the quality of wide receivers who Favre (Sterling Sharpe, Antonio Freeman, and Donald Driver), Brady (Randy Moss, and Wes Welker), or Manning (Marvin Harrison, Reggie Wayne, Demaryius Thomas, and Emmanuel Sanders) had during their respective careers. Does Brees deserve to be a contender for the title of best NFL quarterback of all time? Here's our take on the situation.
Best single-season stats (2011):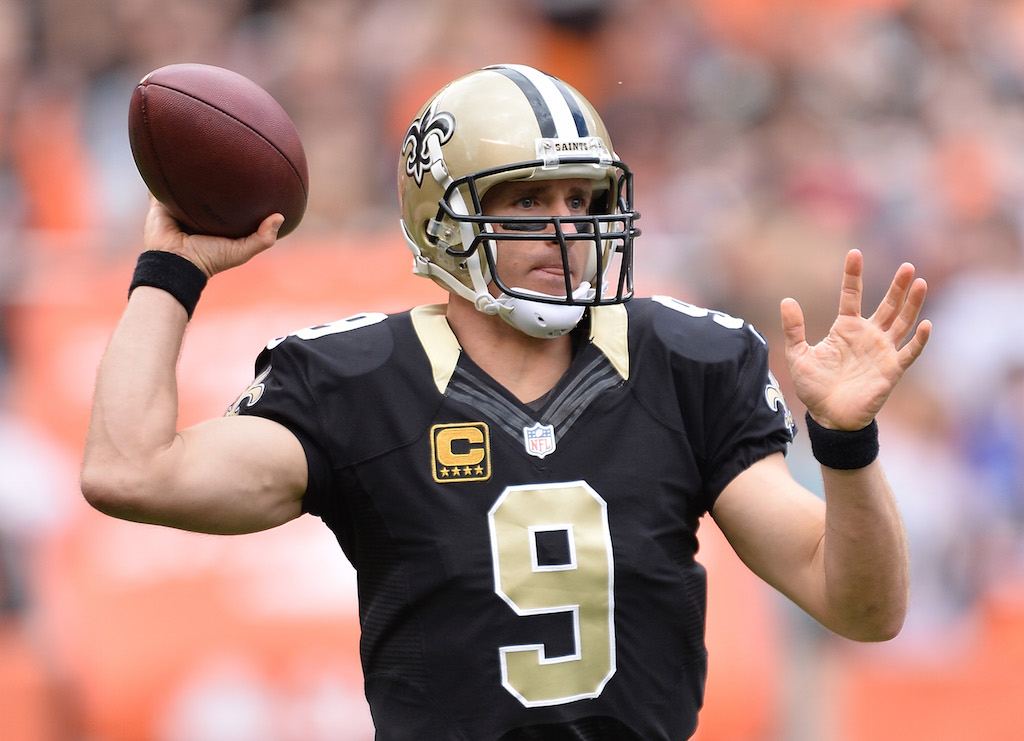 13 regular season wins
657 pass attempts
468 completions
71.2% completion percentage
5,476 passing yards
46 touchdown passes
14 interceptions
110.6 quarterback rating
342.3 passing yards per game
The 2011 NFL season is widely regarded as the best statistical season of Brees' 16-year professional career. In our eyes, his 2011 campaign was one of the top-three single-seasons in league history. The best individual season in league history came at the hands of Peyton Manning in 2013 — which isn't really debatable.
Beyond that, we could easily argue that Brees had the next best single season of all time. His 5,476 passing yards in 2011 are the second-highest single season total in NFL history; his 46 touchdown passes are the fifth-highest single season total in NFL history; his 468 pass completions are the highest single season total in NFL history; and his 71.2% completion percentage is the highest single season total in NFL history.
Career regular-season stats: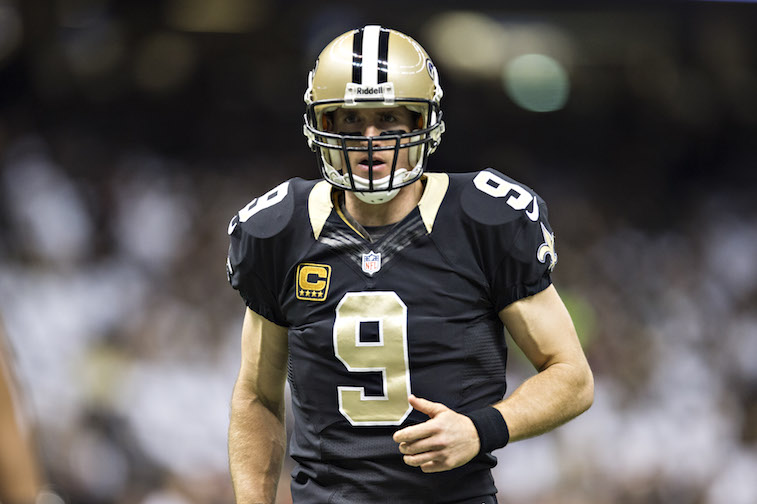 128 wins
8,461 pass attempts
5,628 completions
66.5% completion percentage
63,894 passing yards
452 touchdown passes
212 interceptions
96.3 quarterback rating
282.7 passing yards per game
As we previously mentioned, Brees has already accomplished enough to be considered a surefire first-ballot Hall of Famer. But if he can play at a high level for another 2-3 seasons (beyond 2016), he will completely re-write the NFL record book for quarterbacks.
Tom Brady will likely set the new benchmark for career wins early in the 2017 season (the current record of 186 wins is held by Peyton Manning and Brett Favre), and there is very little chance Brees will ever come close to catching him. He does have a legitimate chance to shatter every other record, though. Here is where Brees stands in every major passing category through Week 10 of the 2016 NFL season:
Pass Completions: ranks 3rd all-time, trails Brett Favre by 672
Completion Percentage: ranks 1st all-time
Passing Yards: ranks 3rd all-time, trails Peyton Manning by 8,046
Touchdown Passes: ranks 3rd all-time, trails Peyton Manning by 87
Quarterback Rating: ranks 7th all-time
Passing Yards Per Game: ranks 1st all-time
With two more seasons (beyond 2016) producing at the rate he has been since joining the Saints (2.23 touchdown passes, 308.7 passing yards, and 26.97 completions per game), Brees will break every career record (with the exception of quarterback rating) mentioned above. If he can play into 2019 or beyond, Brees could put these records so far out of reach that nobody (including Tom Brady) will ever be able to challenge them.
Career postseason stats: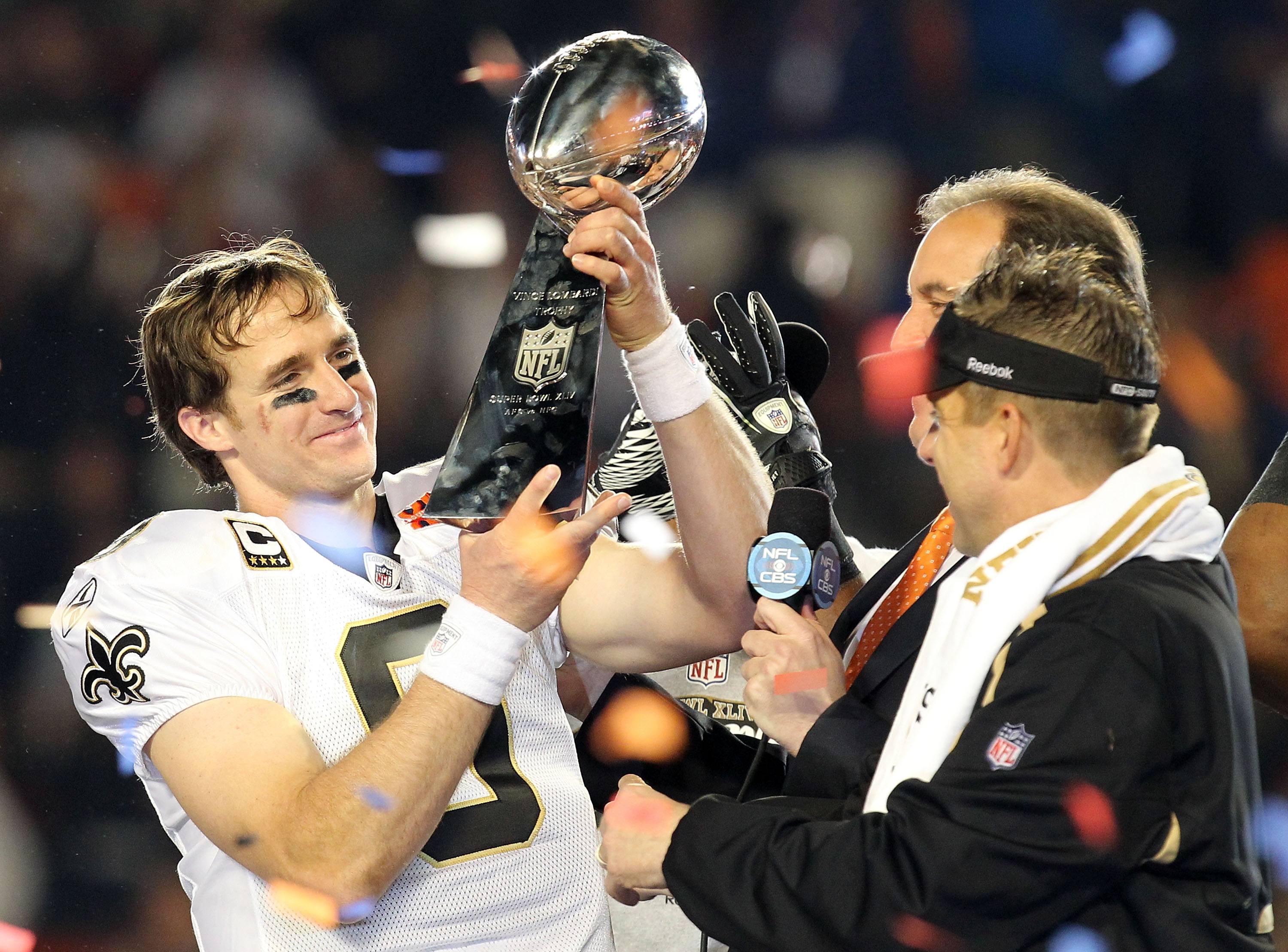 6 wins
464 pass attempts
306 completions
65.9% completion percentage
3,539 passing yards
24 touchdown passes
6 interceptions
100.7 quarterback rating
321.7 passing yards per game
This is one area where Brees comes up short in comparison to other great NFL quarterbacks. Tom Brady is running away with nearly every postseason quarterback record, and will likely put them out of reach before hanging up his cleats.
Brees ranks third all-time in postseason quarterback rating and fifth in passing yards per game, but given the Saints' issues, it's hard to envision a scenario where Brees will play in enough playoff games to even make a serious run at cracking the top-five in completions, passing yards, or touchdown passes.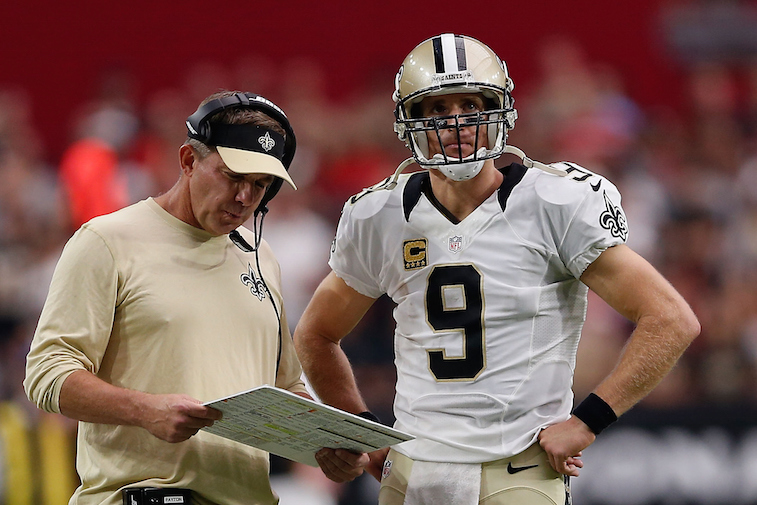 So, where do we see Brees falling in the hierarchy of all-time great NFL quarterbacks when it's all said and done? At his current rate, we could see him going down as one of the top five signal callers in league history. However, as of now, he just isn't in the discussion for being the greatest of all time. Of course, that would change if he was able to win another Super Bowl title or two (which is highly unlikely).
Regardless of whether or not that happens, he will always be mentioned among the best pure passers the league has ever seen, and will likely go down as statistically the best quarterback in NFL history.
Most people believe it's a forgone conclusion that Brady will eventually own every NFL passing record there is. Yet they seem to forget that Brees is actually two years younger than Brady, and is proving that he still has a lot of gas left in his tank as well. More importantly, without Brees, the Saints would likely still be one of the worst franchises in the National Football League. It's time to start giving him the respect he deserves.
Statistics courtesy of Pro-Football-Reference and ESPN.