Drew Brees' Retirement Could Open the Door for Jameis Winston's Career Revival
As of Sunday, the New Orleans Saints are finally in the post-Drew Brees era. This has seemingly opened the door for Jameis Winston to become the team's next starting quarterback. If all goes according to plan, the former Heisman Trophy winner will have a chance to resurrect his sputtering NFL career.
Jameis Winston gets a second chance
RELATED: Sean Payton Sends Message to New Orleans Saints Fans About Future of Jameis Winston
Ever since the New Orleans Saints' disappointing home playoff defeat to the Tampa Bay Buccaneers, it was generally expected that Drew Brees would hang up his cleats for good. On Sunday, Brees finally ended over a month of speculation. Through a post on his Instagram account, he brought down the curtain on his 20-year NFL career.
Even before Brees made his retirement official, the Saints turned toward the future. According to NFL reporter Ian Rapoport, the Saints have "had negotiations with Jameis Winston about potentially being their next quarterback."
Winston came to the Saints in 2020 after five years of inconsistent play with the Tampa Bay Buccaneers. "Peak Winston" came in 2019, when he led the NFL in both passing yards (5,109) and interceptions (30). With Tom Brady coming to town, Bruce Arians had no need for the volatile Winston and sent him packing.
Next season, with a year of seasoning behind future Hall of Famer Drew Brees, Jameis Winston has a chance to rebuild his NFL career.
Taysom Hill will give Jameis a fight for the starting job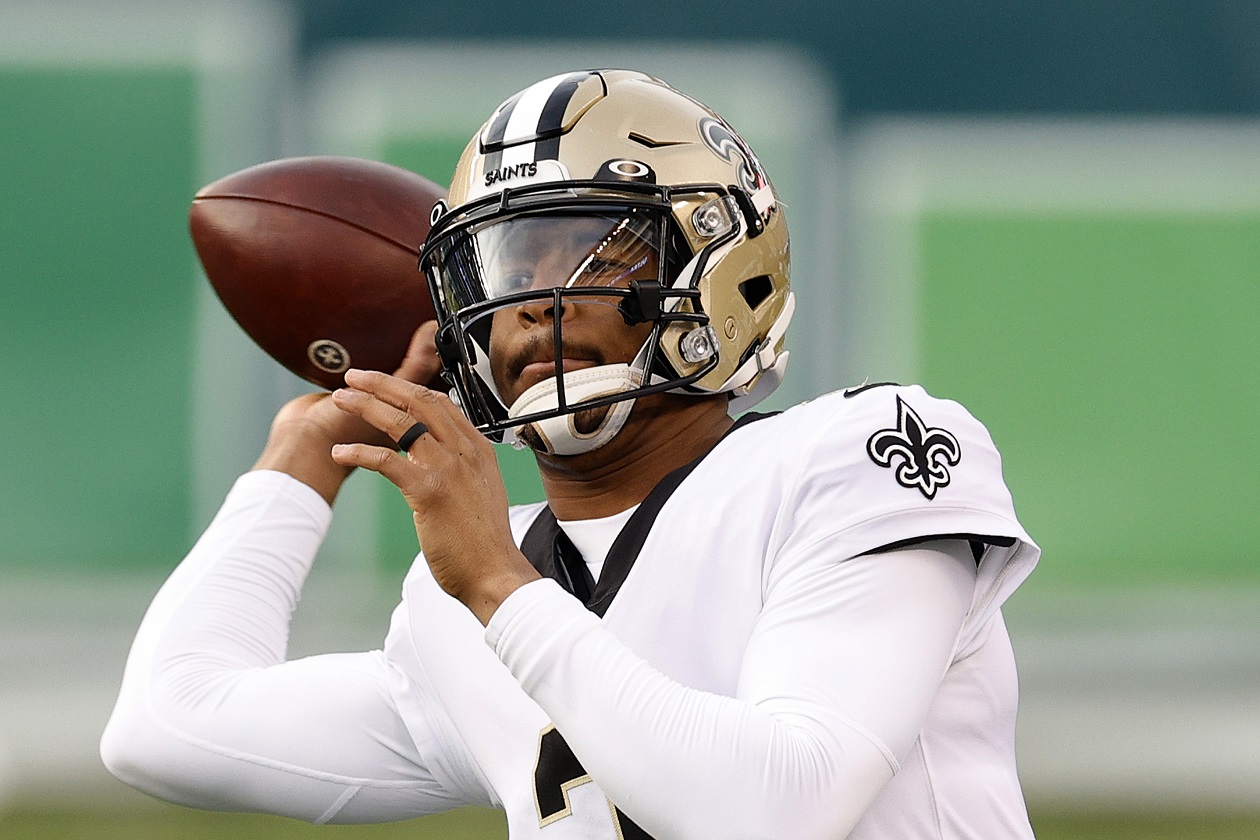 RELATED: Former Saints Star Joe Horn's Son, Jaycee, Is About to Cash In Through the NFL Draft
Of course, Jameis Winston is not the only quarterback left on the Saints' roster. He is not automatically assured of the starting job next season. In fact, he will have tough competition from young Swiss Army knife Taysom Hill for the role of Brees' replacement.
Hill shows a lot of upside, which is why the Saints gave him a contract extension on the same day that Brees announced his retirement. Much like Kordell Stewart, he can serve in multiple positions on offense and special teams. It wasn't until last season, however, that he saw any playing time at starting quarterback. He replaced Brees for four games, winning three of those while completing over 70% of his passes.
Winston has been in the NFL longer than Hill, and has far more experience as a traditional quarterback. On the flip side, Hill has been a Saint longer than Winston and is more familiar with Sean Payton's offense. In addition, Winston saw barely any playing time last season, only throwing eleven passes.
This should be a very interesting quarterback battle. That is, assuming the Saints are able to sign Winston.
How do Jameis Winston and Taysom Hill compare?
Hill holds an important advantage over Winston for now. He has a contract. Winston does not.
The Saints and Winston have been negotiating for months. Both sides have to have recognized the urgency of the matter, with Brees' retirement all but assured. According to NFL Network's Tom Pelissero, the deal will most likely be along the lines of Cam Newton's recently-signed one-year extension with the New England Patriots.
However, that could be easier said than done. Even after a flurry of cuts, the Saints are still $3.2 million over the salary cap, according to Spotrac. They will have to restructure and delete even more contracts to make room for Winston.
Statistics courtesy of Pro-Football-Reference.