Drew Brees Reveals Why It Took So Long To Announce His Inevitable NFL Retirement
Everyone and their mother knew that Drew Brees would retire after his New Orleans Saints lost their divisional playoff game to the Tampa Bay Buccaneers. Even he knew this. Yet Drew Brees put off the official announcement of his retirement for over a month after his final game. This led to speculation that he may play one more season after all.
According to Brees himself, this was completely unintentional.
Drew Brees needed time to give his NFL retirement "justice"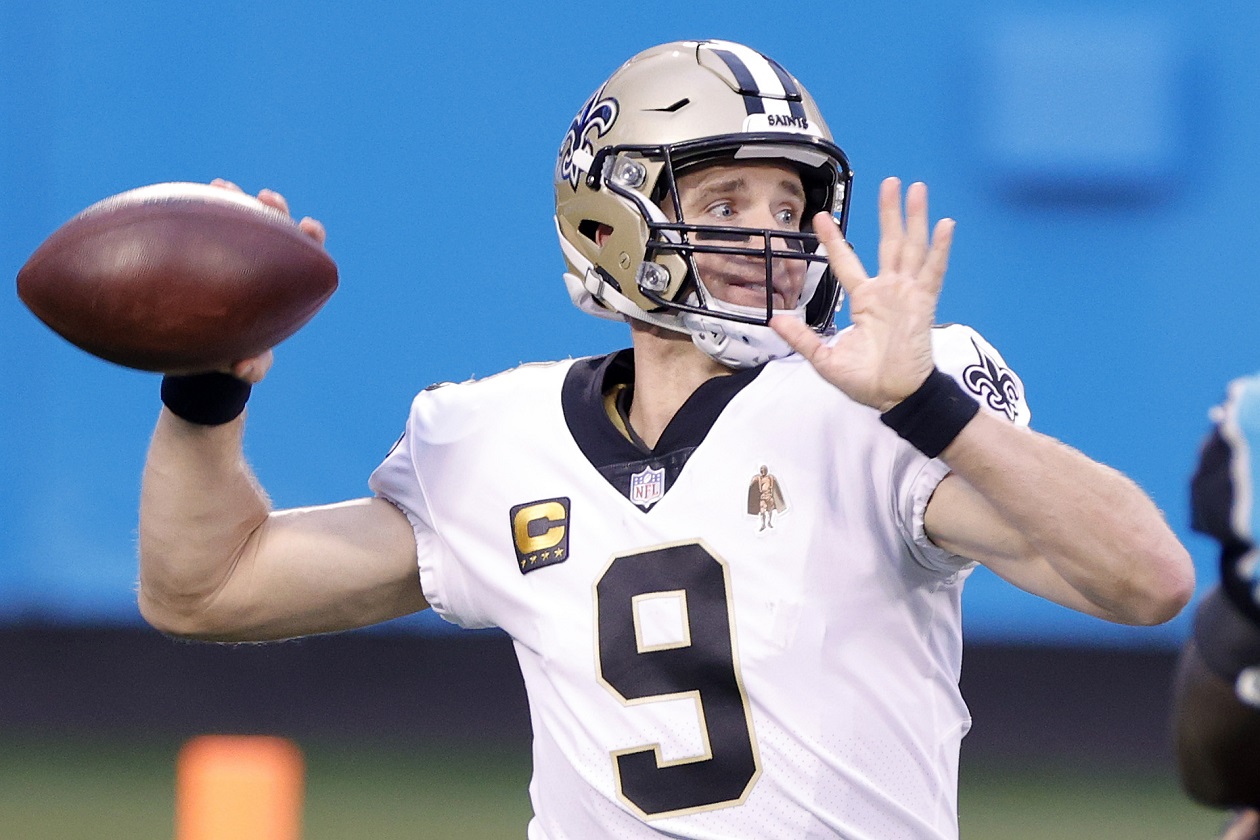 RELATED: Dan Orlovsky Demolishes Max Kellerman for His Drew Brees Take: 'You're Out of Your Mind'
On March 14, Drew Brees, flanked by his four children, publicly announced his NFL retirement via Instagram. Next season he will transition into broadcasting as a member of the NBC Sunday Night Football crew.
The announcement came a month and a half after Brees and the Saints dropped their divisional playoff game to the Tampa Bay Buccaneers, 30-20 at home. The 42-year-old quarterback's age showed, as he was largely ineffective. Brees threw for only 134 yards, one touchdown, and three costly interceptions, racking up a passer rating of 38.1.
This Tuesday, Brees appeared as a guest on The Rich Eisen Show. Late in the interview, Eisen asked Brees why it took him so long to announce his retirement when almost the entire world expected it.
"I knew that was it. It felt like it was time," said Brees. "I wanted to give it justice. I think everybody maybe has this image in their mind as to how they make that announcement or how it all kinda goes down, and I guess I hadn't really put a ton of thought into that when the season ended. And so my first focus was just to spend a lot of time with my family and reflect and then try to let it come to me."
Why Drew Brees posted his workout on Twitter just before retirement
RELATED: Former Saints Star Joe Horn's Son, Jaycee, Is About to Cash In Through the NFL Draft
Between Drew Brees' final NFL game and his retirement announcement, there was a strange twist. In late February, Brees' trainer, Todd Durkin, posted a video of the quarterback working out in his driveway. Both fans and the sports media interpreted it as a sign that Brees was training for another NFL season and not quite ready to retire.
According to Brees, this was not the case at all. He was just working out for the sake of working out.
"I still love to train," said Brees. "I still love to challenge myself. I'm having a chance to do a lot of things that I've probably been putting on hold while I was playing football. I went mountain biking the other day. I went skiing."
There was no chance Brees would play one more year with the Saints
If Drew Brees did choose to forgo retirement and play one more season, it would have created an incredibly awkward situation in New Orleans.
The Saints had already been grooming two potential successors — Taysom Hill and Jameis Winston. It would not be in Sean Payton's best interest to delay their development an additional year in favor of a 42-year-old quarterback whose best days are behind him.
In addition, Brees had already signaled to the entire world that he was retiring without actually saying it out loud. In early February, he renegotiated his contract to free up $24 million in salary cap space for the Saints. If Brees played the 2021 season, he would have done so for the veteran minimum of $1.075 million.