Drew Gooden Just Revealed How LeBron James Motivates His Teammates To Win
LeBron James has proven that he knows what it takes to win championships. He made eight straight NBA Finals appearances with the Miami Heat and Cleveland Cavaliers, and he has made nine Finals in total. So, what makes him and his teams so successful? James' former Cavaliers teammate, Drew Gooden, recently revealed what makes James such a special teammate and how he motivates his teams to win.
Drew Gooden had a nice NBA career
After a spectacular college career at Kansas, Drew Gooden went to the Memphis Grizzlies with the fourth overall pick in the 2002 NBA draft. He was ultimately traded to the Orlando Magic during his rookie season, but he averaged 12.5 points per game and 6.5 rebounds in his first year. 
Gooden then spent one more season with the Magic before getting traded to the Cleveland Cavaliers, where he teamed up with LeBron James. In three-and-a-half seasons with the Cavaliers, Gooden averaged 11.9 points per game and 8.6 rebounds.
After his time with the Cavaliers, Gooden ended up spending time on seven other teams. The longest he spent at one place, other than Cleveland, was three seasons with both the Milwaukee Bucks and Washington Wizards. 
For his career, Gooden averaged 11 points per game and 7.1 rebounds. His best season statistically came in 2004-05 with the Cavaliers when he averaged 14.4 points per game and 9.2 rebounds.
He and LeBron James had a lot of success together on the Cleveland Cavaliers
James was just in his second NBA season when Gooden came to the Cavaliers. The Cavaliers didn't make the playoffs that year, but they improved drastically from the season before. They went from 35-47 in 2003-04 to 42-40 in 2004-05.
However, in 2005-06, the Cavaliers were an amazing Cinderella story as they went 50-32 and reached the Eastern Conference Semifinals. James was incredible that season too, as he averaged 31.4 points per game, seven rebounds, and 6.6 assists.
The 2006-07 season, though, was even more incredible for the Cavaliers. James led the Cavs to the NBA Finals that year as they beat the Detroit Pistons in the Eastern Conference Finals. James, Gooden, and the Cavaliers eventually lost to the San Antonio Spurs in the NBA Finals, though.
In the Cavaliers' two playoff trips in those years, Gooden averaged 8.2 points per game and 7.5 rebounds in the playoffs in 2005-06, and 11.4 points and eight rebounds in 2006-07. James was, of course, amazing as he averaged 30.8 points per game, 8.1 rebounds, and 5.8 assists in the playoffs in 2005-06, and 25.1 points per game, 8.1 rebounds, and eight assists in 2006-07.
The Cavaliers then traded Gooden during the 2007-08 season.
James has since made eight more NBA Finals appearances with the Miami Heat and Cavaliers, and he has won three NBA titles. James' teams have also won a lot in the playoffs as he owns the record for most career playoff wins.
So, what makes his teams so successful?
Drew Gooden revealed what makes LeBron James a special teammate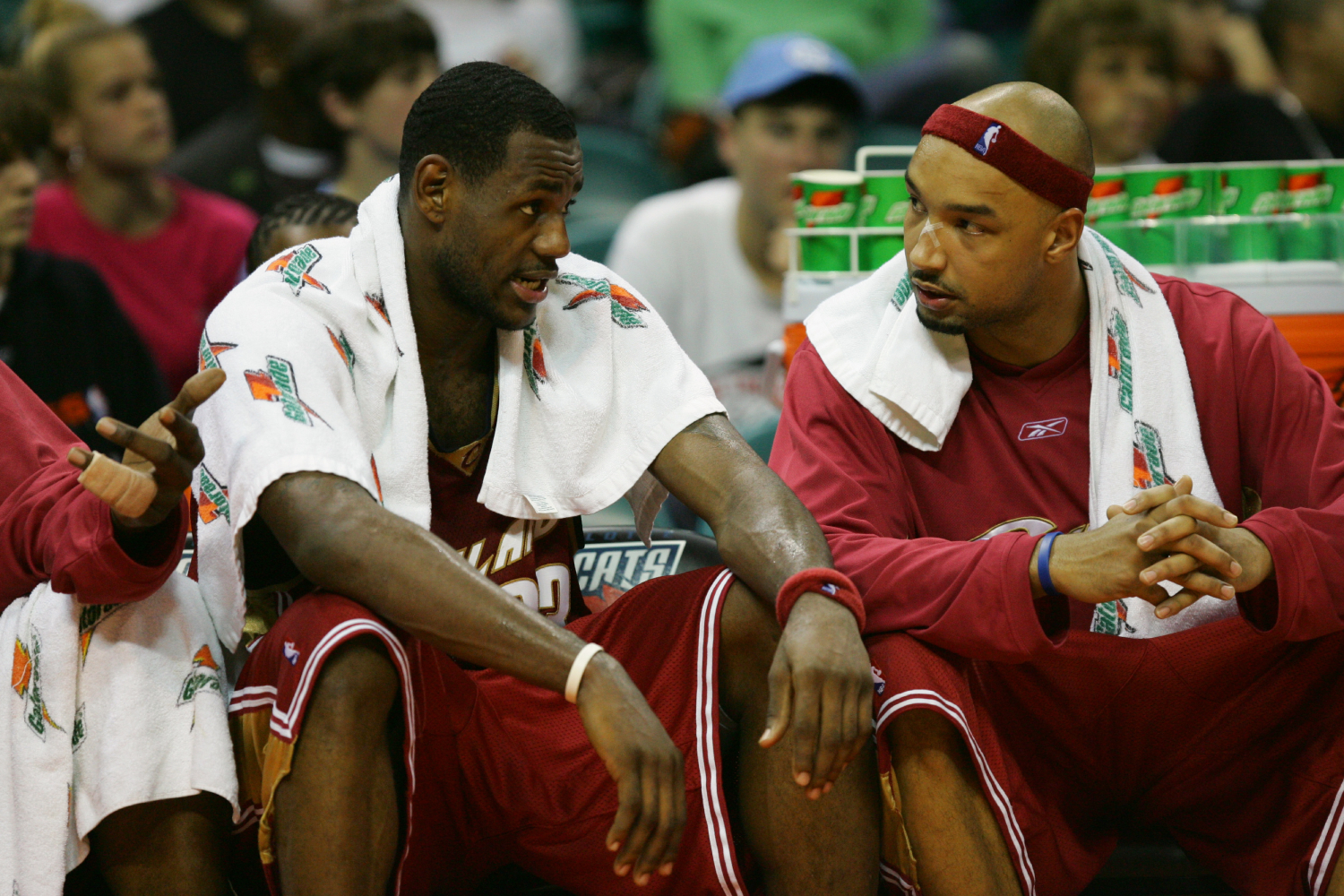 Gooden recently went on the Wizards Talk podcast and revealed what it was like to play with James.
"When you got LeBron James believing in you it don't matter who you are, you're going to have an out-of-body experience, you're going to play out of your mind," Gooden said, according to Yahoo Sports. "The fans are going to be behind you, you're going to get better, gain more confidence."
Gooden also discussed how positive James always seems to be.
"It's never a dull day, a rainy day with LeBron. It could be 80 degrees outside or three below, he's going to come to practice with a smile on his face, happy and ready to work," Gooden said. "No matter what's going on on the outside he just fills the room with energy. LeBron is just so consistent with it, it's not fake, it's not fraudulent. I think that's what his team's feed off and I think that's ultimately what gets his team's to the conference finals."
LeBron James knows what it takes to win in the NBA. It appears that motivating your teammates the right way is part of that.
Stats courtesy of Basketball Reference