Drew Lock Has Misguided Confidence in His Future With Denver Broncos: 'There Is Not a Play You Can't Run With Me'
Drew Lock still seems to believe he can be a big part of the future for the Denver Broncos. His head coach, Vic Fangio, may no longer have a job, but the third-year quarterback is still confident in his ability to do his.
Should he be, though? That's the question the Broncos will be asking themselves this offseason.
Drew Lock had a decent game for the Denver Broncos against Kansas City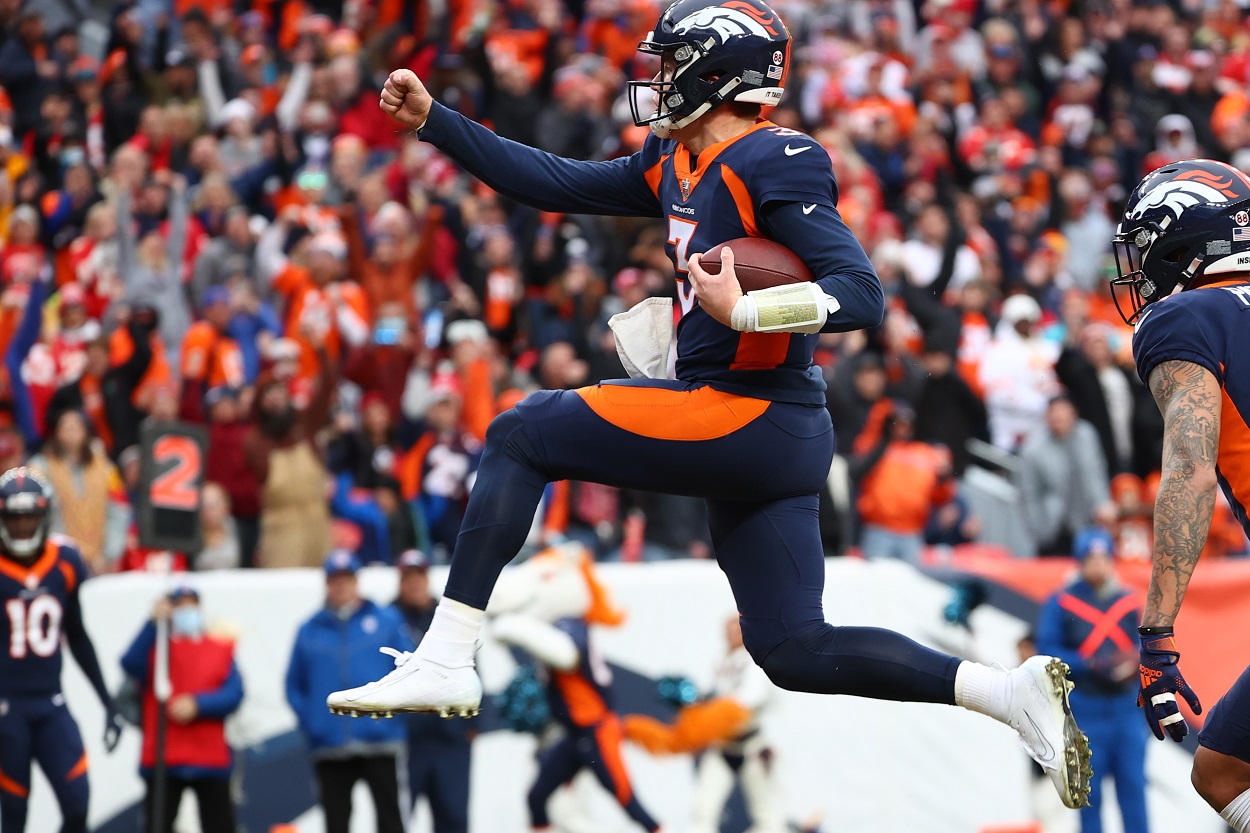 Lock was the starting quarterback in Denver for the Broncos' last three games of the season, a stretch that saw the team go 0-3 and play itself out of playoff contention.
His best performance in the stretch was undoubtedly Denver's competitive 28-24 loss to the Kansas City Chiefs in Week 18.
He didn't throw for a touchdown, and he completed just 12 of 24 passes for 162 yards. With that said, Lock did make a few decent throws. He also flashed some wheels on the ground, running four times for 35 yards and two touchdowns.
"I thought he had a good game, I thought he threw some really nice passes," the now-fired Fangio said after the contest, according to ESPN. "Obviously his scrambling ability showed up in a big way. I thought he played his best game."
Lock still does flash intriguing potential as a quarterback
While he's clearly not on the athletic level of Patrick Mahomes, Lock did look comfortable as an athlete against a quick Kansas City defense. His ability to run when the play broke down gave Denver's offense a different dimension, and that was one Kansas City struggled to stop. And no, he's not a technical tactician like Aaron Rodgers or Tom Brady, but Lock did flash the arm strength that made him such an intriguing prospect in the 2019 NFL Draft.
The Broncos took him in the second round out of Missouri for the exact reasons described above. He has high upside as an athletic quarterback with a strong arm.
One would imagine with the right coaching, and in the right system, he could make some noise in the NFL.
That was at the very least the question draft evaluators were asking themselves in 2019. Denver obviously thought the answer was yes at the time. Now, a few years later and heading into a regime change, is the potential Lock possesses still worth holding onto hope for?
Lock certainly hopes so.
"There is without a doubt a foundation in that locker room," he said. "I'd like to believe there can be a foundation with me in it, but, you know, that's not my choice."
Lock seems supremely confident in his ability as a quarterback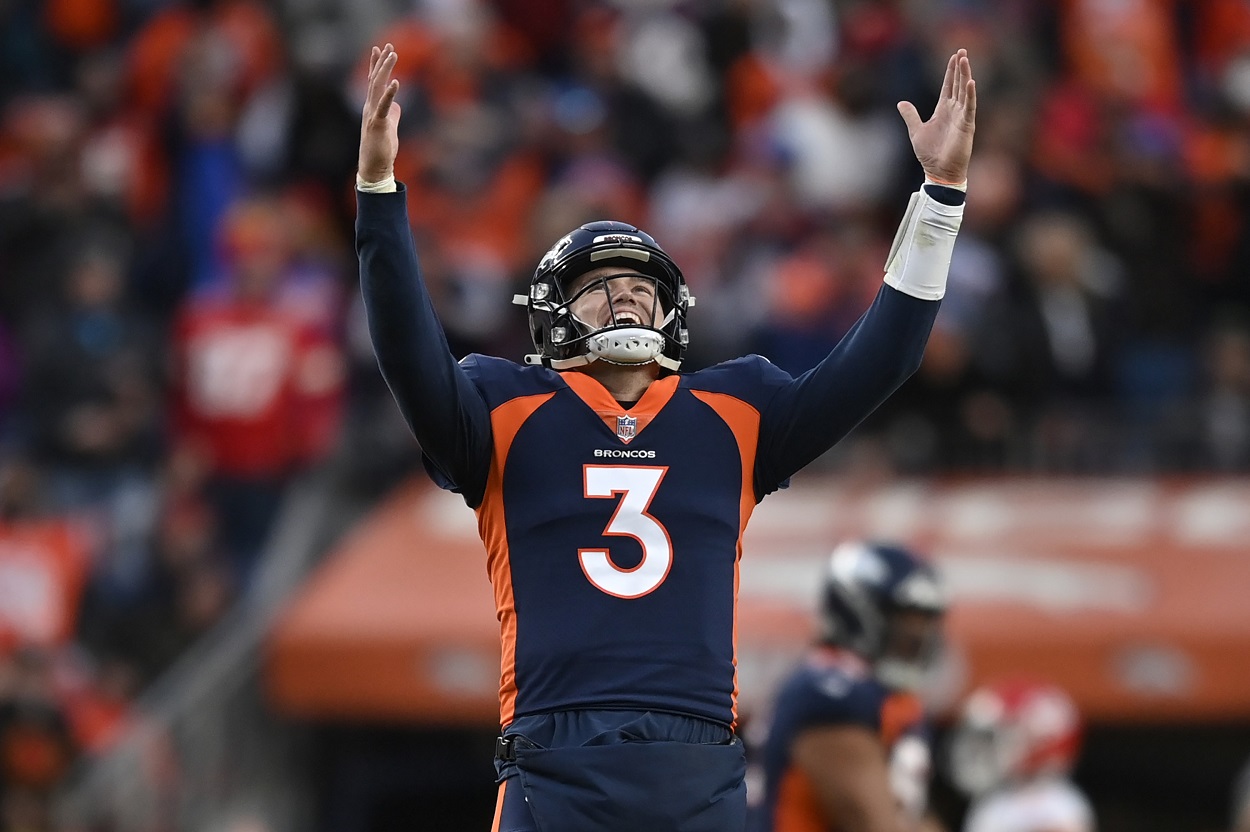 For his part, Lock was pretty bullish on his abilities after the game.
In fact, he was asked point-blank whether he can be the team's starting quarterback moving into the future. Of course, nobody expects elite athletes and competitors to write themselves off and say they can't do a job, but the confidence with which he answered was a bit shocking.
"I do, I do feel that way — again," Lock said when asked if he has what it takes to be Denver's starter next season. "Winning in this league, you always want to win, we didn't get that done [Saturday]. … [But] I do feel like if you put me out there, there is not a play you can't run with me.
"I can make a throw here, I can make a throw there, I was waiting for the opportunity to show you guys I can run around and they gave it to me. But that's not a surprise to me. … I feel like I can go in the locker room with these guys and fire them up, get them ready to play and that's exactly what we saw."
To Lock's point, the Broncos were competitive with the Chiefs on Saturday night. With that said, how much of that was because Kansas City is a bitter rival? One also has to wonder if the team knew the writing was on the wall for Fangio, so it decided it wanted to go out with a fight.
Either way, Lock's argument for himself is that he can be a leader moving forward, and that's all fine and dandy, but he also has to be able to produce results. Frankly, nothing he showed over the past few weeks indicates that he has that ability.
Do the Broncos want a quarterback who can make a throw "here or there"? Or would they prefer one who can make all the throws, all the time? There's not a play the Broncos can't run when he's in at quarterback? How about ones that end in a touchdown through the air?
You can't be a quarterback in the NFL and throw just one touchdown pass over three games. Well, correction … you can still be a quarterback in the league, but you just wouldn't be considered a very good one.
Remember, Lock started 13 games for the Broncos in 2020, but he threw one fewer interception (15) than he did touchdowns (16). That's not a good look. That's not making the throws here or there.
Lock was so uninspiring for Denver in 2020 that the Broncos went out and traded for Teddy Bridgewater.
Bridgewater is a heck of a competent NFL quarterback and can win you games as a low-level starter, but he's not an upper-echelon guy and probably isn't the long-term answer for Denver, either. The fact that Lock couldn't beat him out for the starting quarterback gig says a lot.
If Bridgewater is a lower-level NFL quarterback, what does that make Lock?
For Denver, it wouldn't be a bad idea to keep Lock on as an experienced backup quarterback next season. After all, he is signed through 2022. Any confidence that he can be "the guy" for the Broncos as they look ahead to a new era of football is misguided, though.
He's more likely just "a guy."
Stats courtesy of ESPN and Pro Football Reference. Contract information via Spotrac.
RELATED: Broncos QB Drew Lock Is Getting One Final Shot to Prove His Worth to the NFL
Related post url: