Drew Stanton Has Made a Staggering Amount of Money for 17 Career Starts
Drew Stanton clearly subscribed to the Chase Daniel school of making excellent money as a backup quarterback. Despite only starting 17 games since entering the league in 2007 and not seeing a regular-season snap in nearly three years, Stanton has profited off his ability to learn playbooks and serve as a competent backup behind franchise quarterbacks.
Just how much money has Drew Stanton made in nearly 15 NFL seasons, and will he have an opportunity to expand his bank account in 2020? The numbers will surely surprise you.
Drew Stanton has cashed in as a journeyman backup quarterback
The NFL's 100-plus year history is filled with teams that collapsed when a starting quarterback went down and there wasn't a competent backup in place. Players like Drew Stanton exist solely to make sure that doesn't happen. A second-round pick of the Detroit Lions in 2007, Stanton has made over $25 million across his 13 NFL seasons.
Over The Cap measures Stanton's official career earnings at $26.33 million. Spotrac estimates Stanton's total cash earnings as nearly $32 million. Both are significantly high totals for a quarterback who has barely started over a full season.
Drew Stanton's average salary per year is just over $2 million. But over $14 million of the $26 million came when Stanton played in Arizona from 2013-17. Stanton signed a three-year, $8.2 million contract with the Cardinals in March 2013 and re-signed for $6.5 million ($4.5 guaranteed) in 2016.
Stanton played well at times in Arizona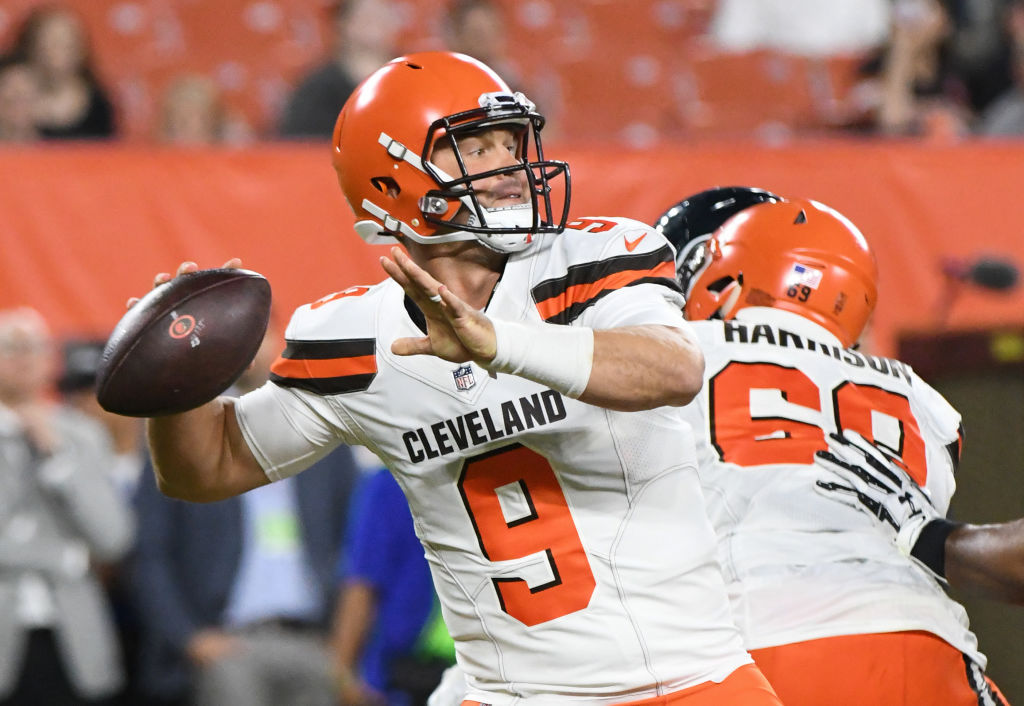 If Drew Stanton didn't resemble an effective quarterback in Arizona, it's unlikely the Cardinals would have paid him as much as they did for the second stint. Although Stanton completed just 51.1% of his passes for 15 touchdowns and 15 touchdowns in Arizona, he went 9-4 in 13 starts across his five seasons there.
The Cardinals looked like an NFC sleeper in 2014 when Stanton took over the starting job in Week 10, but he missed the final month with an MCL sprain. Stanton passed for 1,711 yards — nearly half of his career 4,059 yards — and only fumbled once in nine games. He went 5-3 as Arizona's starter that season.
Drew Stanton served as the Cleveland Browns' emergency quarterback in 2018. He was expected to serve as Baker Mayfield's backup but missed the year with a knee injury.
Will Drew Stanton get another significant contract?
Cleveland officially moved on from Drew Stanton this offseason and signed veteran Case Keenum in his place. Keenum was a successful starter with the Minnesota Vikings as recently as 2017 and spent last year with the Washington Redskins.
Pewter Report, a longtime website dedicated to covering the Tampa Bay Buccaneers, recently speculated if the team would sign Stanton as Tom Brady's backup. Stanton is familiar with Buccaneers head coach Bruce Arians, who he played for in Arizona, and enjoyed the most productive years of his career there.
Drew Stanton also worked with Arians and Buccaneers quarterbacks coach Clyde Christensen with the 2012 Colts. New York Giants head coach Joe Judge hired former Browns head coach Freddie Kitchen as the Giants' tight ends coach this offseason.
The Giants signed veteran Colt McCoy this offseason and still have trick-shot expert Alex Tanney as the emergency quarterback. Stanton may be a fit there if the Giants want to replace Tanney with another proven backup.