Drinking Raw Milk 'Right Out of the Teat' Helped Colt McCoy Go 31 Years Without a Serious Injury
Although he's been in the NFL for a decade, Colt McCoy has spent most of that time watching from the sideline. Even if he doesn't take the field much, McCoy spent a lot of his career in top physical condition. He owes this in part to his love of milk, although it may not be the kind of milk you'd' find at the store. 
Colt McCoy's NFL career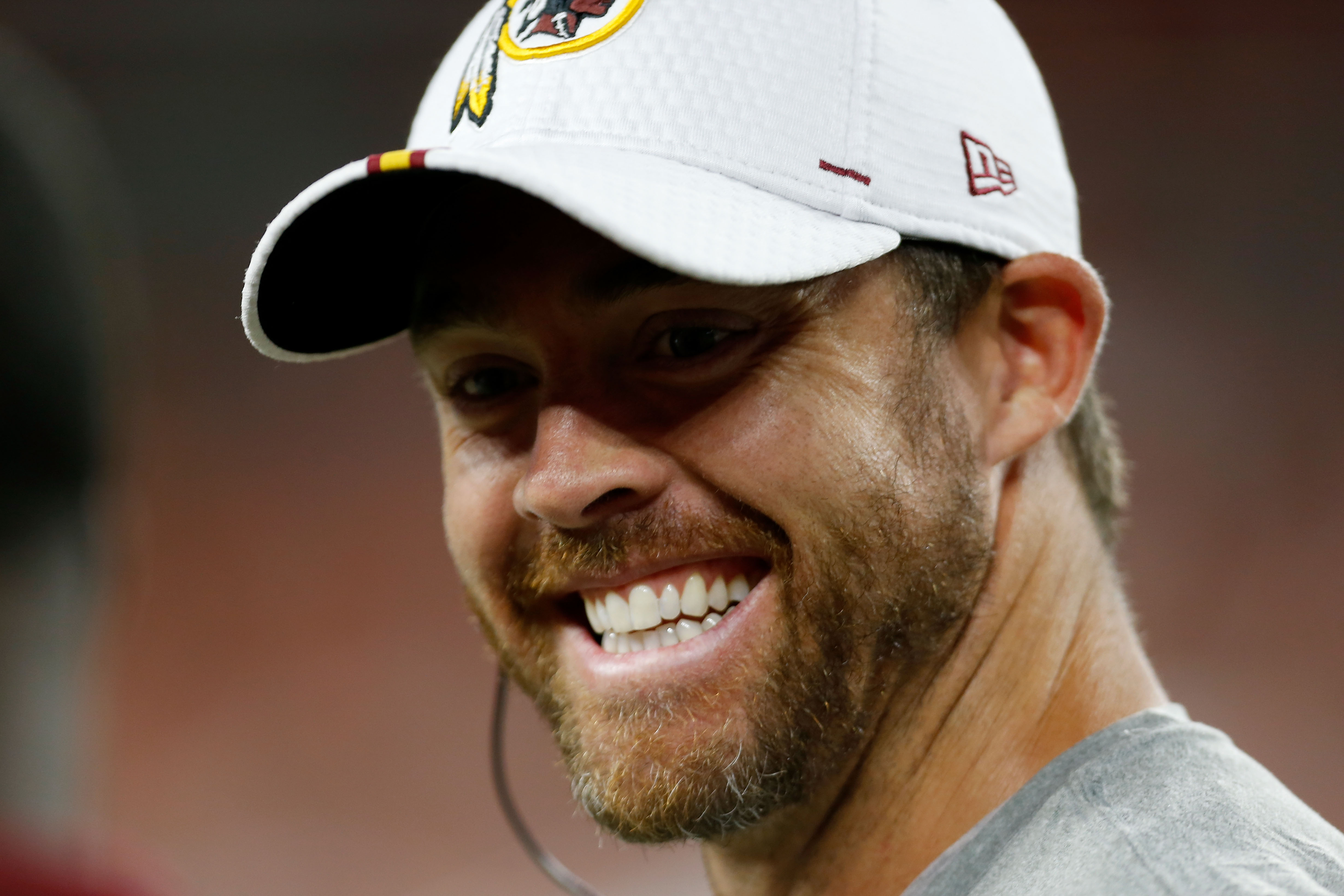 On paper, McCoy has had a mostly forgettable NFL career. The Cleveland Browns drafted him in 2010 after a legendary career at Texas. He spent much of his rookie season watching from afar before getting the call to start for the injury-riddled Browns. He struggled to get in a rhythm, throwing for six touchdowns against nine interceptions on 1,576 passing yards.
The next year, McCoy was the team's full-time starter for a lot of the season. Although it was not a star-making turn at QB, McCoy showed signs of improvement. He threw for 14 touchdowns and 11 interceptions for a Browns team drenched in mediocrity. Unfortunately for McCoy, this was the last time he consistently started.
After his 2011 season, McCoy spent one more season in Cleveland but barely came off the bench. The same went for the San Francisco 49ers, where he threw the football once. After signing with the former Washington Redskins, now Washington Football Team, in 2014, McCoy had a steady place on the bench and occasionally got the opportunity to start. Still, he spent most of the time on the sidelines. 
After a 2018 fibula injury to their backup quarterback, Jon Gruden dropped a nugget about what McCoy did to stay in shape. 
Got milk, McCoy?
When McCoy broke his fibula in December of 2018, it shocked everyone. He never broke a bone before this despite well over a decade in a sport known for injuries. Jay Gruden, the Redskins coach at the time, credited this to the fact that McCoy drank a lot of milk "right out of the [cow's] teat," as Sports Illustrated reports.
Predictably, this claim caused an uproar that eventually forced McCoy to clarify. No, he didn't correct Gruden's assertion that he drank raw milk. He simply corrected the amount. 
"I grew up drinking raw milk because we had dairy cows and so it's what I've always preferred to drink," McCoy said per WashingtonFootball.com. "I don't drink a gallon of it every day like Jay says, but I do like milk and I do drink it raw."
It's a habit that the quarterback has passed on, as well. "My kids drink it," McCoy told the Washington Football Team's website. "Every time I drink regular milk it doesn't taste near as good, it kind of makes my stomach hurt, so raw milk is kind of the way to go I guess. [Pasteurized milk] tastes real watered down."
It's a strange story, but a testament to McCoy's country roots and people like him. Now on a new team, perhaps it's part of why he keeps on getting work.
What is McCoy up to?
McCoy may not have the most impressive resume, but he is constantly ready to help a team. Despite the fibula injury, he was back on the sideline cheering on his teammates. This upcoming season, he will do it for a new team. The New York Giants lost a veteran leader when Eli Manning retired, but they gained a new one when McCoy signed with the team in March. 
Time will tell if he has a bigger role helping the young Giants rebuild. Perhaps, that leadership will help him spread his dairy habits to new talent in New York. Whatever the case may be, McCoy isn't going to stop any time soon. Regardless of what happens on the field, McCoy can always look forward to his nice cold glass of raw milk at the end of the day.