Duke Basketball: Scouting Potential No. 1 Pick Paolo Banchero Heading Into NCAA Tournament
As per usual, this year's Duke basketball team is loaded with talent — maybe even record-breaking talent.
But Mike Krzyzewski's program now occupies a front-row seat on the one-and-done train, which means his 2021-22 squad is inexperienced as it heads through the ACC Tournament and on to the NCAA Tournament. Coach K has an ace up his sleeve, though, in freshman Paolo Banchero.
Banchero arrived at Duke with superstar expectations and, for the most part, has lived up to them. But what are his strengths and weaknesses, and how might those translate to a possible National Championship run before he (presumably) enters the 2022 NBA Draft?
Here's a scouting report on the Blue Devils' standout diaper dandy.
Paolo Banchero chose to take his talents to Duke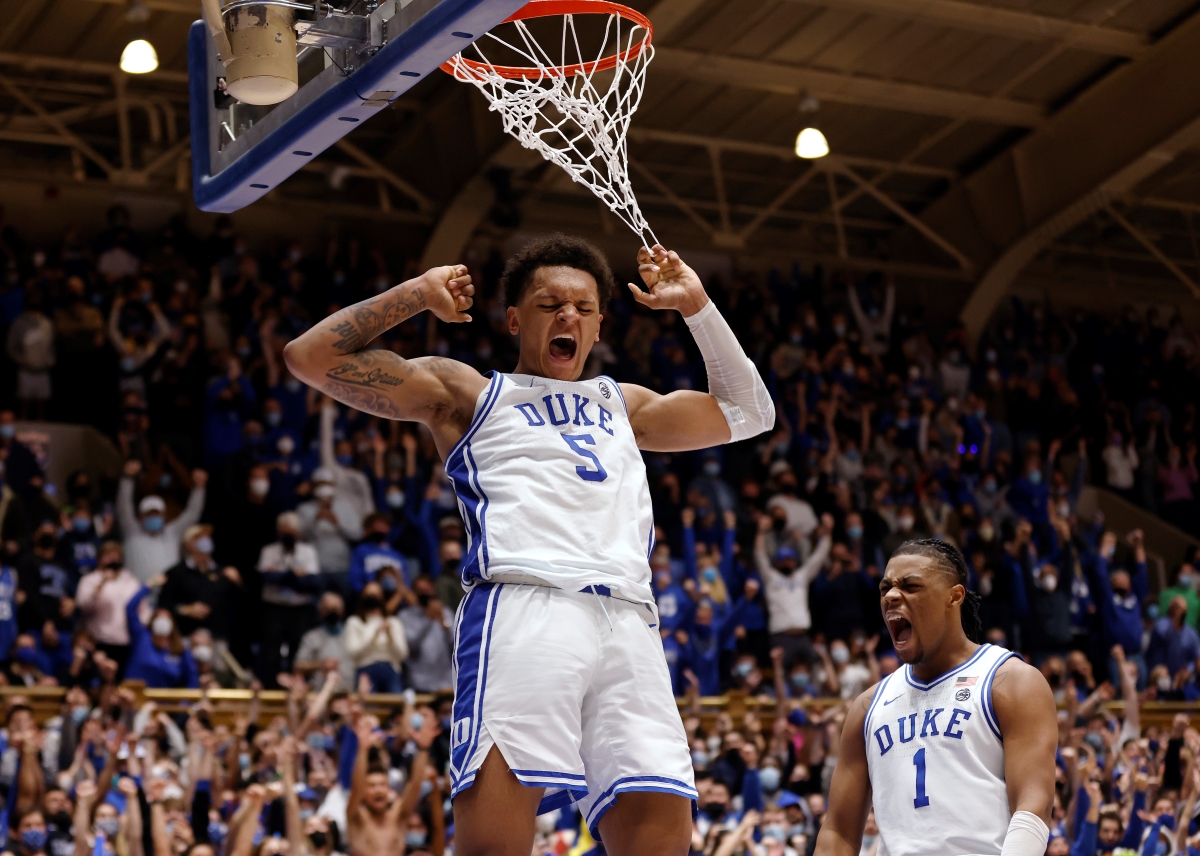 Banchero was a composite five-star recruit per 247Sports. He was the second-ranked player in the country and the No. 1 power forward.
The 6-foot-10, 235-pound Seattle native also had offers from several Division 1 powerhouses like North Carolina, Gonzaga, Michigan, and Kentucky.
Per Josh Gershon of 247Sports, Banchero is "best from high post where he can hit jumpers, take bigger defenders off dribble or use his outstanding vision to find cutters. Terrific rebounder. Uses his size and basketball IQ to protect rim."
The freshman has proved Gershon's scouting report correct thus far and has been one of college basketball's best players in 2021-22.
Banchero has the skillset to become an NBA star
The O'Dea High School alum has started every game this year for Duke and is averaging team-highs in scoring (16.9 points per game) and rebounding (7.9) to go along with 3.2 assists per night.
Banchero is shooting 47% from the field, 31% from three, and 74% from the free-throw line.
He was named to the ACC's All-Conference First Team, All-Freshman Team, and was the league's Rookie of the Year. Paolo is also on the watchlist for the 2021-22 Wooden Award.
CBSSports has Banchero listed fourth on its 2022 NBA Draft Big Board behind Purdue's Jaden Ivey, Gonzaga's Chet Holmgren, and Auburn's Jabari Smith.
The 19-year-old's most translatable skill is his ability to put the ball in the basket. At 6-10, he's a natural athlete who has proven he can create his own shot at any time against any collegiate defender.
It will be more difficult for Banchero to use his size, strength, and burst to bypass defenders at the NBA level, but his offensive upside is intriguing and will keep him in the top five of this year's draft.
His game is close to the rim and in the mid-range right now, but his three-point and free-throw shooting as a freshman show some upside to his jumper if he continues to work on it.
Paolo's physical abilities and proven production against the best players in the country will help lead the Blue Devils if they earn a Final Four berth in Coach K's last season.
Banchero is far from the only Duke player who can shine on the big stage, but he's a critical offensive fulcrum for a team that won the ACC Championship and leads the nation in scoring.
The freshman will hope to lead Coach K on one final tourney run before the NBA
Krzyzewski has a slew of high-level recruits at his disposal as he attempts to make one final run at his sixth national championship.
Duke boasts five potential first-round picks as only part of it's loaded roster. But Banchero is the most naturally gifted.
Coach K and Paolo have one tournament run left to cap off their lone season together. The freshman superstar has the game to send his coach off into the sunset — now is his time to prove it.
All statistics courtesy of ESPN.
RELATED: UNC Legend Tyler Hansbrough Savagely Trolls Mike Krzyzewski's Cameron Farewell Celebration After Tar Heels' Upset Win