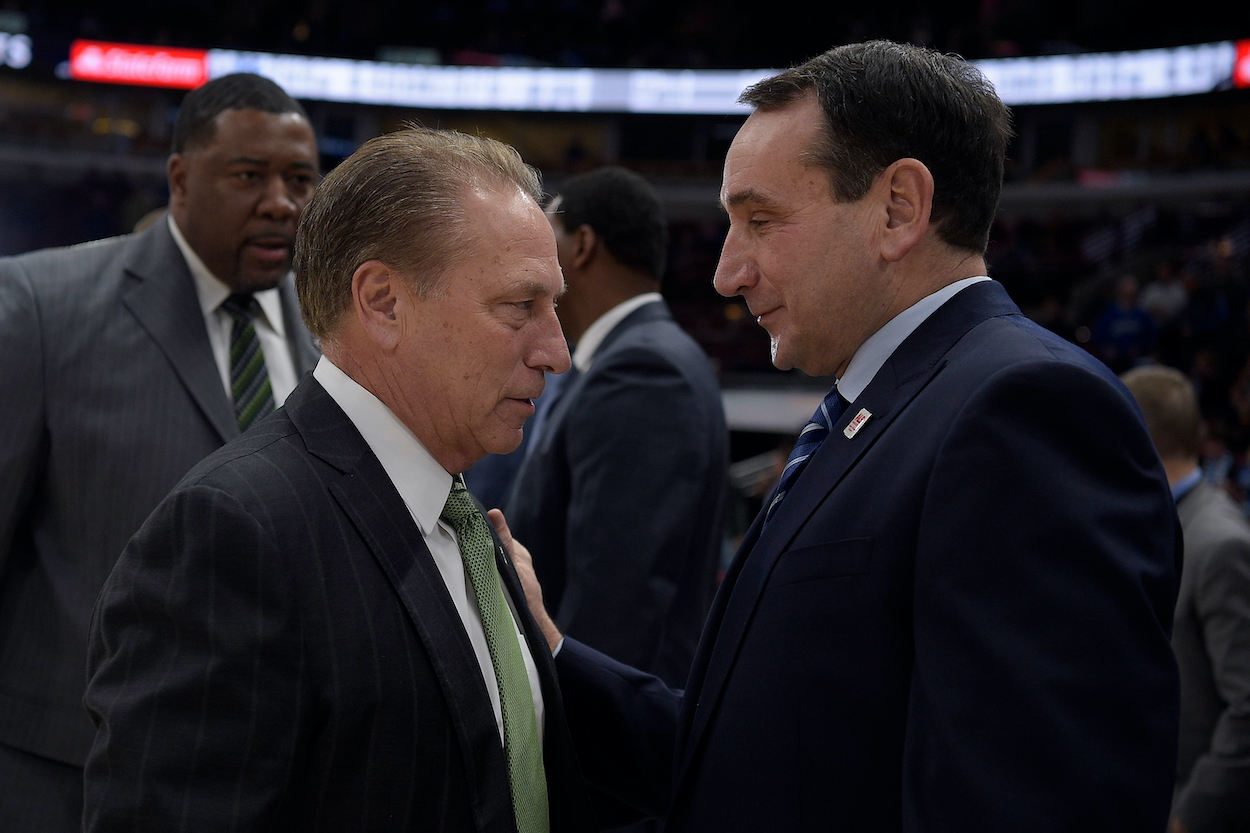 Duke vs. Michigan State: What Is Coach K's Career Record Against Tom Izzo?
Does Coach K or Tom Izzo have the upper hand in the Duke-Michigan State rivalry?
Mike Krzyzewski is in the middle of his final NCAA Tournament run with the Duke Blue Devils, and thanks to the selection committee, he'll have to get past longtime rival and friend Tom Izzo if he wants his coaching career to continue.
As Duke and Michigan State prepare to face off in the Round of 32 on Sunday, let's reminisce about the battles these two legendary coaches have shared and see who has the upper hand in their rivalry.
Career comparison: Mike Krzyzewski vs. Tom Izzo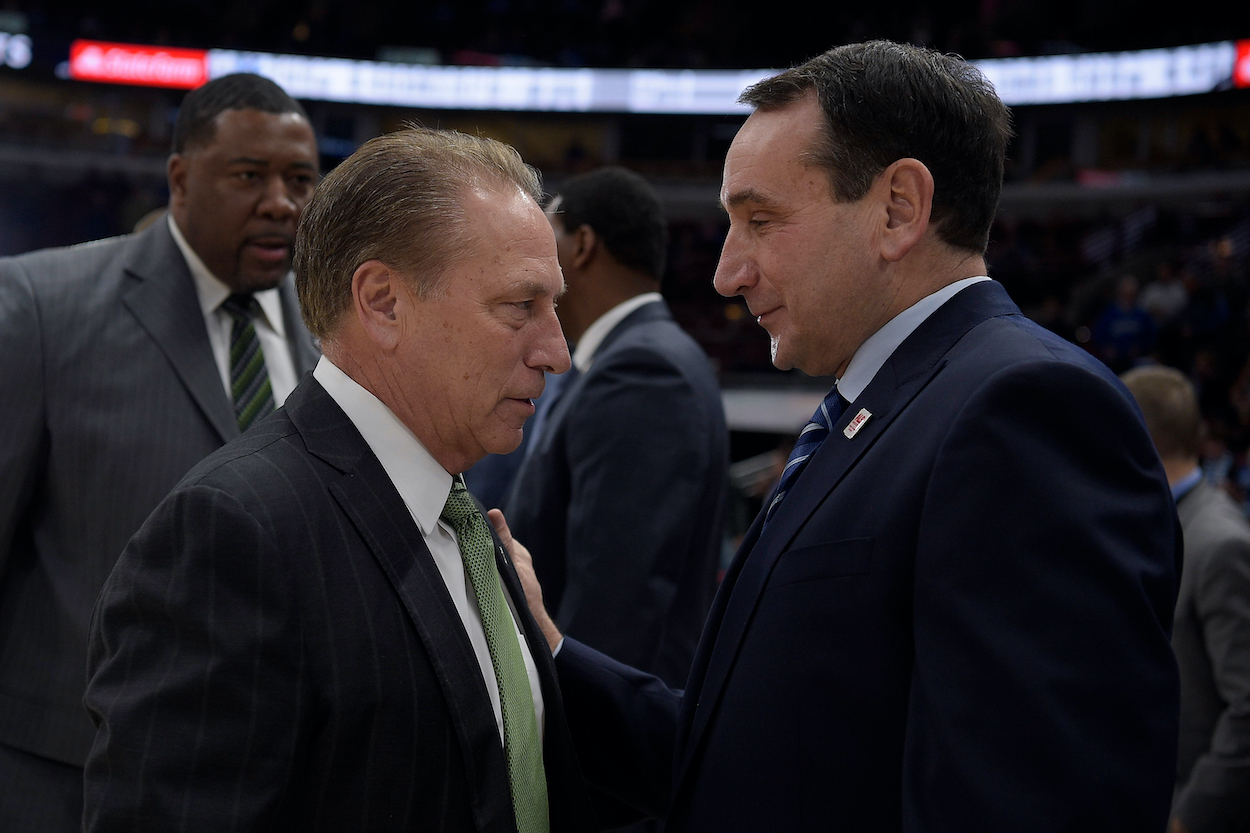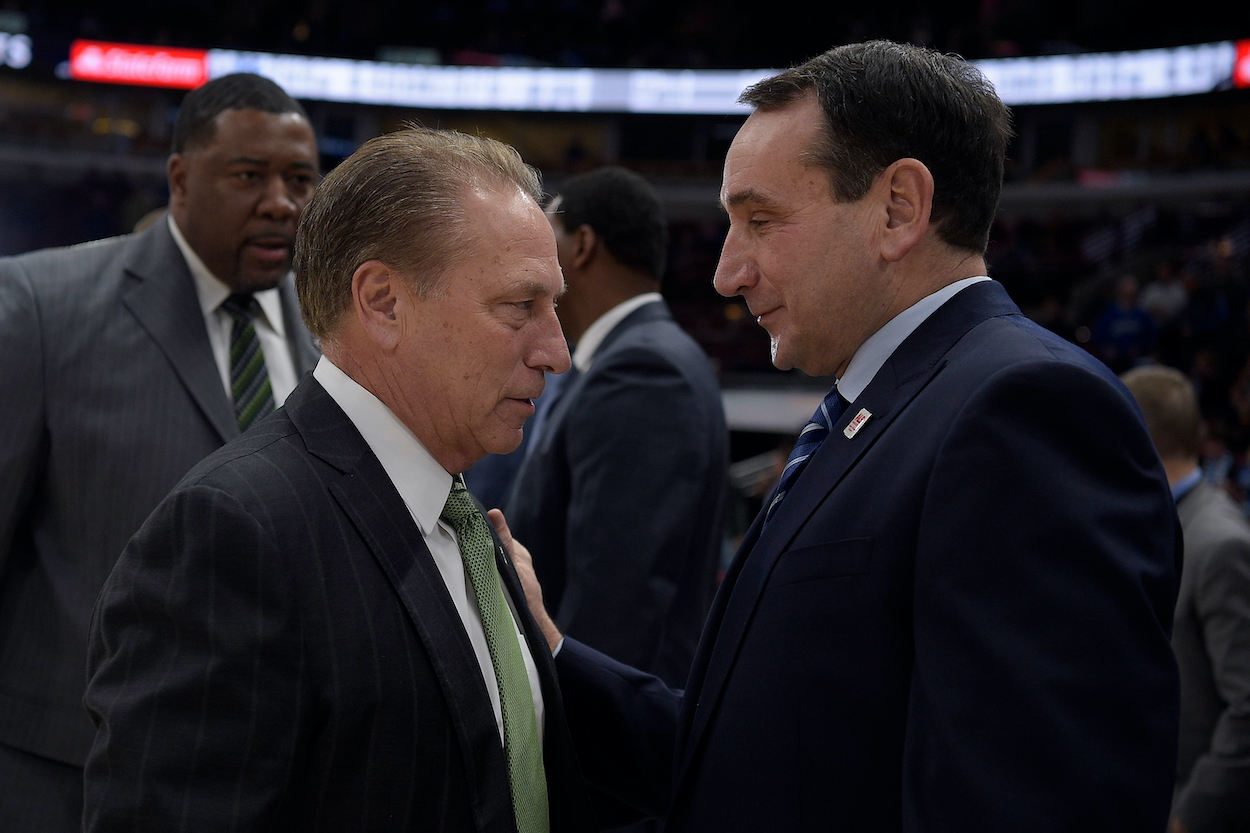 Krzyzewski and Izzo are two of the most accomplished coaches to ever patrol the college basketball sidelines. They've combined for 1,865 total wins, 151 NCAA Tournament victories, and six national championships over the years. But which coach has the better career resume?
Coach K obviously has the advantage here considering he's coached for 46 full seasons, whereas Izzo has coached for only 26. Still, Krzyzewski has the most wins in NCAA DI history (1,199), the best winning percentage in NCAA Tournament history (.765), and the second-most national championships (five) in DI history.
As for Izzo, he ranks 40th in total wins (666), fifth in NCAA Tournament winning percentage (.706), and has just one national title to his name. He might need to coach for 20 more years if he wants to catch Krzyzewski in any of those categories.
What is Coach K's career record against Izzo?
Over the years, Coach K and Izzo have faced off 15 times as the head coaches of Duke and Michigan State, respectively. In those games, Krzyzewski has gotten the better of his longtime friend.
Krzyzewski owns a 12-3 record against Izzo in his career.
Izzo's Spartans did knock off Krzyzewski's Blue Devils in the last meeting between the two. In the 2019 Elite Eight, Michigan State knocked off Duke, 68-67, to advance to the Final Four.
One last battle
On Sunday afternoon, Krzyzewski and Izzo will face off for the 16th and final time as head coaches. No. 2 Duke is a 6.5-point favorite over No. 7 Michigan State in the highly anticipated Round of 32 matchup.
Ahead of the game, Izzo gave Coach K the best compliment he could've asked for.
"I didn't want to look ahead, dream of the matchup because you get a chance at one more time to play against maybe the all-time great, as they say about LeBron or they say about Michael," Izzo said after the win over Davidson. "In the coaching world, the GOAT is the team we'll play. It's been earned. It's not been given. It's been earned."
Krzyzewski might be the GOAT, but Izzo has a chance on Sunday to be the coach who ended his legendary career.
Like Sportscasting on Facebook. Follow us on Twitter @sportscasting19.