Dustin Johnson Must Face a Devastating Obstacle When Looking to Repeat at the 2021 Masters
Dustin Johnson put his name up there with golf legends in 2020 when he won the Masters after recording the lowest score in the tournament's storied history at Augusta. Now, Johnson hopes to repeat and win yet another green jacket this weekend, which would put in him in the same company as only a few other legendary golfers. However, Johnson will attempt to do this with a heavy heart. One of his biggest fans, who was also a sports star at one point, died just three weeks ago. That fan was Johnson's grandfather, Art Whisnant.
Golf star Dustin Johnson looks to win the Masters for the second straight year
The 2020 Masters Tournament was one like no other. The event was delayed for seven months due to COVID-19, as golfers ultimately competed at Augusta in November. However, Dustin Johnson ended up giving golf fans a performance like no other.
At the 2020 version of the historic tournament, Johnson made history after winning the event by five shots and setting the 72-hole record at Augusta with a score of 20 under.
Now, as he prepares for the 2021 Masters, Dustin Johnson looks to put his name up there with golf legends. He could do this by becoming only the fourth golfer to win the Masters in back-to-back years. Johnson would join Tiger Woods, Jack Nicklaus, and Nick Faldo. Woods was the last golfer to accomplish the feat in 2001 and 2002.
"You always would dream about winning the Masters, but it was just a dream," Johnson said, according to ESPN. "Never really thought it would come true, especially not as a kid. It's pretty cool, though, when your dreams do come true."
However, Dustin Johnson will have to try to make golf history without one of his biggest fans.
Dustin Johnson's grandfather died less than a month ago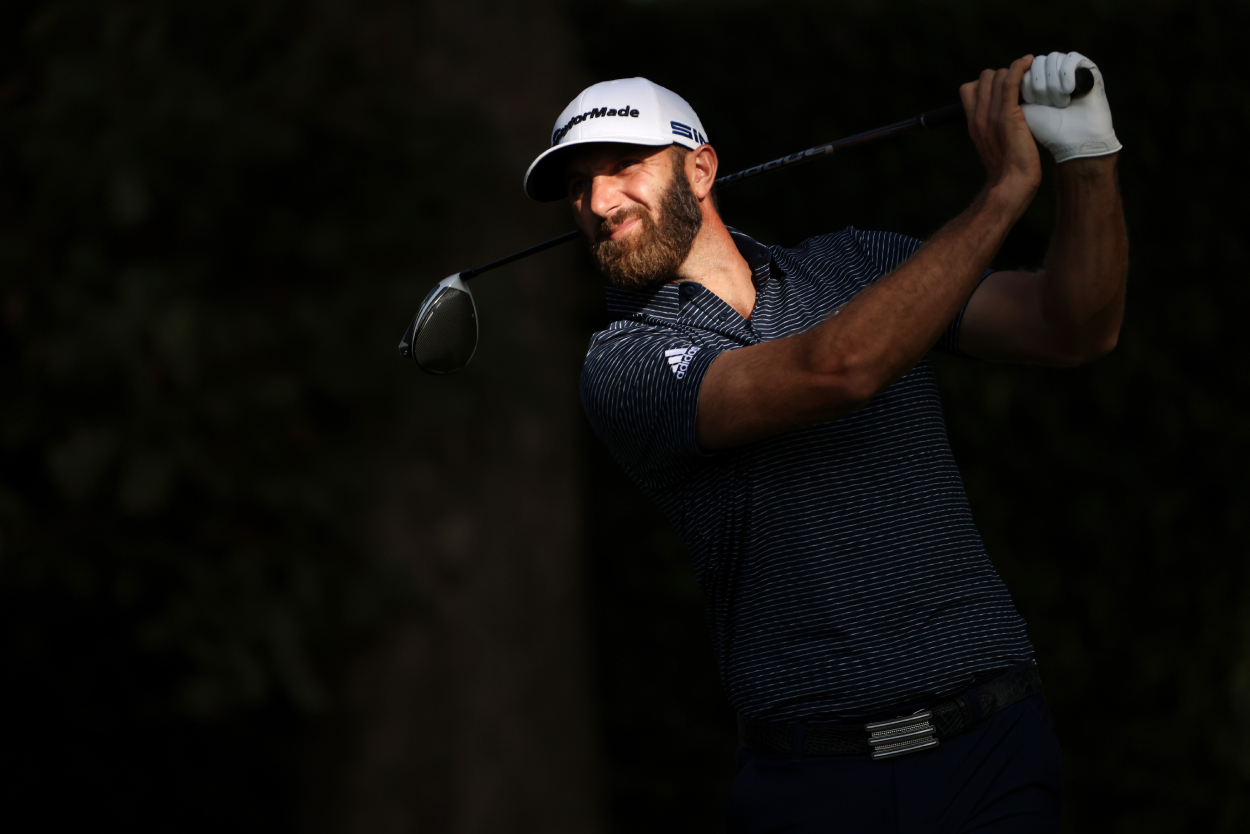 According to the New York Post, Dustin Johnson's grandfather, Art Whisnant, died just three weeks ago at 81 years old.
"He was always a big part of both of our lives, just with sports," Johnson said of he and his brother's relationship with his grandfather, according to the New York Post.
Whisnant coached Dustin Johnson's brother's AAU basketball team. The New York Post also reported that he studied Johnson's swing "as the boy hit one ball after another into Lake Murray from Whisnant's South Carolina backyard."
"He was a huge sports fan, didn't matter what sport it was," Johnson said, according to the New York Post. "He thought he knew how to play it and he was good at it, that's for sure, even with golf. Even though I don't think he ever even hit a golf ball, he would still try to tell me how to play. That's just how he was."
While Dustin Johnson's golf career has made him the big sports star of his family, his grandfather was also an excellent athlete.
His grandfather was a basketball star
According to ESPN, Whisnant is in the state of South Carolina's athletic hall of fame. He played basketball for the South Carolina Gamecocks from 1959 to 1962 and earned All-ACC honors three times.
Whisnant also scored 1,505 career points, which is 11th in South Carolina history, as he averaged 19.1 points per game to go with 9.2 rebounds. The LA Lakers then selected him in the fifth round of the 1962 NBA draft.
The New York Post reported that a foot infection ultimately impacted his athletic career, but he later chose to focus his efforts on shaping Johnson and his brother into top-notch athletes.
Whisnant then got to see his efforts pay off in a big way, as his grandson won the Masters in historic fashion during the last few months of his life.
Maybe, Dustin Johnson can make golf history for his grandfather again by winning the Masters for a second straight year and becoming the first person to win in it within just five months. He certainly has the ability to do just that.
It should be an interesting tournament.
Basketball stats courtesy of Sports Reference