Dustin May and Other Pitchers Nailed by Line Drives
When it comes to dangerous professions, few insurance companies rank major league pitcher up there with firefighter or race car driver. There are, however, some prime examples when standing on the pitcher's mound can be as frightening as putting out a three-alarm blaze. Such as when a live drive comes right back at a pitcher standing just 60 feet away from the batter.
Big Red Is down
The man they call "Gingergaard" possibly saw his life and career flash before his eyes when recently a blistering line drive nailed him in the head during a game against the Arizona Diamondback. The pronounced silence led by the batter—a sincerely remorseful Jake Lamb—lingered until all 6 foot 6 inches of Dustin May walked off the field under his own power.
It took a few days for May to shake off the effects of the bullet that grazed his head, but he was back on the mound Sept. 7 when he threw a scoreless inning against the Giants.
May is the latest in a series of pitchers who have come face to face with a screaming liner off an opposing batter standing 60 feet, six inches away from the mound. Some have escaped relatively unharmed while others have not fared as well.
For the record, May prefers the nickname "Big Red" despite the cleverness of "Gingergaard."
An Angel launches a devilish shot
In 2012, Oakland A's pitcher Brandon McCarthy was hit in the head by a ferocious drive off the bat of the Angels' Erick Aybar. While McCarthy sat up after being struck, he received serious injuries from the shot. McCarthy suffered a brain contusion and an epidural hemorrhage. In short, the 2012 season ended for the A's pitcher after the life-threatening accident.
McCarthy went on to pitch for the Arizona Diamondbacks the following season, but he had a medical scare when he had a seizure while dining out with his wife at a local restaurant.
The former White Sox draft pick went on to pitch for the New York Yankees, Dodgers, and Braves with his career ending after the 2018 season. McCarthy won 32 games after his 2012 mound incident.
Putting on a Brave(s) face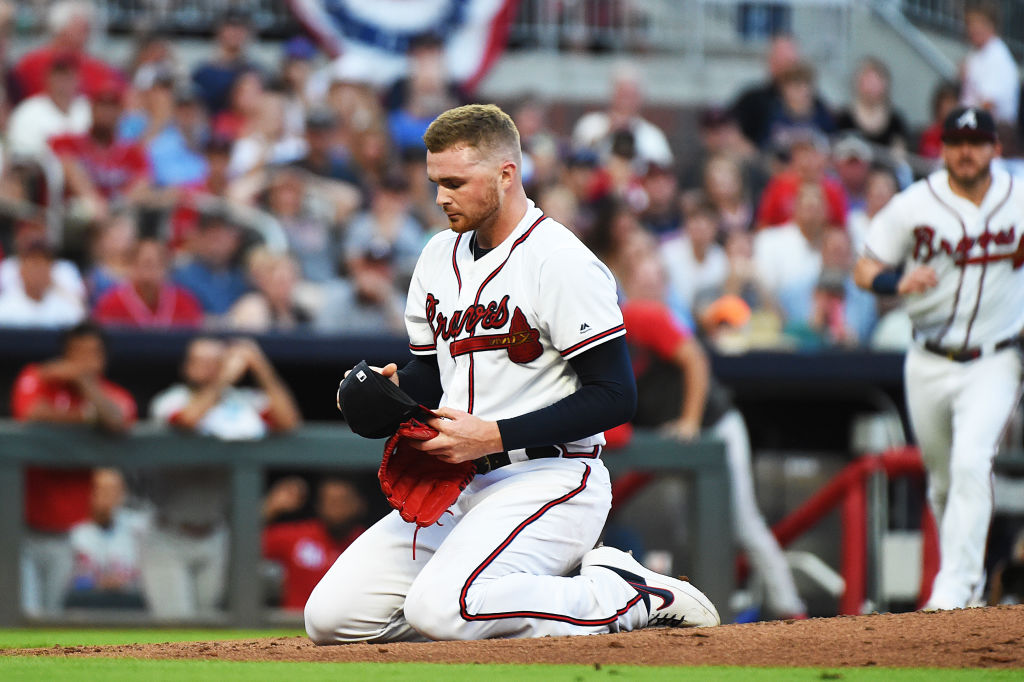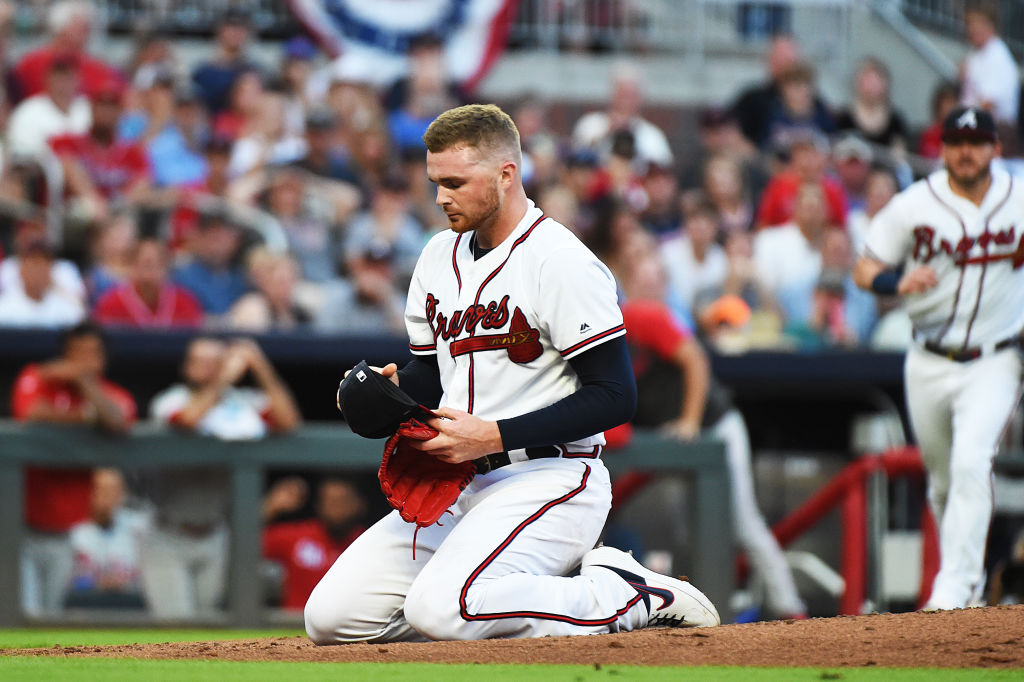 Far more fortunate is Atlanta Braves lefthander Sean Newcomb. Just three months back, Newcomb was smashed in the old coconut by a 102-MPH line drive off the bat of Phillies catcher J.T. Realmuto. Newcomb was taken out of the game and went through the same concussion protocol common to NFL players who are in danger of a concussion. The former first-round draft pick was cleared and spent no time on the IL.
"I've had some [high school] football hits that were harder than that," Newcomb told MLB.com. "I've had a few concussions. Right away, when it hit me in the head and I was down on the ground, I popped up, and I knew I was alright. I knew it wasn't too, too bad."
Red Sox pitcher goes to the dogs
And while getting hit in the head by a line drive from a hair over six yards away is no laughing batter, Red Sox pitcher Rick Porcello showed some good humor in such a situation.
This past spring training, Porcello was nailed by a line drive from Cubs catcher Wilson Contreras. While the ball was screaming toward his noggin, the Rex Sox pitcher deflected much of the shot with his glove. After the ball bounced away, the former Cy Young winner hit the ground and rubbed his head.
Players, coaches, and umpires were rattled, but Porcello got up only slightly dazed. The most memorable part of the scene was when manager Alex Cora came out to check on the star hurler.
"He barked like a dog, and he scared the living whatever out of me. I told him now I'm going to be on TV for the rest of my career for the wrong reasons. But he's OK," Cora told Fox News.