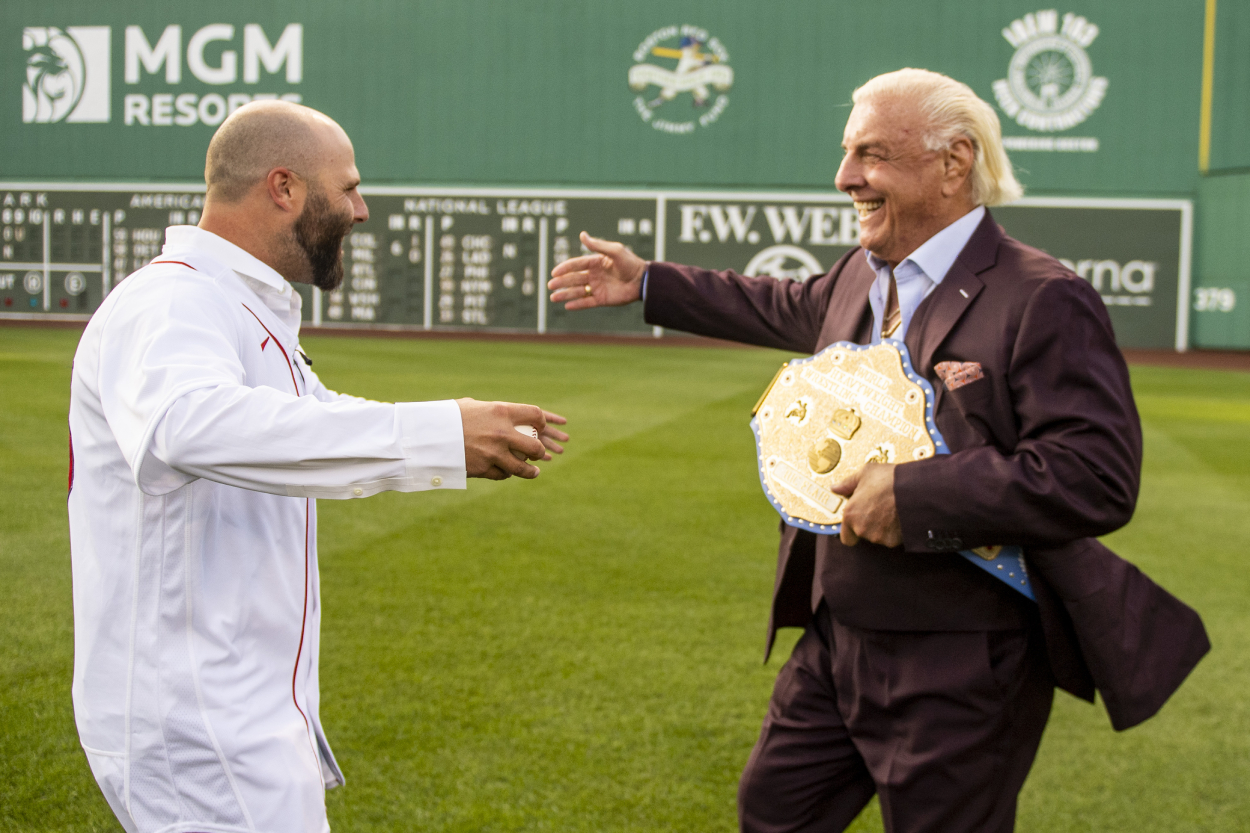 Dustin Pedroia 'Completely Shocked' by Ric Flair Fenway Park Appearance
Wrestling legend Ric Flair "completely shocked" former Boston Red Sox player Dustin Pedroia.
Dustin Pedroia hung around as long as he could. The longtime second baseman tried to keep playing for the Boston Red Sox, but injuries wouldn't let him. Friday night, against the rival New York Yankees, the man they call the Laser Show, knew it was finally over. The Sox honored him with "Dustin Pedroia Night" at Fenway Park, and then he was "completely shocked" by an appearance from wrestling legend Ric Flair.
Dustin Pedroia gave everything he had to the Boston Red Sox
Pedroia is far from a physical specimen at 5-foot-9, 175 pounds, but what he lacked in size, he made up for with his hustle and hard work. A second-round by the Red Sox out of Arizona State in 2004, Pedroia became one of the team's all-time greats and fan favorites.
He was the American League Rookie of the Year in 2007 after hitting .317 with eight homers and 50 RBIs in 139 games. Pedroia followed that season by claiming the AL MVP after hitting .326 and leading the league in hits (213), runs scored (118), and doubles (54). He played 14 seasons, all in Boston, although managed to play in just nine games combined in 2018 and 2019 after struggling with a knee injury.
Pedroia finished his career with a .299 batting average and 1,805 hits. According to former manager Terry Francona, he came across as a cocky player but was very humble.
"I don't know how he balances it so well," Francona said Friday during an interview with Boston radio station WEEI. "He'll come across as arrogant, but he's so humble, and he'll do both in the same sentence. He can pull it off because he's Pedey. Everyone who's been around him for 10 minutes knows his heart is his biggest muscle, and that's probably part of the reason he does pull it off."
Dustin Pedroia honored by Red Sox, 'completely shocked' by Ric Flair
During Friday's pregame ceremony on "Dustin Pedroia Night," former players came out to honor Pedroia, who announced his retirement in February. The four-time All-Star struggled to make several attempts to return from a bad knee. Also in attendance was wrestling star Ric Flair, who came in from the outfield to present Pedroia with a championship belt. Pedroia was stunned.
According to NESN, the former Sox second baseman was "completely shocked" by Flair's appearance.
"I'm like, 'Man, this is unbelievable,' and then the 16-time champ shows up — or whatever he is," Pedroia said during NESN's broadcast of the game. "I'm like, 'Wow, they're taking it to a new level.'"
Pedroia was given rock-star treatment by the Red Sox
Wearing his No. 15 jersey, Pedroia opened the ceremony by coming in from the outfield through smoke and pyrotechnics as if he was a rock star. The Sox played video messages from former teammates and managers, including Francona and David Ortiz, as Pedroia wiped away tears. Sox pitching legend Pedro Martinez was in attendance.
"It's special. My whole career I kind of had blinders on. I worried about each day. I never looked back and thought about what I did, what impact I had," Pedroia said, according to The Associated Press. "To see that today when I walked out today. … It's special. I did something good."
Pedroia was asked if he thought he'd ever put on a baseball uniform again, possibly in a managerial role. He issued a "maybe" but said family comes first.
"I think everyone knows that," Pedroia said. "It's just a matter of time. I want to raise my boys and make sure I don't miss anything in their life. They deserve that. Then after that, it's go-time."