MLB: Where Does Dustin Pedroia Rank Among the Best Players in Boston Red Sox History?
The Boston Red Sox and Dustin Pedroia recently announced that Pedroia would be out indefinitely as he recovered from a knee injury. The injury kept him out most of the 2018 season and the start of 2019. While the team has had some missteps over the years, fielding Pedroia was hardly one of them. Pedroia emerged from the Boston farm system in 2006 to become one of the league's best second basemen. He now fears he may never recover enough to play again. It's a sad moment for a great player from one of the great MLB franchises.

This may be the end of Dustin Pedroia's impressive career. Or it may not be, but it presents a good opportunity to evaluate where he stands as one of the all-time greats in Boston Red Sox history. So where does Dustin Pedroia rank among the best players in Boston Red Sox history? Let's find out.

Dustin Pedroia's career numbers
Pedroia's stat line the last two seasons has been unimpressive due to the nagging injuries. But a look beyond the recent dip reveals an offensive powerhouse. Consider Pedroia's career totals, including:
.299 batting average
140 home runs at a position (second base) not typically known for producing power hitters
725 RBI
922 runs scored
.365 on-base percentage
.439 slugging percentage
624 walks
2,649 total bases
Career accomplishments
Dustin Pedroia is a highly decorated player, and during a 10-year stretch (2007-2017), he was one of the league's best performers:
2007 American League Rookie of the Year
2008 American League Most Valuable Player
Two additional top ten finishes in MVP voting in 2011 and 2014
Four Gold Gloves
2008 Silver Slugger Award
Key component of two World Series-winning teams — the 2007 and 2013 Boston Red Sox
Six playoff appearances
Lifetime career contract earnings of more than $114 million
Those are the type of achievements the majority of players could be happy with after a long career. The fact Dustin Pedroia did all that at a sometimes overlooked position makes it all the more impressive.

Dustin Pedroia compared the best players in Boston Red Sox history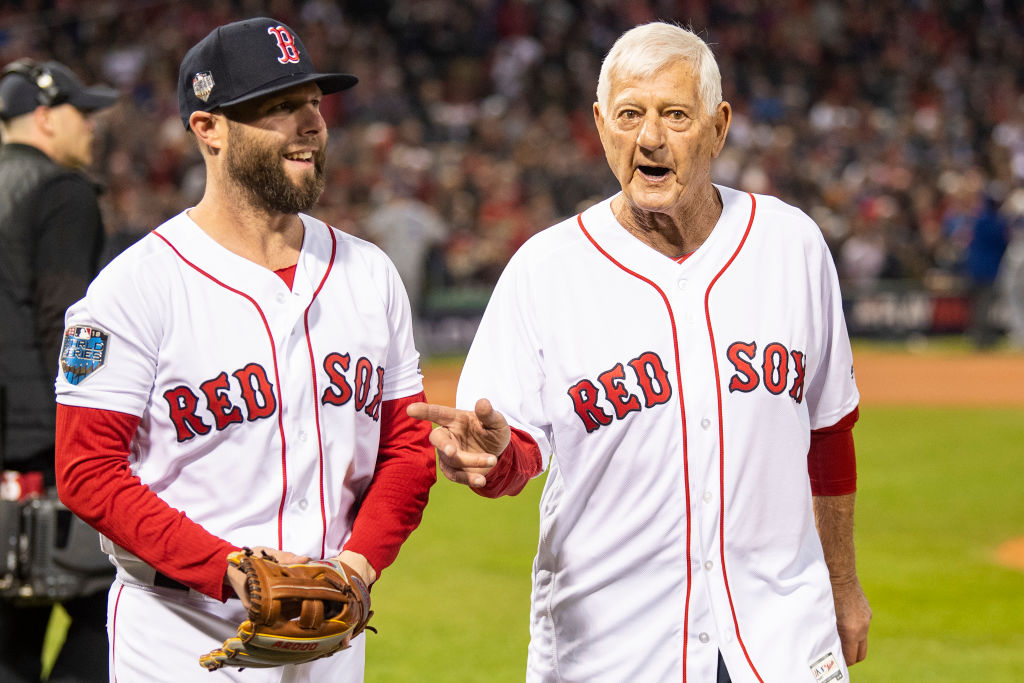 The Boston Red Sox have fielded a team every season since 1901, and despite a decades-long World Series drought that started with one bad move, have had multiple legendary players play for them. Their list of all-time greats is filled with Hall of Famers and All-Stars. They've won nine championships (three with Pedroia on the roster) and 14 AL pennants.
It's difficult to compare players across eras, but one stat that's useful here is known as Wins Above Replacement (WAR), which calculates a player's value above that of an AAA-level replacement-type fill-in player. Here are the top ten WAR rankings for Red Sox position players courtesy of Baseball Reference (emphasis added):
1. Ted Williams: 123.1
2. Carl Yastrzemski: 96.4
3. Wade Boggs: 71.9
4. Dwight Evans: 66.5
5. Tris Speaker: 55.7
6. David Ortiz: 52.7
7. Dustin Pedroia: 51.7
8. Bobby Doerr: 51.2
9. Jim Rice: 47.7
10. Nomar Garciaparra: 41.2
To put Pedroia's place on this list in perspective, four of the six players ahead of him are in the Hall of Fame. One of them, David Ortiz, is virtually guaranteed enshrinement once eligible. Another, Dwight Evans, mystifies experts as to why he hasn't been selected already. Pedroia's achievements put him in rarefied air.
Dustin Pedroia also ranks ahead of numerous other Red Sox greats such as Doerr, Rice, Carlton Fisk, Rico Petrocelli, Jimmy Foxx, and Fred Lynn, which indicates where he stands among the franchise's legendary players.

Where does he rank among the best players in Red Sox history?
Based on his numbers, accomplishments, and how he stacks up against other great Red Sox players, the verdict is clear: Pedroia is a top-10 all-time Red Sox player.

Based on the grim forecast for the rest of his career, Pedroia may never see another pitch. But even if he doesn't, his place in Red Sox lore is secure. His superior performance on the field, multiple awards, and being a key cog for two championship teams assures him of that.