Dustin Poirier Has Accused Conor McGregor of Backing Out of Donating to His Charity Post-UFC 257
UFC superstars Conor McGregor and Dustin Poirier have an unlikely rivalry that may be more intriguing outside the octagon than inside it. The first time they met, McGregor knocked Poirier out mere seconds after the first bell rang.
Their second bout, which happened seven years later, was a decisive Poirier victory in January. A third bout was in the mix for July, but a recent out-of-the-ring bout is unfolding right now.
Conor McGregor vs. Dustin Poirier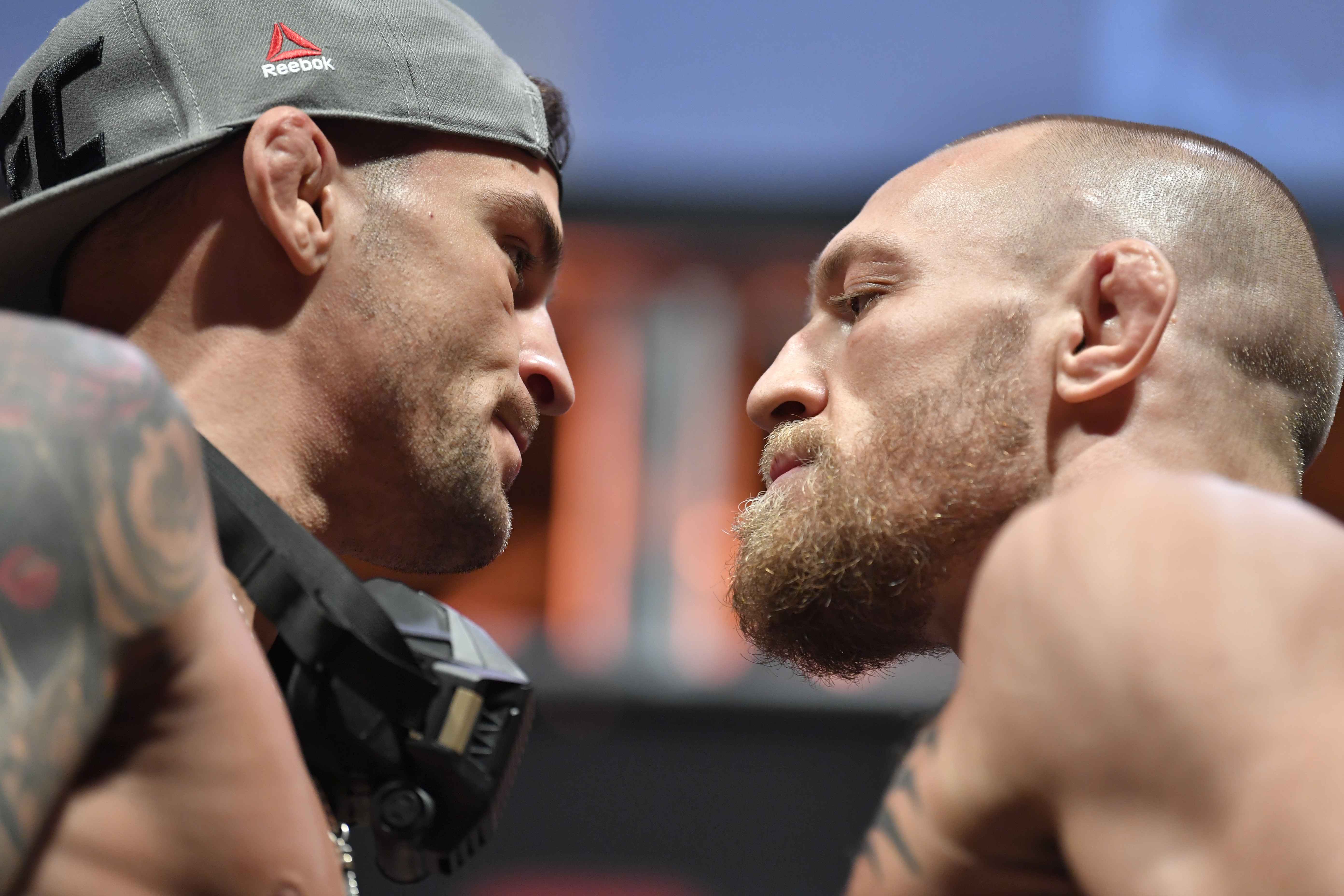 RELATED: Dustin Poirier Is the Wholesome UFC Champion the MMA World Needs Right Now
MMA Mania notes the strangeness of the rivalry. In 2014, Poirier was a promising young up-and-comer; McGregor was the hottest ticket at the UFC. As such, their first bout proved to be little more than a glorified sparring session.
The Irish superstar knocked out his opponent in the opening seconds of the first round. A lot changed over the next seven years. After several flirtations with retirement and a roller coaster of wins and losses, Poirier was suddenly the big dog in the fight.
The now-32-year-old did easy work of McGregor in the follow-up fight, knocking out the lightweight in the second round. Of course, with so much extracurricular trash-talk between the fighters, a third was destiny. However, destiny means nothing when it comes to Conor McGregor. 
Poirier and McGregor take it online
According to Brett Okamoto of ESPN, when McGregor predicted that he'd knock out the Louisiana fighter in a scheduled bout on July 10, Poirier responded by airing out all of the dirty laundry between them. 
"That's a fun prediction!" Poirier tweeted, tagging McGregor. "You also predicted a donation to my foundation, and you and your team stopped responding after the fight in January. See you soon. July 10th Paid In Full!"
McGregor responded by saying he was waiting for some money to come through, as he does with all of his philanthropic donations. Poirier, however, was not amused. After all, if McGregor intended on paying him as he promised, they wouldn't have ignored the phone calls. Poirier tweeted:
We thanked him because his team reached out fight week to initiate the process but ghosted us the past 2 months after the fight. My foundation has reached out 3 times since with no reply. We've moved past it! We will be announcing our next goal soon! Its a big one.

Dustin Poirier on his beef with Conor McGregor
McGregor responded by confirming that the fight is off in a combative way and true to the Irish sensation's brand.
"You're ripped you inbred hillbilly," he tweeted about Poirier as things only got more personal. "Why do you wink with your ears? You f***ing brain dead hillbilly. 500k with no plan in place. Ye hang tight. Fool. You must be new to money. The fight is off btw. I'm going to fight someone else on the 10th. Good luck on your old contract, kid."
The trilogy between the two after their exhibition fight in January was meant to help bring viewers into a much-needed rivalry between two of the most talked-about fighters in the world. Now, it all appears to be in limbo.
What's next for Dustin and Conor? 
RELATED: Conor McGregor Failed to Address His Biggest Weakness, Costing Him UFC 257 Against Dustin Poirier
Now, the UFC will likely clamor for what's next between the two fighters. McGregor is no stranger to threatening to quit, retire, or call off any fight that doesn't meet his standards. The BBC notes that with McGregor's volatile personality and a media-friendly lead-up, the UFC will likely do whatever it can to put this bad blood into another main event. 
Poirier and McGregor's rivalry spans over seven years, but it shows no signs of slowing down even as the fighters age out. Whether this is a minor hiccup or a nail in the coffin, McGregor and Poirier know how to milk their bad blood.
Now, Dana White and company have to think about whether it's time to move on or to use this feud to make a potential rematch even bigger.