Dwayne Haskins' Agent Just Sent Out a Stern Message After Rumors Say That Haskins Could Be Benched
Dwayne Haskins is a young quarterback for the Washington Football Team. However, it appears that the team has him on a short leash as there have been rumors that he could potentially get benched if he continues to struggle on the field.
The rumors of his potential benching certainly haven't made everyone happy. In fact, Haskins' agent sent out a stern message after the rumors surfaced. 
Dwayne Haskins could potentially be benched
In a recent article by NFL.com's Ian Rapoport, it was reported that there was a lot of pressure on Haskins to play well on Sunday against the Baltimore Ravens.
"Sources say Haskins enters a critical stretch for his own development and must improve greatly for him to keep the job," Rapoport wrote on NFL.com. "In fact, there is a chance if it goes particularly badly today, Haskins could be pulled at some point in favor of Kyle Allen, who was with Ron Rivera in Carolina."
Haskins went to Washington with the No. 15 overall pick in the 2019 NFL draft. He ultimately played in only nine games in 2019 and only started in seven. He threw for 1,365 yards, seven touchdowns, and seven interceptions, but played better in the last few games of the season. In his last four games from Week 13 through Week 16, Haskins threw for 711 yards, five touchdowns, and only one interception. Haskins also played for two different coaches in 2019 as Jay Gruden got fired after five games.
Through three weeks in 2020, Haskins led Washington to a 1-2 record. In Weeks 1 and 2 combined, he threw for 401 yards, two touchdowns, and no interceptions. However, in a Week 3 loss to the Cleveland Browns, he threw for 224 yards, two touchdowns, and three interceptions. In addition to those numbers, Haskins also got sacked 10 times through those three games.
His agent sent out a stern message
Haskins' agent, David Mulugheta, took to Twitter after the reports came out about Washington potentially moving on from Haskins. He didn't seem happy with the reports either.
"Amazing this is the narrative coming out of DC," Mulugheta tweeted. "A young QB (10 starts total over 2 seasons) who is in a brand new system, with no off-season in said new system, a young OL, limited weapons on offense and only 3 games into the NFL season. Yet 'he' is the one that must play well."
Mulugheta is standing up for his client here, but he has a point. Haskins hasn't even started an entire season's-wroth of games yet, and we have historically seen Hall of Fame quarterbacks struggle through their first 16 starts. In Peyton Manning's rookie season, he threw for 26 touchdowns and a league-leading 28 interceptions. Haskins has also essentially had three head coaches so far, and not a real NFL offseason due to COVID-19. That would be hard for any young player to overcome.
Haskins played well against the Ravens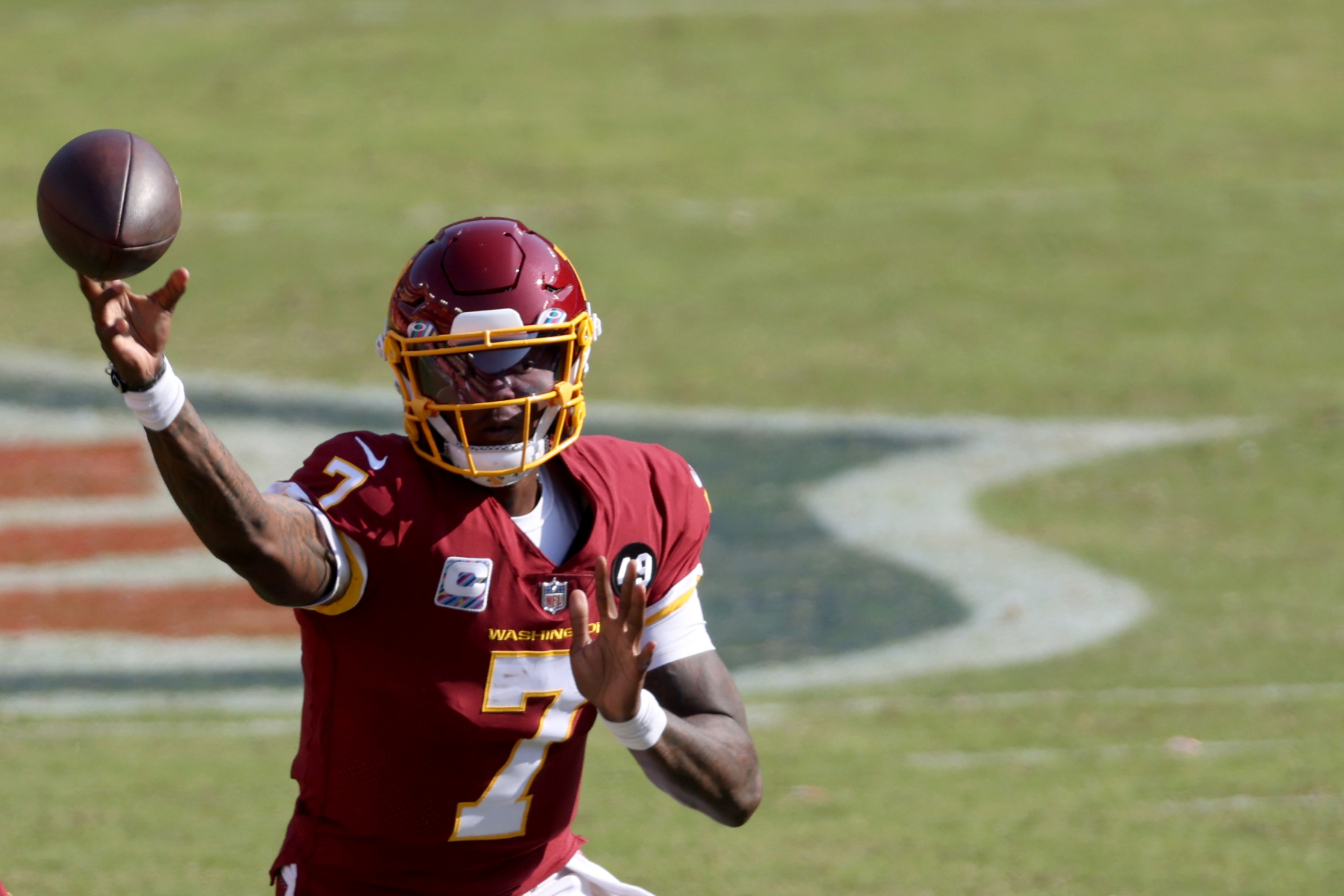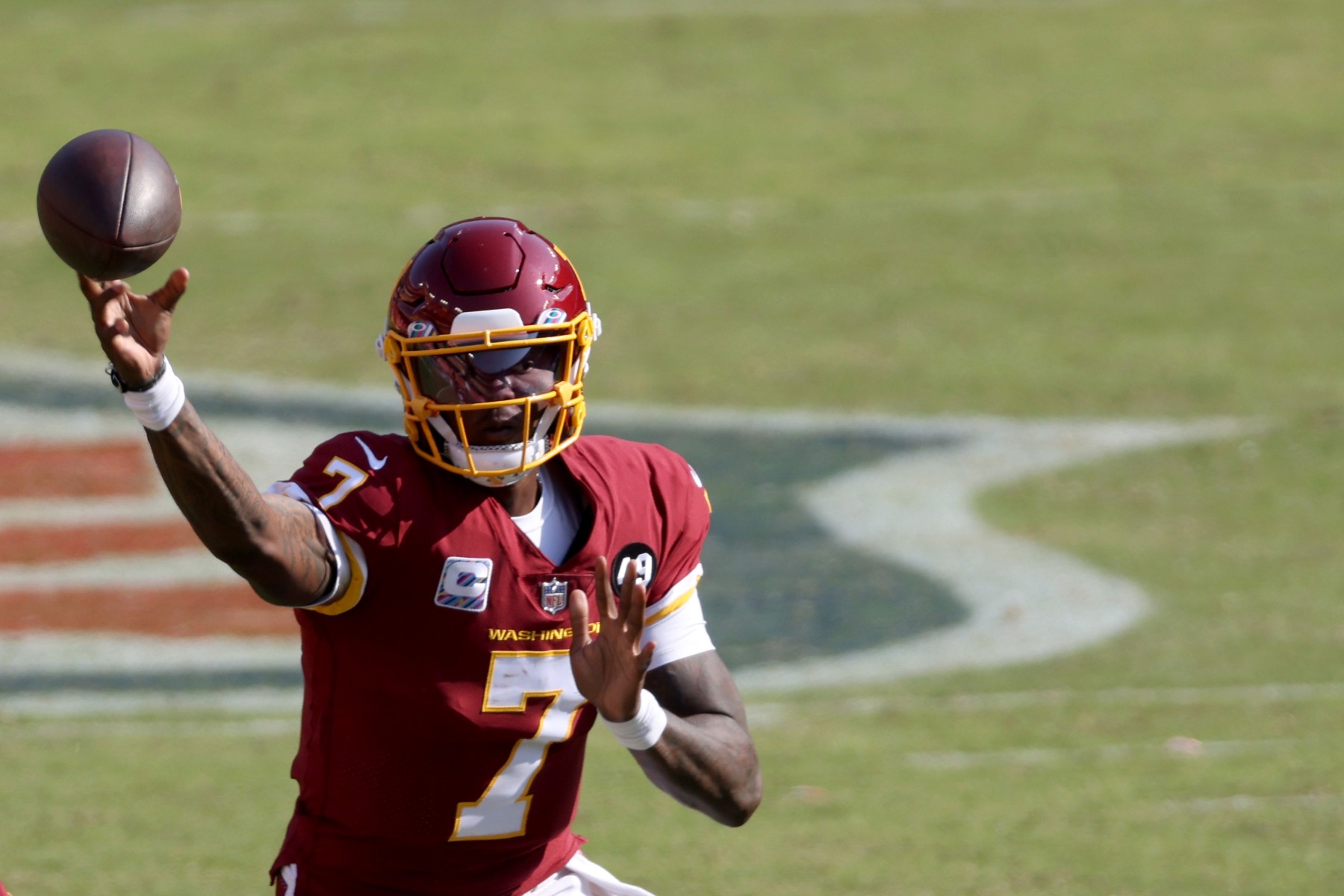 Following the reports, Haskins actually played pretty well against the Baltimore Ravens on Sunday. They lost 31-17 to one of the best teams in the NFL, but Haskins threw for 314 yards and no interceptions. He also ran for a touchdown in the game. He was, however, also sacked three times.
"I thought Dwayne had his moments," Washington coach Ron Rivera said, according to NBC Sports. "There are still some things that, again, we're still working through and we're still developing and learning. There are some things that, obviously, I know he's going to wish he had back once we get a chance to really break the tape down and look at it."
So, it appears that Haskins' job is safe for now. However, time will tell how long that safety lasts.
Stats courtesy of Pro Football Reference