Dwayne Haskins' Leadership Abilities Just Put the NFC East and the Rest of the NFL on Notice
There were plenty of surprises during Week 1 of the 2020 NFL season. One of the biggest might have been the Washington Football Team rallying to defeat their NFC East foe, the Philadelphia Eagles, 27-17. One of the reasons Washington was able to get the win was because of the play of quarterback Dwayne Haskins. However, his leadership (not his play) proved to be even more important for Washington on Sunday.
Dwayne Haskins and Washington struggled in 2019
Washington was one of the worst teams in the NFL last year as the team went 3-13 overall. The offense was atrocious as it only scored 16.6 points per game. However, the defense was also horrible, allowing 27.2 points per game.
Haskins was a rookie in 2019, and he struggled in his first few outings. In his first five games, in which he only started in three of them, he threw for 654 yards, two touchdowns, and six interceptions. He also only completed 54.63% of his passes. However, in Haskins' final four starts of the season, he threw for 711 yards, five touchdowns, and only one interception. He also completed 63.16% of his passes.
While no one expects Washington to be incredible this season, their fans do have some reasons to be optimistic. They got a new head coach who has taken a team to a Super Bowl in Ron Rivera. Washington also drafted a game-changing player on defense in Chase Young.
In Week 1 of the 2020 NFL season, the new additions, and Haskins' experience from last season, seemed to work out for the team.
Washington rallied to defeat the Philadelphia Eagles in Week 1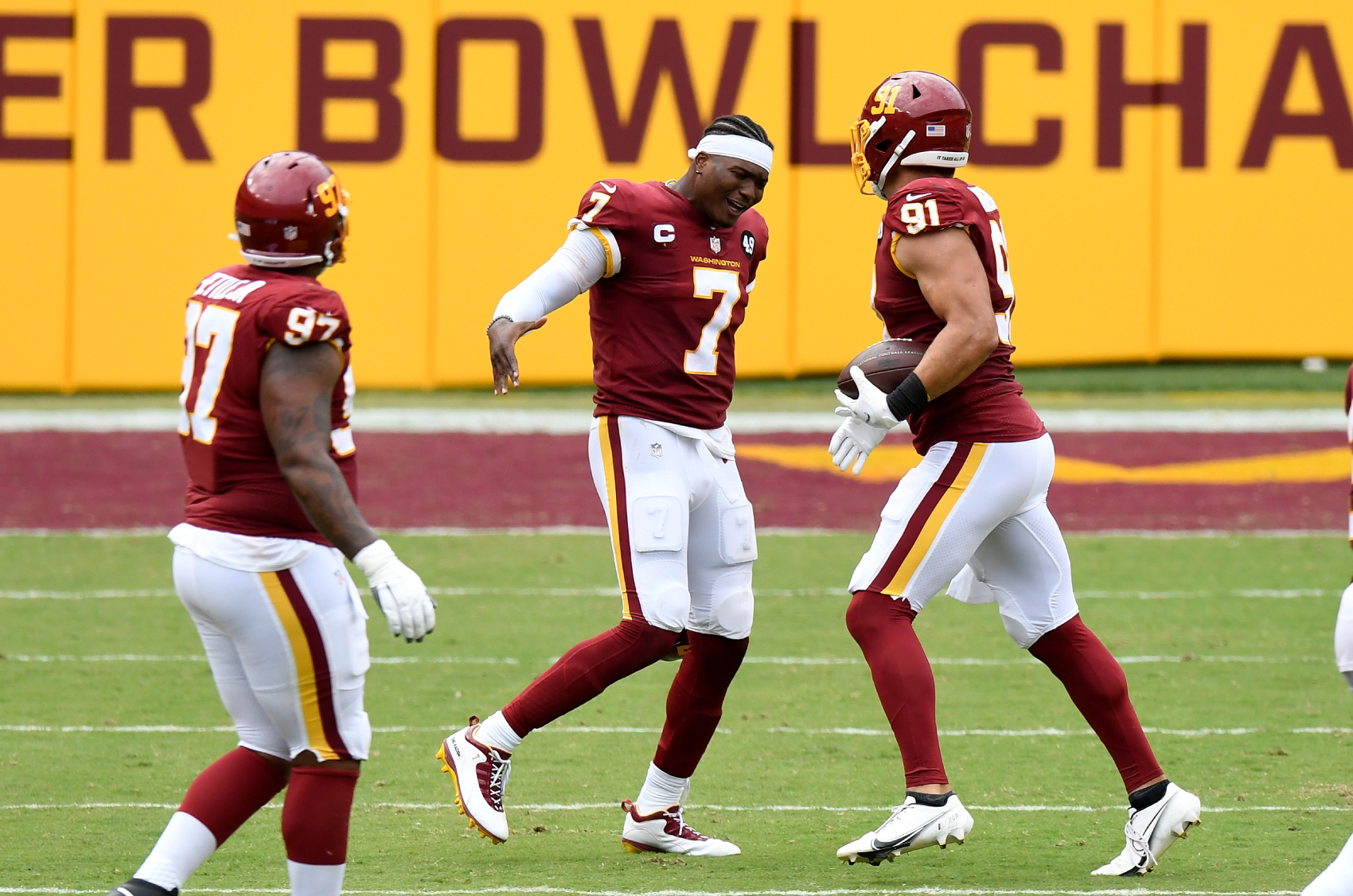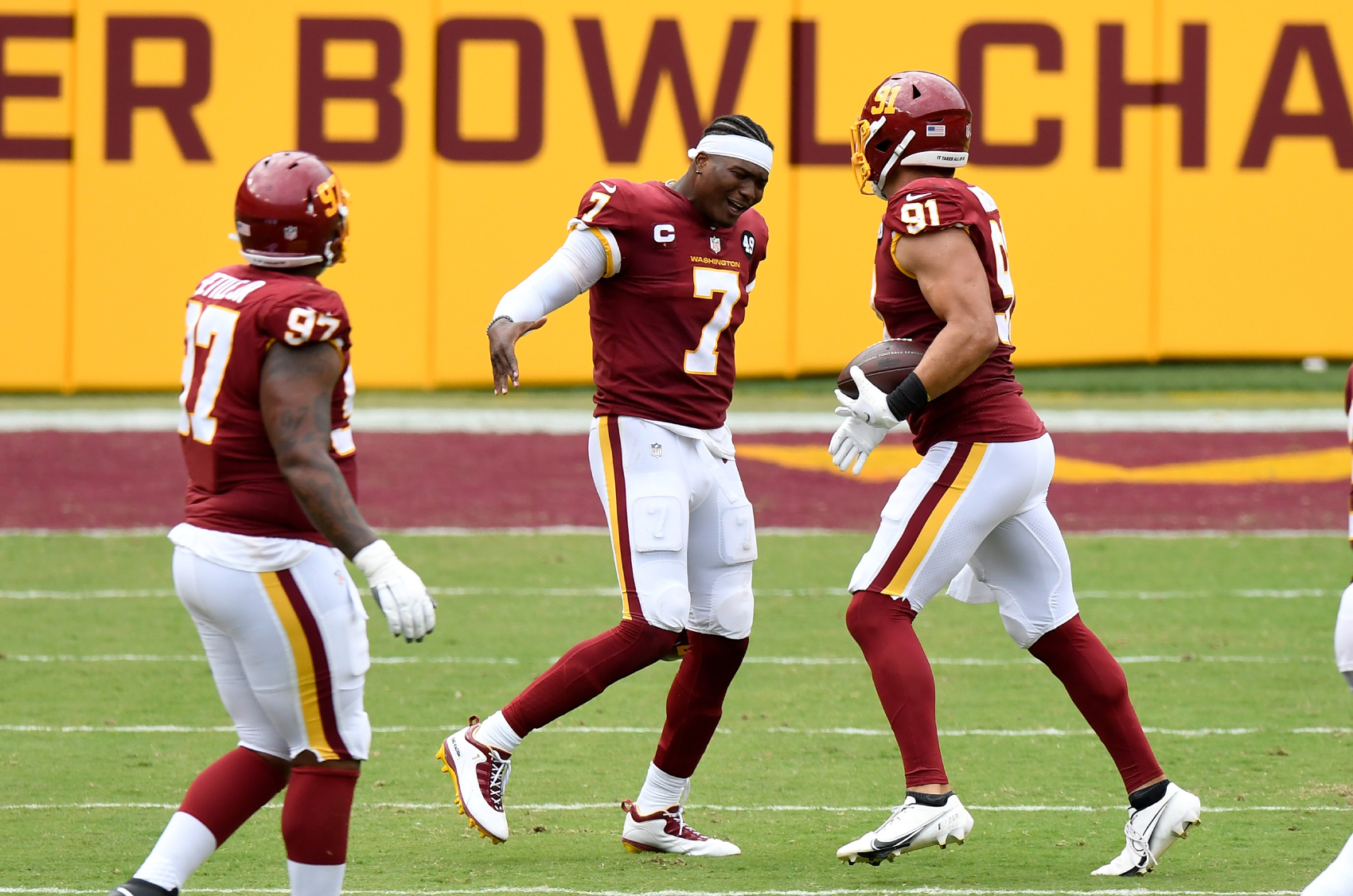 It looked like it was going to be a tough day for Washington at the start of the game. The Eagles jumped out to a 17-0 lead and led 17-7 at halftime. Washington's offense couldn't do much at all either as it ultimately punted five times in the first half.
However, Washington dominated in the second half. The defense shut the Eagles out in the third and fourth quarters, and, throughout the entire game, it sacked quarterback Carson Wentz eight times. Additionally, Washington's offense ended up scoring 27 unanswered points, including the touchdown they scored near the end of the first half.
Washington ultimately won 27-17.
"We have had a tough offseason," said Washington head coach Ron Rivera, according to ESPN. "But I just love the resilience of these young men."
Haskins didn't throw for a ton of yards in the game, but he took care of the football. He ended up completing 17-of-his-31 passes for 178 yards and one touchdown.
However, it wasn't just his play on the field that should impress his team and the rest of the NFL.
Dwayne Haskins proved his leadership skills at halftime
According to ESPN, Rivera was diagnosed with cancer this offseason but said it is in the early stages and that is considered treatable and curable. He missed practice on Tuesday for chemotherapy and proton treatment, and he needs to have five treatments a week for seven weeks. 
Rivera got a pre-planned IV treatment at halftime against the Eagles. Because of that, the team wasn't sure if he would have time to talk to them before going out for the second half.
Haskins stepped up.
"I told one of our operations guys somebody's going to have to make sure somebody steps up to the podium," Rivera said, according to ESPN. "Dwayne stepped up and it was a pretty ruckus one from what I understand."
Haskins discussed his message to the team after the game.
"We're home. They're the visitors," Haskins said, according to ESPN. "There's no reason why we should be feeling like we're little bro to them in a sense. For me it was find a way to win."
After the win, Haskins also discussed how the team can use the past as motivation.
"That's the biggest thing with the past is knowing that it's going to make us better," Haskins said, according to ESPN. "Knowing that, we should use whatever we've been through prior to it — name changing or coaching or whatever the situation or whatever it may be — that we're going to come together every day on Sunday and find a way to win the game, regardless of the situation or what we've been through."
Dwayne Haskins had a tough rookie season. It appears that he has overcome that, though, and that he is ready to lead Washington to some more wins this year. If Haskins can continue to take care of the ball, and if he can continue to be an effective leader, then the rest of the NFC East and the NFL needs to watch out because Washington has a chance to be a very scary team.
Stats courtesy of Pro Football Reference and ESPN