Dwayne Haskins Reveals How He Truly Feels About Former Teammate Adrian Peterson
In a surprising move, the Washington Football Team released legendary running back Adrian Peterson on Sept. 4. Despite playing with Washington at 33 and 34 years old the past two seasons, Peterson put up some decent numbers. However, the release now puts the rest of his career up in the air. Following the move by Washington, Peterson's quarterback from last season — and who was supposed to be his QB this season — Dwayne Haskins revealed how he truly feels about him.
Adrian Peterson had a productive two seasons with Washington
For 10 seasons, Peterson was an absolute legend with the Minnesota Vikings. He ran for more than 1,200 yards in each of his first four seasons, including the 2008 season, where he led the NFL in rushing yards with 1,760. Peterson also led the NFL in rushing touchdowns in 2009 with 18.
After only playing in 12 games in 2011, Peterson came back and ran for 2,097 yards for the Vikings in 2012, the most in the NFL again. He then led the NFL in rushing yards again for a third time in 2015 with 1,485.
However, Peterson only played in three games in 2016. He then played for the Arizona Cardinals and New Orleans Saints in 2017, and only ran for 529 yards combined that year. It appeared that Peterson was done being a productive back in the NFL at that point. 
That was until he signed with Washington. In 2018 for Washington, Peterson ran for 1,042 yards and seven touchdowns. He also averaged 4.2 yards per carry. He then continued to play well in 2019 as he ran for 898 yards and five touchdowns in 15 games. Peterson averaged 4.3 yards per carry in 2019 too.
The Washington Football Team released him
On Sept. 4, a little over a week prior to their season-opener against the Philadelphia Eagles, Washington released Peterson.
"It comes as a surprise. I didn't feel I showed anything that would warrant being released," Peterson told ESPN.
Despite being surprised about the move, Peterson praised Washington's other running backs.
"I did not see an indicator I would be released," Peterson said, per ESPN. "Ultimately it came down to them knowing Bryce [Love] is coming back, and he's looking good, looking healthy. [Peyton] Barber is a younger guy as well who can contribute. At one point, I wouldn't have been surprised if all five of us made the team, with all of them except me being able to play special teams."
In addition to Love, who is coming back from knee surgery and has yet to play a down in the NFL, Washington also has Barber, Antonio Gibson, who the team drafted in the third round of 2020 NFL draft, and J.D. McKissic.
Even though Peterson — who has 14,216 career rushing yards — is 35 years old, he still wants to play.
"Oh, yeah, without a doubt," Peterson said, according to ESPN. "I definitely want to play."
Dwayne Haskins reveals how he truly feels about Peterson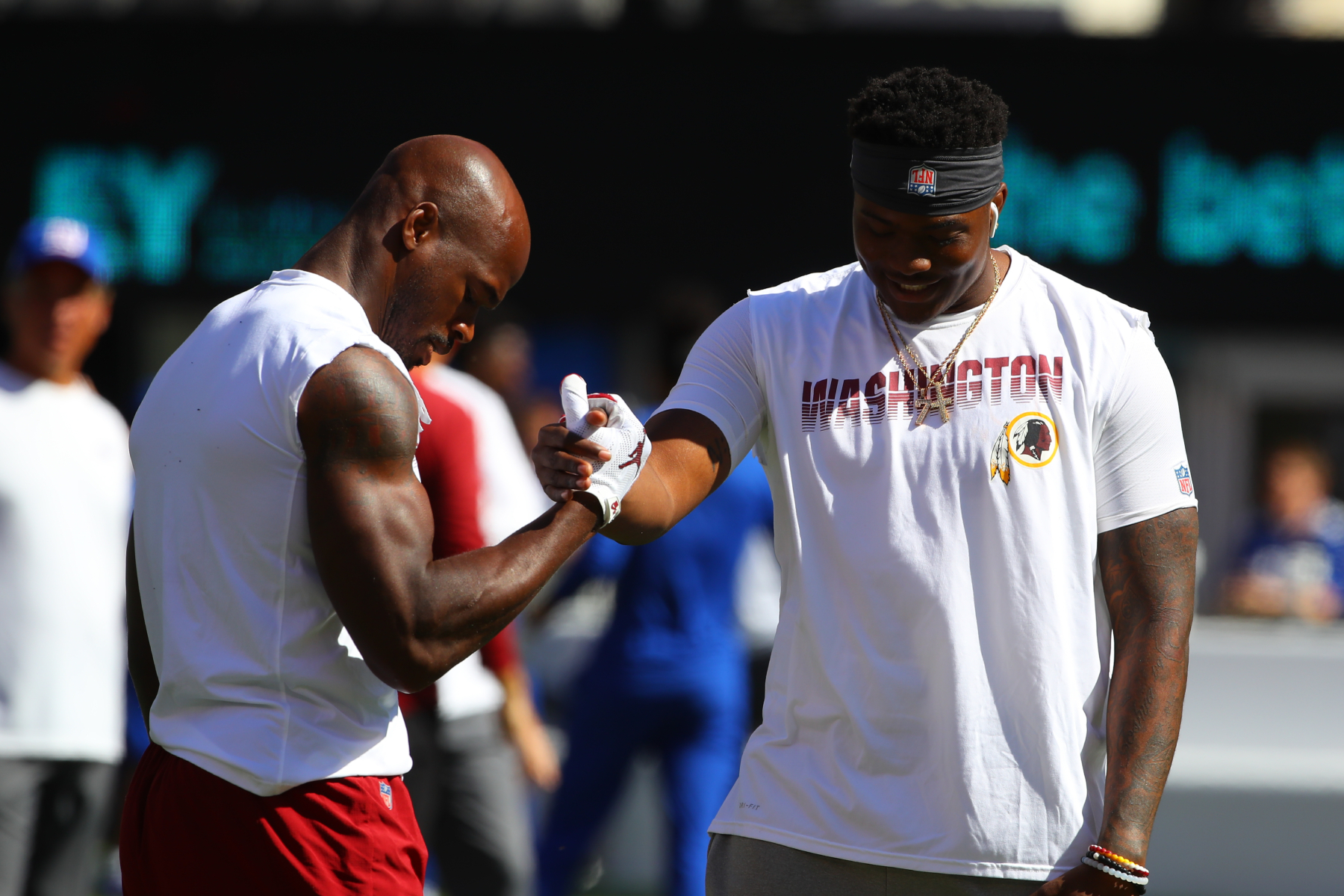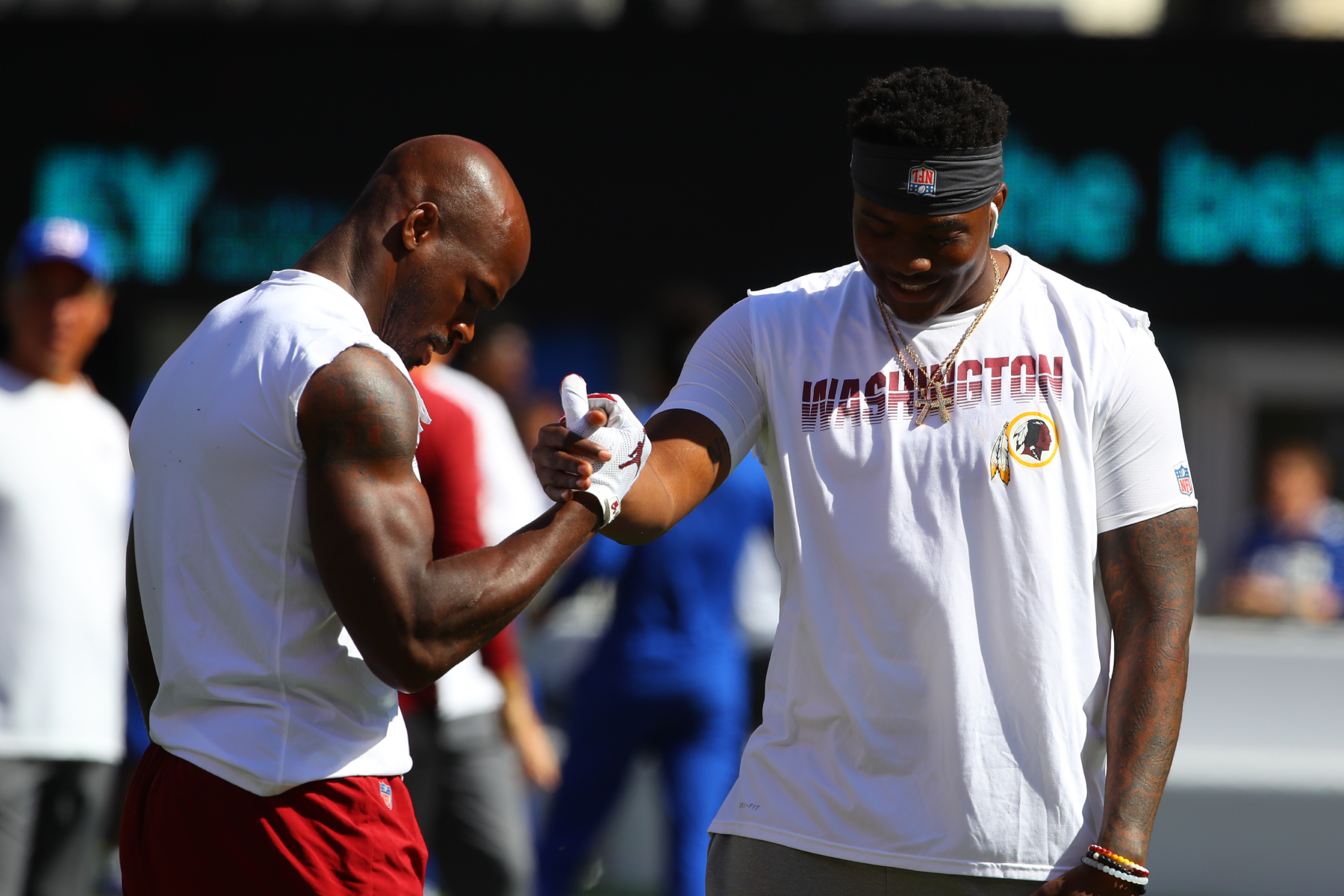 Haskins was only Peterson's teammate during the 2019 season and in the offseason this year until Peterson got released. However, it appears that the two developed a good connection.
Earlier this offseason, Peterson praised Haskins' development, saying that he was expecting big things from him in 2020, according to The Washington Post's Les Carpenter.
Then, after Washington released Peterson, Haskins took to Twitter.
"Growing up I was a huge AP fan," Haskins tweeted. "Having the opportunity to be his teammate and learn from him, has been an experience I'll never forget. Thank you for always having my back big bro! I'm going to make you proud, best of luck!"
Dwayne Haskins and Adrian Peterson won't be on the same team for the 2020 season, but it appears that the two stars have a ton of respect for each other. It'll be interesting to see how both of their seasons play out.
Stats courtesy of Pro Football Reference