Dwayne 'The Rock' Johnson Already Has Pat McAfee Reaching Out to Him for an XFL Job
Pat McAfee, the former Indianapolis Colts punter, just recently reached out to a superstar for a new job. That superstar happens to be Dwayne "The Rock" Johnson. A group, which includes Johnson, just recently agreed to buy the XFL after it had its 2020 season cut short. The COVID-19 pandemic is a big reason that the football league didn't work out earlier this year, but Johnson is making sure that the league gets another chance. Now, it appears that McAfee is interested in getting a job with the league.
Pat McAfee had an excellent NFL career with the Indianapolis Colts
Before going to the NFL, McAfee was a successful college kicker for the West Virginia Mountaineers. He ultimately had an excellent senior season in 2008 as he made all 36 of his extra-point attempts, 17-of-his-20 field goal attempts, and he had 62 punts that went an average of 44.7 yards.
His play for the Mountaineers led to the Indianapolis Colts selecting him in the seventh round of the 2009 NFL draft.
McAfee focused on punting during his NFL career, and he was pretty good at it. He earned two Pro Bowl selections and was a First-Team All-Pro once. He also led the NFL in yards per punt in 2016 and is eighth in NFL history in career yards per punt. Additionally, in 2016, he had the fourth-longest punt of the season that ultimately went 74 yards.
McAfee, however, retired after the 2016 season, but he has since continued to thrive in another career.
He now has a radio show and has gone into broadcasting
After his career in the NFL, McAfee got an opportunity with Barstool Sports. His popularity increased significantly, though, and he has since left Barstool and now has his own business, Pat McAfee Inc.
McAfee now has his own radio show through Westwood One, and he also has a successful podcast and YouTube channel. He has additionally spent some time working with WWE and ESPN. On ESPN, McAfee has made several appearances on College GameDay, he has covered Thursday night college football games in the broadcast booth, and he helped cover the XFL earlier this year. 
With his experience in the booth, and his growing popularity, many fans have called for him to be a part of the Monday Night Football broadcast crew on ESPN. However, the network has reportedly chosen Steve Levy, Brian Griese, and Louis Riddick for MNF, according to the New York Post's Andrew Marchand.
Pat McAfee has reached out to Dwayne 'The Rock' Johnson for a job with the XFL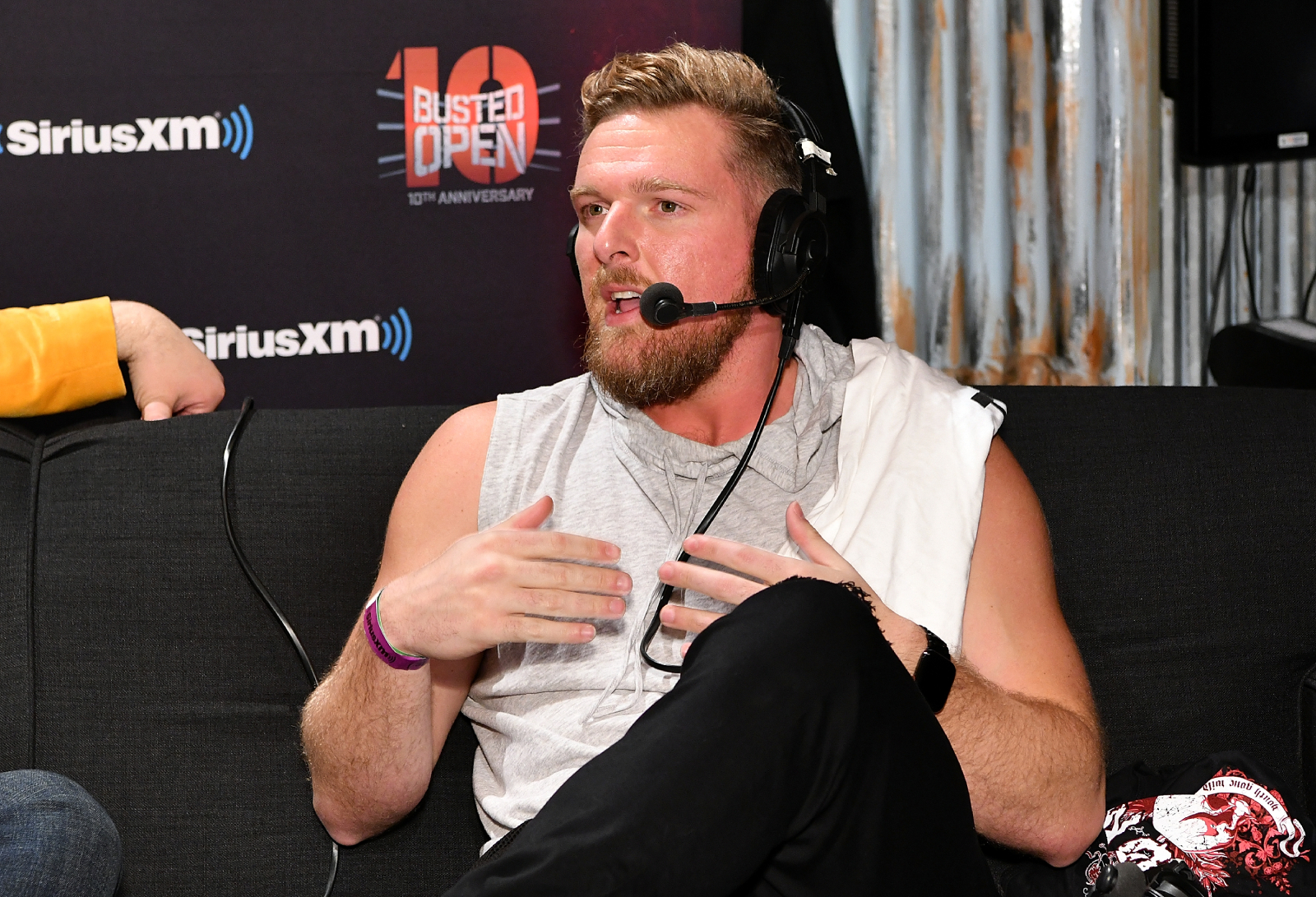 A group that includes Dwayne "The Rock" Johnson recently agreed to buy the XFL for approximately $15 million, according to ESPN.
The XFL declared bankruptcy earlier this year as a result of the COVID-19 pandemic. The league made it through five games in 2020 before canceling the rest of its season due to the pandemic.
The 2020 season was Vince McMahon's second attempt at the XFL. His first attempt came in 2001, and the league ultimately lasted just one season. In his second attempt, though, the league chose not to focus on the wrestling talent, according to Yahoo Sports. Things appeared to be going well this time too. That is until COVID-19 shut sports down across the entire country.
"The acquisition of the XFL with my talented partners, Dany Garcia and Gerry Cardinale, is an investment for me that's rooted deeply in two things — my passion for the game and my desire to always take care of the fans," Johnson said, according to ESPN.
The news of Johnson and the XFL came out on Aug. 3, 2020, and McAfee reached out to Johnson for a job on the same day.
"Do what others would not do [The Rock]," McAfee tweeted. "You know who to put in the booth."
So, will the XFL make the move that ESPN couldn't when choosing its Monday Night Football crew? Time will tell, and it might not even be the league's call to make. No matter who is in charge of making that decision, though, it certainly wouldn't hurt to give McAfee a shot.
Stats courtesy of Sports Reference and Pro Football Reference