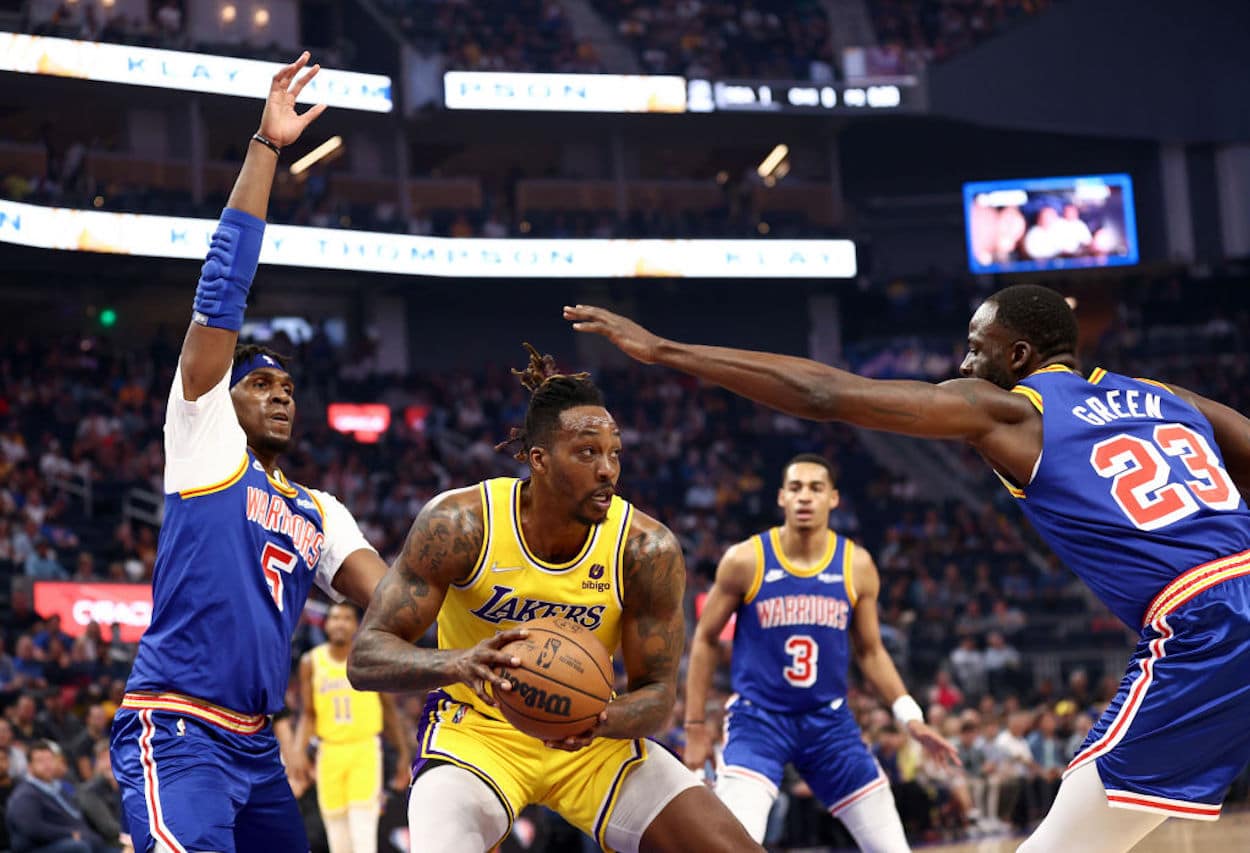 Dwight Howard Builds His Super Team and Goes Heavy on the LA Lakers
Dwight Howard has played with some incredible names during his NBA career. Check out who he picked for his dream staring five.
While he's bounced around a bit during his career, Dwight Howard appears to have found peace with the Los Angeles Lakers. At this point, the big man no longer has to be a star; he's seemingly content with coming off the bench, pitching in with a handful of rebounds, and helping his team however he can.
Playing in Hollywood has also given Howard a chance to play with some incredible teammates. That reality became clear during a recent appearance on the Knuckleheads podcast.
When the center was asked to build a starting five from any of his former teammates, Howard went pretty heavy on the Lakers. If you include the big man himself, four members of the squad have hit the court in Los Angeles.
Dwight Howard's teammate super squad features four Lakers and James Harden
During his time in the NBA, Dwight Howard has suited up for the Orlando Magic, LA Lakers, Houston Rockets, Atlanta Hawks, and Philadelphia 76ers. His best teammates, however, seem to have been concentrated in Hollywood.
When the big man appeared on the Knuckleheads podcast, he was asked to build a super team consisting of his top NBA teammates. After slotting himself in at center, Howard filled out the roster.
"So, Kobe," the center began. "LeBron. … I gotta put [Anthony Davis] at the 4. …Who gonna be my point guard?"
After being reminded that he didn't need a traditional point guard, Howard settled on his only non-Laker name.
"That would be too much," he said before penciling James Harden into the starting five.
While some of those players have seen their stock fall in recent years, it's impossible to take issue with the overall talent of that roster. Howard is only a bench player these days, but during his prime, he was capable of dominating the paint. That reality would allow Anthony Davis — assuming he is healthy in this hypothetical — and LeBron to stretch the floor and only enter the paint when necessary.
Moving to the backcourt, Kobe's raw talent and sheer will to win speak for themselves. Harden is somewhat of a controversial inclusion — the guard isn't the same scorer he once was and has developed a reputation for quitting on teams — but if we assume we're taking each player at their peak, things look a bit different. Few stars were better at scoring out of isolation than Harden, and if he's playing alongside Bryant, Davis, James, and Howard, it would be virtually impossible for opposing defenses to provide any help.
If the squad would have any issue, it would hypothetically be sharing the ball. As noted on the podcast, Harden isn't a pure point guard who wants to facilitate for his teammates. Everyone on the roster can pass, but they're also more than willing to take over a game on their own.
While it wasn't part of the hypothetical, let's hope Howard names a good head coach to the bench.
Like Sportscasting on Facebook. Follow us on Twitter @sportscasting19 and subscribe to our YouTube channel.