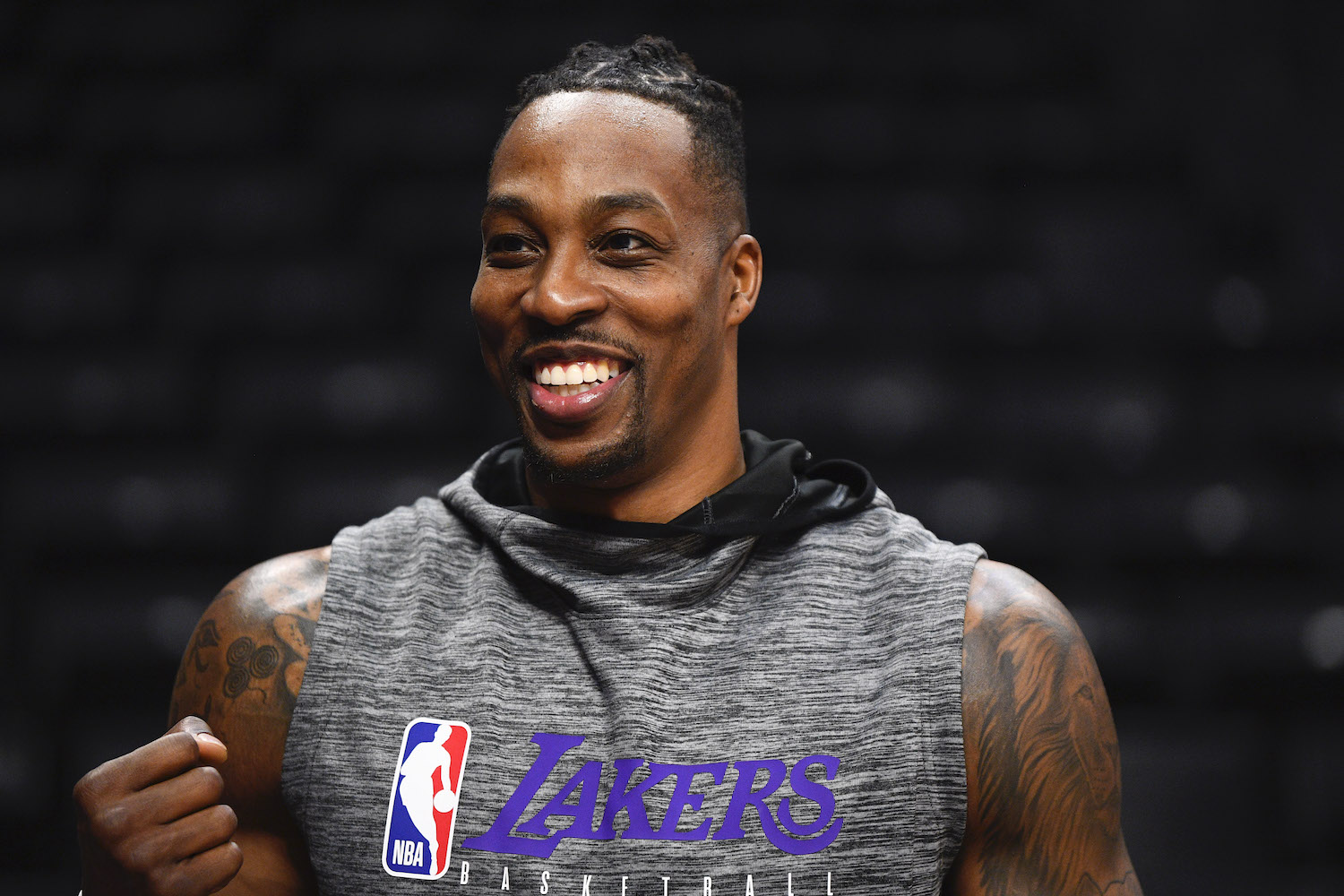 Dwight Howard Is a Snake Whisperer Except for the Ones That Have Bitten Him
Dwight Howard has become an avid snake collector through the years. Now he has dozens of snakes for pets. He's only been bitten a few times.
Dwight Howard has had a successful 16-year career in the NBA. He's earned All-Star honors eight times and, more impressively, has been named the NBA's Defensive Player of the Year three times. He has yet to win a championship, which is the main reason he joined the LA Lakers for the 2019-20 season. When Howard's career concludes, he already has a plan in place. He will be able to retire and live in his 35,000-square foot mansion in Atlanta, where he can tend to the dozens of snakes he has bought through the years. 
Dwight Howard's stellar NBA career
There were high expectations of Dwight Howard from day one as the No. 1 overall draft pick by the Orlando Magic in the 2004 NBA draft. Howard came in and made an immediate impact. His first season in Orlando he averaged 12 points and 10 rebounds a game. He was named to the All-Rookie team. 
Howard played seven more seasons with the Magic, which included six All-Star appearances, and also included a 2009 trip to the NBA Finals, where they lost to the LA Lakers in five games. Despite coming up short as a team that season, Howard became the youngest recipient of the NBA Defensive Player of the Year award at age 23.
Dwight Howard was traded to the Lakers in 2012. Despite a decline in offensive production, he led the NBA in rebounds for a fifth time in his career, pulling down 12.4 boards per contest. After that season, Howard became nomadic. With the exception of a three-year stint with the Houston Rockets, he played for four different teams in four seasons, including his most recent stop with the Lakers for a second time. 
Dwight Howard has multiple snake exhibits in his home 
Dwight Howard is heading into the twilight of his career. The declining numbers confirm this. When Howard does retire, he will reside in his 35,000-square foot Atlanta palace where he has essentially set up his own snake condo complex. 
Howard said in a recent interview that he has a total of 25 snakes in his collection. They have a variety of names, including She-Hulk, Curious George, Cleopatra, Godzilla, Mickey, and Minnie.
"They got little apartments. They check in every month, make sure they pay their rent," he joked with reporters after a game. "I've got two that stay in the penthouse suite." Howard's talking about the giant aquarium that houses two of his largest snakes.
Howard gets bitten by snakes
Dwight Howard said he's had the snakes for years, and typically they're well behaved. However, there have been a few occasions when one of the snakes became agitated and bit him. In an interview with Graham Bensinger, Howard showed the scar. 
"I've only been bitten three times," Howard said as Bensinger looked at the visible bite marks on his arm. "It didn't even hurt. I definitely think people have a misunderstanding about snakes." 
While it's hard to misunderstand something that's bitten you on three different occasions, it is easy to understand Dwight Howard's love for his pets and the blind spot he has for them. They are his family. Just not the typical four-legged furry family member most people are familiar with.