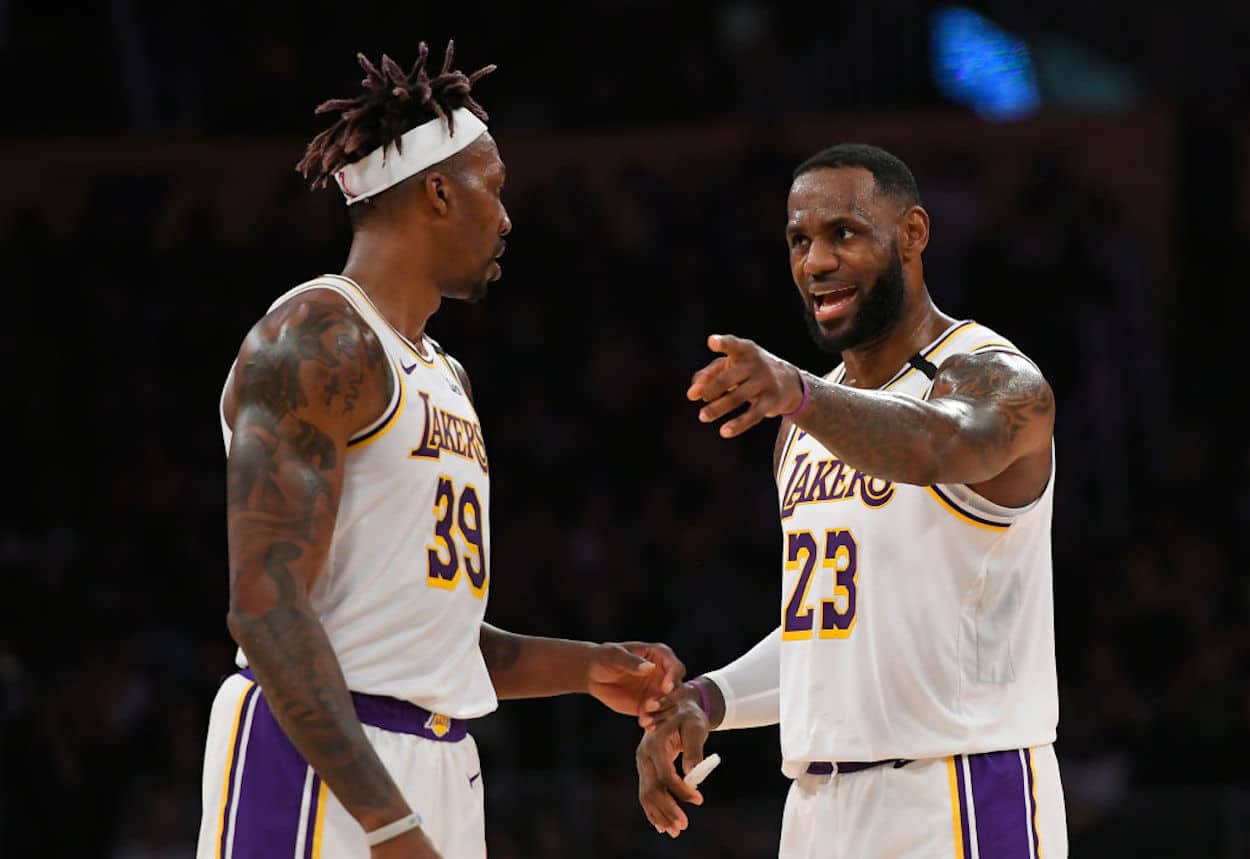 Dwight Howard Reveals That LeBron James Is 'Always Watching the Stat Sheet,' But Says It's Not to Pad His Numbers
LeBron James apparently checks out the box score during Lakers games, but he's not doing it to pad his own stats.
Stats occupy a tricky place in the world of sports. On one hand, they're one of the biggest signs of success. Historical debates, for the most part, are settled by comparing the numbers. On the other hand, though, stat-padding is regarded as a pretty severe sin. You can't go out there looking to inflate your own metrics; things have to happen organically while trying to win the game.
LeBron James certainly understands that reality. As the 2021-22 Los Angeles Lakers struggled, he was accused of taking advantage of blowouts and garbage time to boost his numbers. Now, during the offseason, Dwight Howard has clarified how King James plays.
According to the big man, LeBron is always looking at the stat sheet and keeping track of the numbers. It's not driven by ego, though. Instead, he's simply trying to help his team succeed.
LeBron James has been accused of stat-padding, but Dwight Howard has a different take
If you listened to the likes of Skip Bayless, LeBron James spent the end of the 2021-22 campaign padding his own stats as he chased a scoring title and Kareem Abdul-Jabbar's all-time scoring record. If you believe that to be true, it's easy to imagine the Lakers star sitting on the bench, studying the box score and deciding that he needed to score 10 more points before calling it a night.
Well, if we take Dwight Howard at his word, LeBron does check out the score sheet during the game. According to the big man, though, it's not about a selfish pursuit of more stats.
"When we get on the court, it's time to go to work. And, you know, one thing that I respect about him is just how he conduct himself as a businessman," Howard explained on the Knuckleheads podcast. "You know, everything he's doing is strategic, you know? So, even how he plays the game, he's always watching the stat sheet. And it's not like he's looking to say, 'Well s***, I got like 30 points, I'm padding stats.' He's looking at it to figure out with numbers, how can he be more effective. How could this player be more effective? 'I gotta get this guy shots here. I gotta do this for this guy.' You know? So he's really just keeping a count of what's going on."
Although that might sound a bit goofy time imagine — you'd think LeBron knows what's happening since he rarely leaves the court — it does provide somewhat of a counterpoint to the stat-padding narrative. At the risk of trying to get inside James' head, he probably knows that, at this point in his career, no one will care if he scores 45 points on any given night. Overall accomplishments, like (hypothetically) leading a less-than-dominant Lakers squad to a title, will affect his legacy much more than any individual stat line.
So, if you're ever watching a game and you see King James checking out the box score during a time-out, don't accuse him of stat-padding.
Like Sportscasting on Facebook. Follow us on Twitter @sportscasting19 and subscribe to our YouTube channel.