Dwight Howard Took Revenge on Montrezl Harrell for Stealing His Spot on the Los Angeles Lakers
Decades ago, a game between the Philadelphia 76ers and the Los Angeles Lakers was special. It usually meant that a world championship was on the line. This was not the case on Thursday night, but Sixers center Dwight Howard and Lakers big man Montrezl Harrell may have stoked the old flames of rivalry.
Dwight Howard gets ejected on his night of glory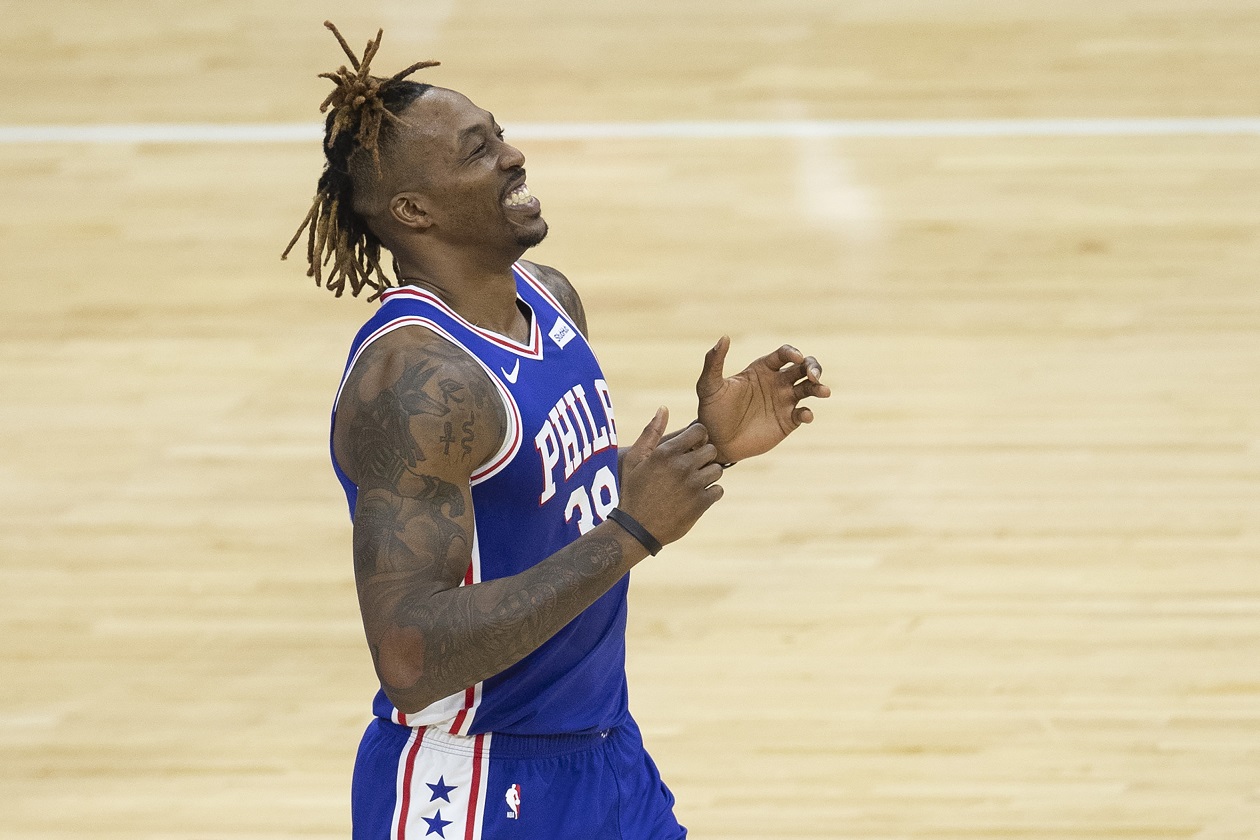 On Thursday night, the Philadelphia 76ers and Los Angeles Lakers met at Staples Center for the only time this season. This meant that new 76ers center Dwight Howard would return to Los Angeles for the first time after his championship-winning season with the Lakers. Both he and Danny Green, another former Laker who ended up on the 76ers, received their championship rings before the game.
After tip-off, however, hostilities resumed in full force.
Throughout the first quarter, Howard got into several altercations with Lakers center Montrezl Harrell. This came to a head after the buzzer sounded to end the first quarter. As the teams walked to the bench, Howard deliberately walked into Harrell. Referee Kane Fitzgerald noticed and called a technical foul on Howard. It was the second tech for Howard, which meant automatic ejection.
Howard exited in disgrace, but his team won the war, 109-101. Nevertheless, 76ers head coach Doc Rivers called both players "clowns" after the incident.
"I mean, it's ridiculous, on both parts. I didn't like it, bottom line," said Rivers during a sideline interview on TNT.
Why did Dwight Howard leave the Lakers in the first place?
We probably should have expected some tension between Howard and the Lakers. After all, his tenure in Los Angeles did not end on good terms.
Dwight Howard, a sprightly 33 years old at the time, came to the Los Angeles Lakers just before the 2019-20 season. At the time, the Lakers were in the late stages of their rebuilding phase and needed someone to replace DeMarcus Cousins as their big man.
Howard spent most of his time on the bench, relieving regular starter JaVale McGee. Still, he played an important part in what would eventually (and we stress "eventually") become an NBA championship team. It was natural for him to expect the Lakers to offer him a contract for the 2020-21 season.
For whatever reason, this did not happen, even though Howard was perfectly willing to stay with the team with which he won his first NBA title.
In November, Howard tweeted, "I'm staying right where I belong. Laker nation I love y'all. Purple and gold never gets old." That same day, he deleted the tweet and inked a one-year deal with the 76ers.
Howard already had some beef with Montrezl Harrell
Why Howard chose to go after Montrezl Harrell in particular is unclear, although it may have something to do with how Howard left the Lakers.
The exact same day that Howard signed with the 76ers, then-Clippers center Harrell signed a two-year deal with the Lakers. Effectively, Harrell took over the spot once held by Howard and McGee. While most reports at the time suggested that Harrell was a last-minute replacement for Howard after his departure, a tweet from Harrell suggests that the Lakers had their eye on him all along.
We don't know for sure if the Lakers specifically set Harrell up as Howard's replacement or if they tried to fit both of them on the roster. But it would make a lot of sense if Howard resented Harrell simply for taking his old spot.
For his part, Harrell doesn't know what Howard has against him.
"I don't know, honestly," he said after the game, per ESPN. "I don't even care to be real with you."