Dwyane Wade Admits Jazz Star Donovan Mitchell Heavily Influenced His Move to Utah: 'That's My Little Brother'
Dwyane Wade played for the Heat for most of his NBA career. Now retired, the 39-year-old spends most of his time in another part of the U.S. Wade bought a minority stake in the Jazz and moved to Utah, a choice the three-time NBA champ thinks is the best thing for his business interests. Wade, of course, talked to wife Gabrielle Union and their kids about moving the family there, but there was also a player on the Jazz who had a big influence on Wade's decision.
Dwyane Wade joins Jazz ownership, moves to Utah
GQ recently interviewed Wade about his new game show The Cube. But the conversation also discussed his move to Utah and ownership stake in the Jazz. At one time, he even had a chance to buy into the Heat.
Despite having a great basketball relationship with Heat owner Micky Arrison, Wade says buying into the Jazz "was the best opportunity" for him. He has been friends with majority owner Ryan Smith for a while, and Smith has businesses in the tech space, which Wade wants to learn more about.
Prior to becoming partners, Wade talked to Smith about the Utah community — there's just a small African-American population there — and the Mormon faith. Wade discussed the move with his family, and Union "gave [him[ her blessing. She signed off on it," which made him feel good about doing it.
Donovan Mitchell's relationship with Dwyane Wade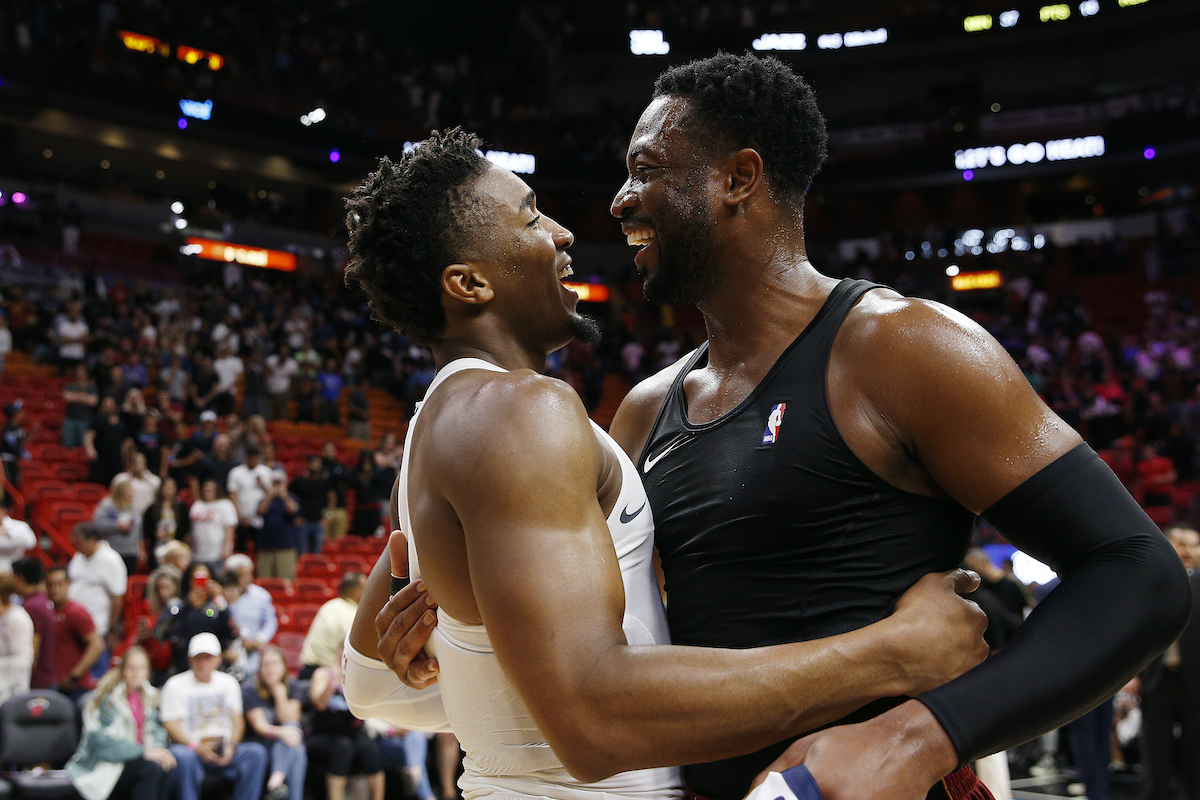 Fourth-year Jazz guard Donovan Mitchell also factored into Wade's decision. He calls the 24-year-old Mitchell his "little brother," as he has taken on a big-brother role in Mitchell's life. Wade admits Mitchell "played a lot" into his buying into Jazz ownership. Wade says "it feels good" and "feels right" to continue the relationship he has with the younger player.
Despite Mitchell's young age, Wade says he's "already a critical player" in the NBA and will only continue to grow as he gains more experience and matures in his game. Wade says he is excited to continue imparting his knowledge on Mitchell so he can potentially have an even better career than Wade did.
But Wade's other mentor relationships are suffering as a result, specifically with the Heat's Bam Adebayo, who has complained about Wade taking too long to reply to his texts now. Wade, laughing, says "it's all love" but he can't continue mentoring all the guys he has been now that he is part of ownership. He admits he doesn't want to "cross that line," and still views Adebayo as a little brother and will always be there to give him advice on basketball or business.
How Wade will influence the Jazz
As part of the team's ownership group, Wade plans on influencing the team in a number of ways. With more than 15 years of experience as a player in the league, he has a lot of NBA experience from which he can draw to help guide the team's players, beyond just his mentorship of Mitchell.
Wade also plans to serve as a bit of an ambassador for the team, trying to reach out to the fans and the Utah community. Because not many people in the Black community have had much exposure to Utah, Wade wants to change that. He wants to show members of the community that there's "beauty" in Salt Lake City, and more doors are opening there for Black people, and it is there to experience.
Wade hopes he "can shed a different light on the city and this light on our community and we can start bridging the gap." He knows there's work to do because it's "a big gap. And it needs to be bridged."
RELATED: Donovan Mitchell Is the 'Closest Thing to Kobe Bryant,' According to Radio Host