Dwyane Wade Might Be Busier in Retirement Than He was as an NBA Player
Had LeBron James never stepped onto the basketball court, Dwyane Wade might have been the face of a generation. While his years with James may have been memorable for the duo, like LeBron, he had an impressive resume long before the Heatles took the court. In retirement, however, Dwyane Wade already has an interesting career that's shaping up in more ways than one.

Dwyane Wade's NBA career
Future generations may forget that Dwyane Wade was the first of the major members of the 2003 draft class to lead his team to a championship. While LeBron James was still struggling to get the Cavaliers through the playoffs, Wade was playing next to an aging, yet still valuable, Shaquille O'Neal, and Wade's dominance of the Dallas Mavericks in the NBA Finals remains one of the defining moments of his career.

After O'Neal left, Wade had decent success leading to the years of he, James, and Chris Bosh. The 2008-09 season saw him lead the entire NBA in scoring at 30.2 points per game, and his toughness on the court and ability to take over big games made him a superstar in the NBA by any definition imaginable. Then, there were the LeBron years.

The LeBron James-led Heat only lasted four seasons, but they will likely be talked about for generations to come. Teams filled with stars existed long before the Heat and continue to exist nearly a decade later, but the Heat's trio was the first example of the players planning to come together to form one super team. The result was two championships in four trips to the Finals.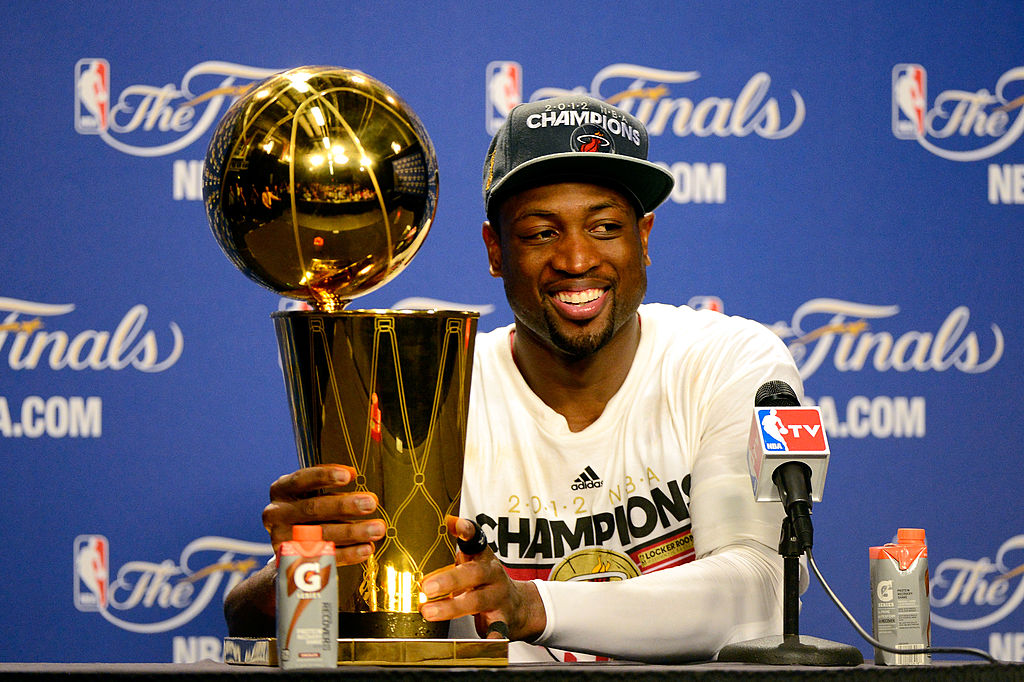 Although Wade and Bosh took back seats to LeBron, Wade was still among the best players in the NBA, and whether loved or hated, they changed the league going forward. Wade started regressing not long after LeBron James's departure, and after brief stops in Chicago and Cleveland, he returned to the Heat to finish out of a Hall of Fame career.

Wade finished his career averaging 22 points per game with five assists and rebounds. He won three rings and countless other accolades in the process, too, but now he will be rising in a different field.

Wade's post-playing career is just as rigorous
Wade will take the natural role that many recently-retired superstars take when he joins Charles Barkley and the TNT crew for the network's Tuesday NBA coverage. Wade will offer unique insights from his 16-year NBA career and will help usher in a new generation of voices, along with the likes of Candace Parker. Wade's deal does not end with basketball coverage, either.

On top of being part of the network's basketball coverage in both NBA and college, Wade also has a development deal with Warner Media, which will allow him to create content covering sports, lifestyle, and entertainment.

Not only that, but Dwyane Wade will also have a role as a creative director on special projects for Bleacher Report. It is clear that Wade has ambitions big and small when it comes to life outside basketball, but he is also looking to do good in other ways.

Not sticking to sports
Dwyane Wade was never one to adhere to anyone's desires to stick to sports. He has always been vocal about causes that are greater than himself, and he has put his money where his mouth is to support such projects.

Wade and James have often been both lauded and chastised for their outspoken criticisms of police shootings and other social issues.

Recently, Wade has become a vocal ally for a variety of LGBTQ issues after publicly supporting his 12-year-old son's appearance at the Miami Beach Pride Festival. In a sporting world that has often shown a regressive relationship with the LGBTQ community, Wade has been public with his support for the community and his support for his son, Zion.

Wade will have a full plate, but it appears that his retirement will not take him out of the spotlight and into security. His post-playing career may be busier than his NBA career was.