NBA: How the Final Games for Dwyane Wade and Dirk Nowitzki Compare to Other Stars
By closing out their careers with a farewell tour of sorts, Dwyane Wade and Dirk Nowitzki were able to do what so few professional basketball players manage to do — finish on their own terms. Going into their last games, all-time great NBA players have historically chosen many different routes to celebrate the end of their career, be it through fanfare and a farewell tour, or silently riding off into the sunset. As Wade and Nowitzki played their final games, it reminds us of the many different forms that a player's final game can take its shape. Not only did they get to call the shots at the end of their careers, but they finished in memorable fashion.

We'll discuss the finales for Dwyane Wade and Dirk Nowitzki, then see how they stack up with the final games for other legendary NBA players.

Dwyane Wade, Miami Heat
Wade went out with the same sort of balanced effort which made him a fan favorite over his 16-year career. His triple-double (25 points, 11 rebounds, and 10 assists) might be one of the best final games of any NBA player. The memorable finale happened in Brooklyn instead of Miami, but fans (including Wade's NBA friends LeBron James, Chris Paul, and Carmelo Anthony) witnessed his lone triple-double of the season.

Dirk Nowitzki, Dallas Mavericks
The 20 points and 10 rebounds Dirk Nowitzki posted in his finale are impressive, too. It showed fans that even in his 21st season, he could still put up the types of numbers that he was known for in his prime. That finale came on the road in San Antonio, but the fans got a special treat. The double-double was Nowitzki's only one of the season, and his first one since February 2018.

David Robinson, San Antonio Spurs
While several players who miss the playoffs get to showcase their talents during the 82nd game of the season, David Robinson was able to close his career during Game 6 of the NBA Finals versus the New Jersey Nets.

Many have waved goodbye after receiving championship rings, but Robinson was able to do so as a starting member of his team.
As the final buzzer of the 2002-03 NBA season sounded, David Robinson not only had won his second ring as an NBA player, but he did so with 13 points and a dominant 17 rebounds. He is the last player of his caliber to receive a ring on the team that drafted him during the final game of his career.

Michael Jordan, Washington Wizards
When Michael Jordan came back as a member of the Washington Wizards for two seasons, many questioned why he would want to go to a no-win situation and tarnish the legacy he left on the court with his historic game-winner over Bryon Russell in the 1998 NBA Finals that sealed his sixth and final NBA Championship. Although his Wizards career never matched the glory of his Bulls tenure, Jordan put up impressive numbers for a man on the wrong side of 40, well after the age that most players have hung up their sneakers.

Unfortunately for both fans and Jordan, he never saw the playoffs as a Wizard, and while his final game was nothing historic, it capped off what would be the true finale to his career as he scored 15 points to go with four rebounds and four assists. Despite this, all eyes were on the widely-considered greatest of all times, and Jordan waved goodbye at the end of the game as the Philadelphia crowd applauded.

Kobe Bryant, Los Angeles Lakers
Kobe Bryant owns perhaps the most fabled last-game of recent memory. After tearing his Achilles' tendon at the end of the 2012-13 season, Bryant's years of dominating teams with scoring night after night were over. While Bryant struggled to get on the court over the next two seasons, playing just 41 games between them, he entered the 2015-16 NBA season determined to play with the same toughness and tenacity that he was known for.

After announcing his retirement early in the season, Bryant put on shows for cities across the country during his own farewell tour, but he never quite reverted to his former self. All of this changed during the final game when, well out of the playoff picture, the Lakers put the ball in Kobe's hand and let him shoot the way he did while leading the team 10 years earlier. The result was an astonishing 60 points on 50 shots in a victory over the Utah Jazz. It was a fitting end in a career that was known for lots of points on lots of shots. When you're discussing final NBA games, Bryant's ranks right up there with Dwyane Wade and Dirk Nowitzki.
Magic Johnson, Los Angeles Lakers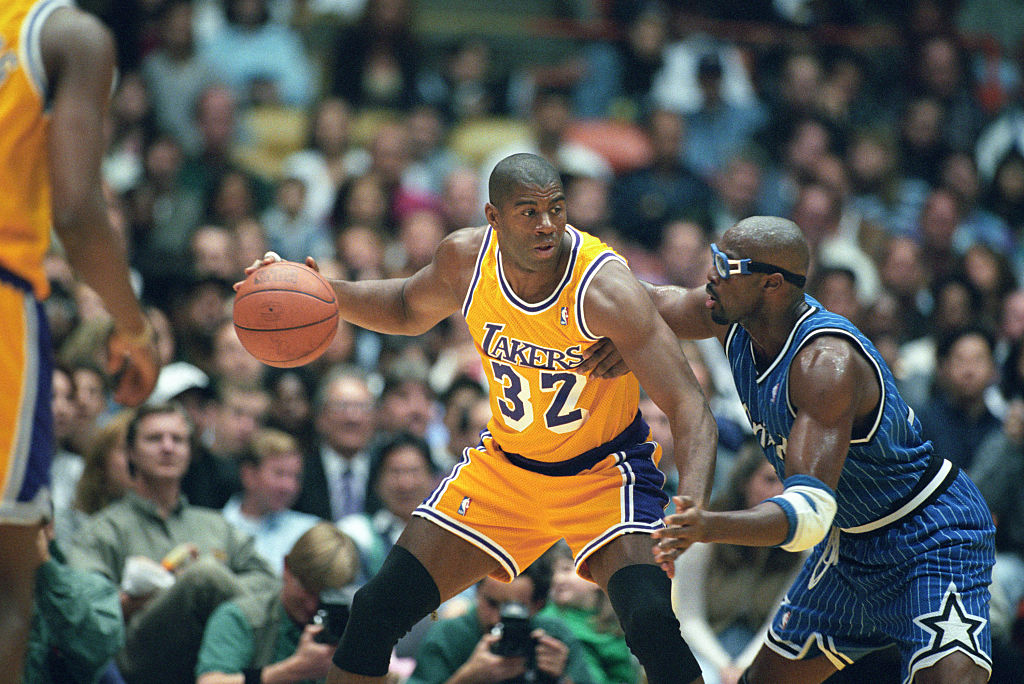 After HIV forced Magic Johnson to retire from the NBA in 1991 while he was still in his prime, many assumed that they had seen the last of the legendary player's career. The three-time MVP and five-time champion made appearances in the 1992 NBA All-Star game and played for the Dream Team at the 1992 Olympics in Barcelona, but Johnson didn't set foot on an NBA floor again for five years. He joined the Lakers for the final 32 games of the 1995-96 season.
Although the comeback came at the tail-end of a transition between the glory years of the Showtime Lakers and the days of Kobe Bryant and Shaquille O'Neal, Magic's comeback proved to be successful. Despite five years away, Magic showed that he could still play as a valuable contributor on a playoff basketball team. Johnson's sendoff was nowhere close to what Dwyane Wade and Dirk Nowitzki did — eight points to go with five assists and five rebounds — but the final game allowed one of the best Lakers ever to go out on his own terms.