Dwyane Wade Is Doing His Best Impression of Guys Like Dennis Rodman and Chris 'Birdman' Andersen
Dwyane Wade is known for his pretty great fashion sense, almost as much as he was known for his excellent play on the basketball court when he played for the Miami Heat. Well, now Dwyane Wade has a new look. In fact, Wade is now doing his best impression of some former NBA players like Dennis Rodman and Chris "Birdman" Andersen.
Dwyane Wade is a future Hall of Famer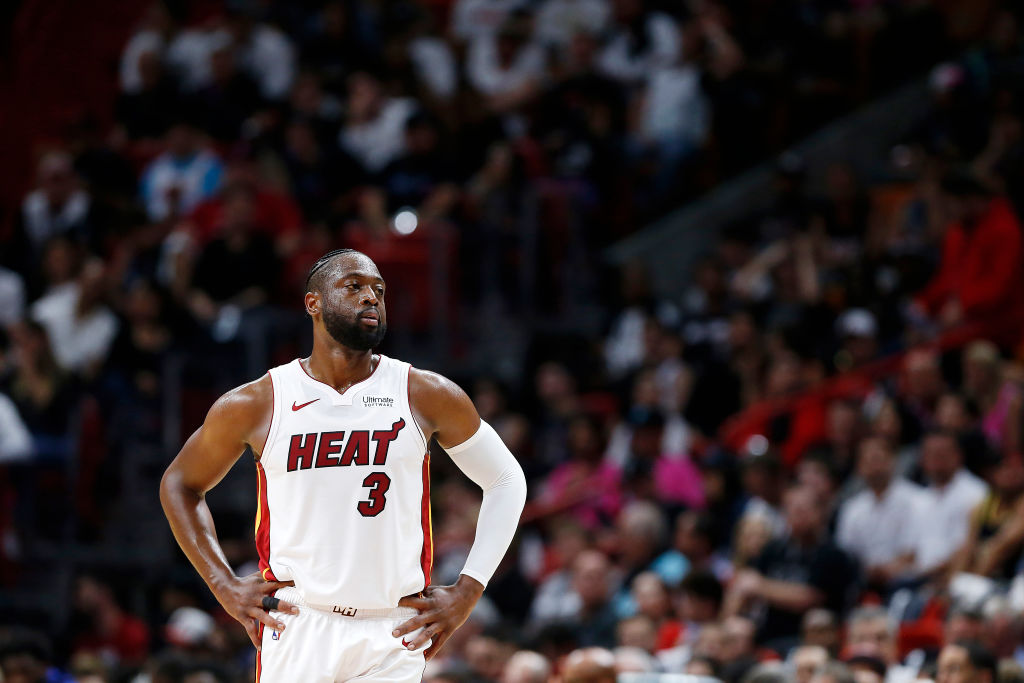 RELATED: Why Did Dwyane Wade Go Bald for the 2008 Summer Olympics?
In his career, Dwyane Wade was one of the best basketball players to ever play the game. After being drafted No. 5 overall in the 2003 NBA draft by the Miami Heat, Wade succeeded immediately. 
Wade averaged 16.2 points per game to go with 4.5 assists and four rebounds in his rookie season with the Heat. He then became an All-Star in his second season, averaging 24.1 points per game to go with 6.8 assists and 5.2 rebounds. Then in his third season, Wade averaged 27.2 points per game to go with 6.7 assists and 5.7 rebounds. He also led the Heat to an NBA championship that season.
Over the next few years, Wade continued to be one of the best scorers in the NBA. He even led the league in points per game in 2008-09, averaging 30.2. In 2010-11, though, Wade started a historic run with the big three on the Heat that included LeBron James and Chris Bosh. He helped lead the Heat to four straight NBA Finals appearances, and they won back-to-back titles in 2011-12 and 2012-13.
Wade played for the Chicago Bulls in 2016-17 and Cleveland Cavaliers in part of the 2017-18 season before finishing his career back with the Heat. 
Here are some more of Wade's career accomplishments.
13-time NBA All-Star
Three-time NBA Champion
2005-06 NBA Finals MVP
2008-09 NBA scoring champ
Three-time All-Defensive Team honoree
Eight-time All-NBA honoree
22 career points-per-game average
Wade has definitely still been in the public spotlight since retiring. This is especially with him being in one of the most well-known power couples with Gabrielle Union.
Dennis Rodman and Chris "Birdman" Andersen had crazy hairdos
RELATED: Dennis Rodman's Ex-Wife Has a Much Higher Net Worth Than He Does
Dennis Rodman is one of the best rebounders of all-time. He was not a scorer, but he brought the energy as he led the NBA in rebounds per game seven times. He was also a two-time NBA All-Star, a five-time NBA champion, and a two-time Defensive Player of the Year. Rodman is also in the Hall of Fame. Chris "Birdman" Andersen was a nice role player in the league. He was not as accomplished as Rodman, but he was good enough to play in the NBA for 15 seasons.
While they were known for the roles they played for their teams, they were also known for crazy hairdos. Many NBA players have had crazy hairdos over the years, but these two seem to come to mind right away. Andersen had a bunch of different hairstyles, including a mohawk that potentially made him seven-foot-three instead of the six-feet-10-inch measurement recorded for him. Rodman also had a bunch of different styles, which included several different colors and designs.
There have also been many other great NBA players to have crazy hairdos. This includes guys like Scott Pollard, Drew Gooden, Ron Artest/Metta World Peace, and many others. Now, Dwyane Wade is in the same club as these guys.
Wade reveals his new bright red hairdo
RELATED: Dwyane Wade Announces 'Redeem Team' Documentary Is Coming
Recently on Instagram, Dwyane Wade revealed that he has a new bright red hairdo. He has a hat on in the photo, though, and it covered most of it. He, however, got a lot of reaction on the photo, including a comment from Los Angeles Laker Kyle Kuzma who said, "Take the hat off bruh we wanna see."
Then, Wade even posted a comment he got from Dennis Rodman, who said, "Nice. Hair. Brother." You can be the judge of it by taking a look at Wade's Instagram.
So, is Wade's new hairdo here to stay? It is hard to tell, but his Instagram will be a fun thing to check during the coming weeks and months.
All stats courtesy of Basketball Reference