Dwyane Wade Forcefully Reminded the Heat That Miami Still Belongs to Him Despite His New Team's Loss to His Old Squad: 'That's My Office'
Dwyane Wade built a legacy as the greatest player in Miami Heat history. He reminded the organization of that fact, despite his new team (the Utah Jazz) dropping Saturday night's game against his old squad.
Wade reflected on his time with the Heat during an interview with the Miami Herald, including his decision to join the Jazz as a part-owner, a move partly influenced by his affinity for Donovan Mitchell. The legendary shooting guard makes his return to FTX Arena next week, and he expressed excitement in stepping back into his "office."
Dwyane Wade is the best player in Miami Heat history
Dwyane Wade set the standard for excellence in his 15 seasons with the Heat.
Wade amassed averages of 22.7 points, 5.6 assists, 4.7 rebounds, and 1.6 steals. He made 13 All-Star teams and eight All-NBA squads, including a pair of All-NBA First Team selections. Flash ranks first in Heat history in win shares (116.1), games (948), points (21,556), assists (5310), and steals (1,492). Most importantly, he helped build a winning culture.
The former Marquette product won three championships with the Heat. His Finals MVP performance in 2006 served as his breakthrough to superstardom. Wade took a backseat to LeBron James during the "Big Three" era, but even then, he remained one of the best 2-guards in the game.
Wade's legacy in Miami is set in stone. Even though he's begun a new chapter as a part-owner of the Jazz, he assured Heat fans that FTX Arena will always be known as "Wade County."
Wade returns to South Beach next week after the Jazz fell to the Heat on Saturday
Emotions probably ran high for Wade as the Jazz hosted the Heat on Saturday night at Vivint Arena.
Wade joined Ryan Smith's new ownership group in Utah as he eagerly started the next phase of post-retirement life. The ties run deeper, as Flash's son, Zaire, joined the team's G-League affiliate.
The 39-year-old likely wants to help build a winner in Salt Lake City. However, Saturday offered the chance to take a trip down memory lane. More memories should come flooding back to D-Wade next week, when he returns to Miami for the team's game against the Washington Wizards. Wade told the Miami Herald that FTX Arena is still his stomping ground.
"That's forever home. That's my office. I just got to ask for a key now, but that's my office. I'm going to enjoy being back like I always do."

–Dwyane Wade, via the Miami Herald
The Heat's current success probably makes Wade proud, even at the expense of his new team.
Miami defeated the Jazz 111-105 on Saturday night despite missing Jimmy Butler. Tyler Herro scored a game-high 27 points, and all five Heat starters scored in double figures.
The Heat and Jazz could ultimately be among the best teams in the NBA. For now, Wade is likely to focus on Utah's success. But will he ever get involved with Pat Riley and Co. in the future?
Could Flash join Heat leadership in the future?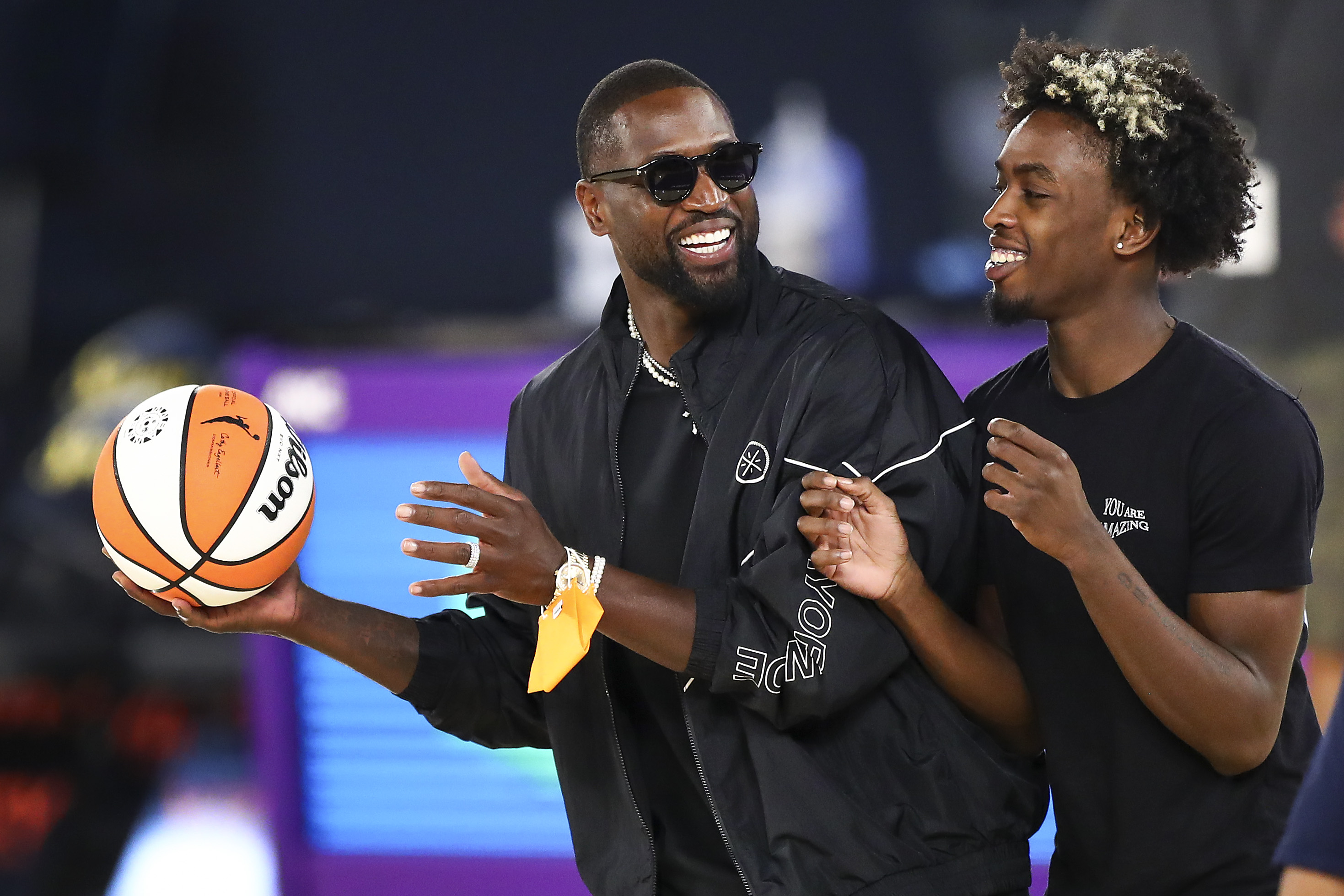 Wade said upon retiring in 2019 that the Heat would have the first opportunity to bring him into the fold. But Flash explained to the Miami Herald that he did not want to rest on his laurels.
"Some players, they retire and they go into the front office, or they stay in the community, or they stay in Miami because they've had success or it's just where they want to live," Wade said, via the Herald. "I've always been a little different, man. I'm antsy. I can't sit down. So for me, I had to get to the next phase of my life right away. So I'm not [in Miami]."
Alas, Wade's desire to get on with his post-retirement career played a role in his landing in Utah with the Jazz. Still, it seems foolish to believe Heat governor Mickey Arison and Pat Riley wouldn't eventually want to give him some role within the organization.
In the immediate sense, though, Wade can revel in his old glories as he returns to Miami.
Stats courtesy of Basketball Reference.
RELATED: The Miami Heat and Utah Jazz Are on a Collision Course That Would Force Dwyane Wade to Make an Agonizing Decision