Dwyane Wade Responds to Heat Fans Who Say He's Abandoned Miami: 'I'm a Butterfly, Man'
Dwyane Wade's long marriage to the Miami Heat is in the sunset phase. Fans aren't happy about the separation, and the former shooting guard doesn't seem interested in reversing course. Is Wade right to follow his retirement and leave behind the NBA community that supported him most? With the Jimmy Butler-led version of the Heat keeping the team on the national stage, some Miami supporters think Wade should stick around. And many Heat fans feel like their beloved former leader has abandoned them.
Dwyane Wade has sent several signals that he's moving on from Miami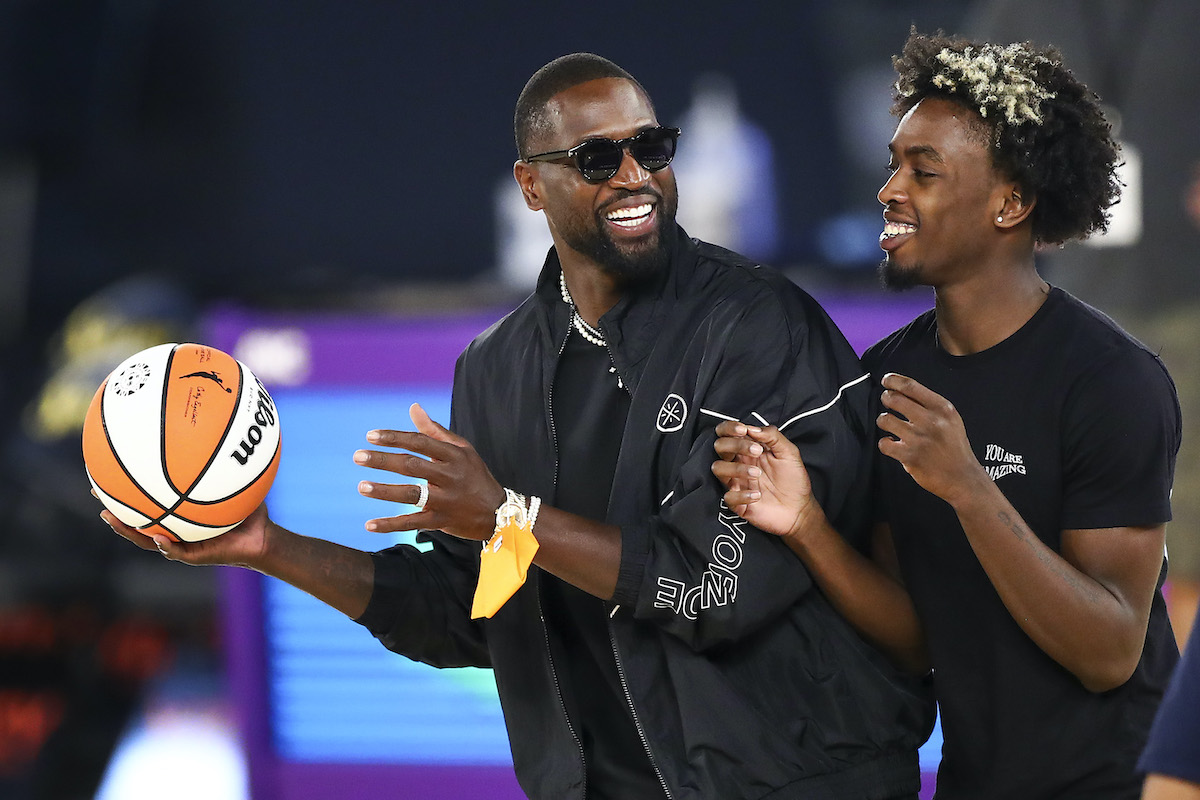 As recently as 2019, Wade's personal brand seemed as intertwined with the Heat as ever. In 2021, the connection feels much more like a historical fact of his career than a prominent part. He is rapidly ascending to the status of a pop-culture figure, in some ways outgrowing the NBA and sports-related media altogether.
Wade has entered a new phase of his career, starting with his presence in Hollywood. He's working and splitting time between living in Los Angeles and Atlanta, according to USA Today. As host of the new game show The Cube, it's completely disconnected from his days running up and down the hardwood. He also has a second home in Atlanta, thanks to working with TNT and the Inside the NBA crew.
Wade's most definitive pivot away from Miami came in April. When it came time to invest his wealth into sports as an owner, Wade didn't come knocking on doors in Miami. Instead, the former shooting guard became a minority owner of the Utah Jazz, signaling that he'll likely build a life in the Salt Lake City area as well.
Miami Heat fans aren't happy to see Wade slowly distance himself from the team
Casting his lot with the Jazz wasn't anything personal, according to Wade. His TV work has him operating mainly out of Los Angeles, which is a short flight away from Salt Lake City. Between that and his friendship with new Jazz owner Ryan Smith, it made too much sense to pass up.
Of course, this doesn't help his old supporters back in Florida. Miami fans are in despair. They got a tantalizing taste, from 2019 to 2020, of a retired Wade remaining a major booster of the Heat. SB Nation reports that his homerism went so far that he may have even rigged the 2019 Dunk Contest. That's the kind of love Heat fans expected to enjoy for years to come.
Not so, according to a recent GQ profile of Wade. "I'm not just one person to stay in one place. I'm a butterfly, man. And I gotta fly. I gotta move. I gotta go. So, this is just the next step in my journey," Wade told reporter Tyler R. Tynes.
Dwyane Wade views his drift away from the Heat as standard practice for NBA greats
It's understandably disappointing to see Wade's identity shift away from Miami. This feeling is heightened when his career arc is compared to someone like Magic Johnson, who always seems to find his way back to the LA Lakers. Wade explained this to GQ, saying, "Michael Jordan is not in Chicago. Shaq is not with the Lakers. Grant Hill is not with Atlanta and so on and so forth."
This shift in attitudes toward being identified with a single team manifests among active NBA players, too. LeBron James has made it clear he intends to wrap up his career away from Cleveland. His return for a championship seemed to be the final favor for his hometown team. Other superstars like Kawhi Leonard are content to find the biggest paycheck — even after a championship-winning run.
In light of all that, Wade's career path is far more muted. He gave his hometown a run with the Chicago Bulls, before returning to Miami for a retirement tour. He gave the fans what they wanted. It's understandable that they want more from the future Hall of Famer. But it's like Wade said: He's "a butterfly, man."