Dwyane Wade's Recent Admission Reveals That He 'Never Thought' LeBron James Would Actually Play With Him on the Heat: 'It Was a Shock to Me'
It has been over 10 years since Dwyane Wade, LeBron James, and Chris Bosh created one of the most iconic NBA squads of all time on the Miami Heat. They immediately became either your favorite team or your most hated; there was no in-between.
However, despite their critics not liking the fact that the players held the power rather than the organization, Wade said they didn't plan for it to happen.
In fact, the 2006 Finals MVP recently said he was shocked about getting to play with The King.
LeBron James, Dwyane Wade, and Chris Bosh formed the iconic Big Three Heat team over a decade ago
Wade, James, and Bosh changed the NBA forever when they formed their Big Three on the Miami Heat in 2010. They officially kicked off the player empowerment movement and put together a nearly unbeatable roster filled with three-plus future Hall of Famers.
Their combined star power also made them the most polarizing team in the league.
"It made the NBA sexy again," Wade's wife Gabrielle Union said on an episode of The Old Man and the Three podcast earlier this year. "We hadn't had that kind of interest, good or bad, really since Showtime."
Together, the Big Three reached four consecutive NBA Finals and won two straight championships in 2012 and 2013.
James also solidified himself as the best player in the world, winning back-to-back league MVPs (his third and fourth overall) and two Finals MVP awards. Wade and Bosh, on the other hand, both earned All-Star selections in all four seasons the three of them played together.
LeBron, of course, broke the team up in 2014 when he decided to move back to Cleveland and play with the Cavaliers again. But their run was certainly magical. 
Here's a look at each of their averages from those seasons.
LeBron James: 26.9 points, 7.6 rebounds, and 6.7 assists
Dwyane Wade: 22.2 points, 5.3 rebounds, and 4.7 assists
Chris Bosh: 17.3 points and 7.4 rebounds
However, Wade had no idea the three of them would actually team up.
Dwyane Wade was shocked about playing with LeBron James on the Heat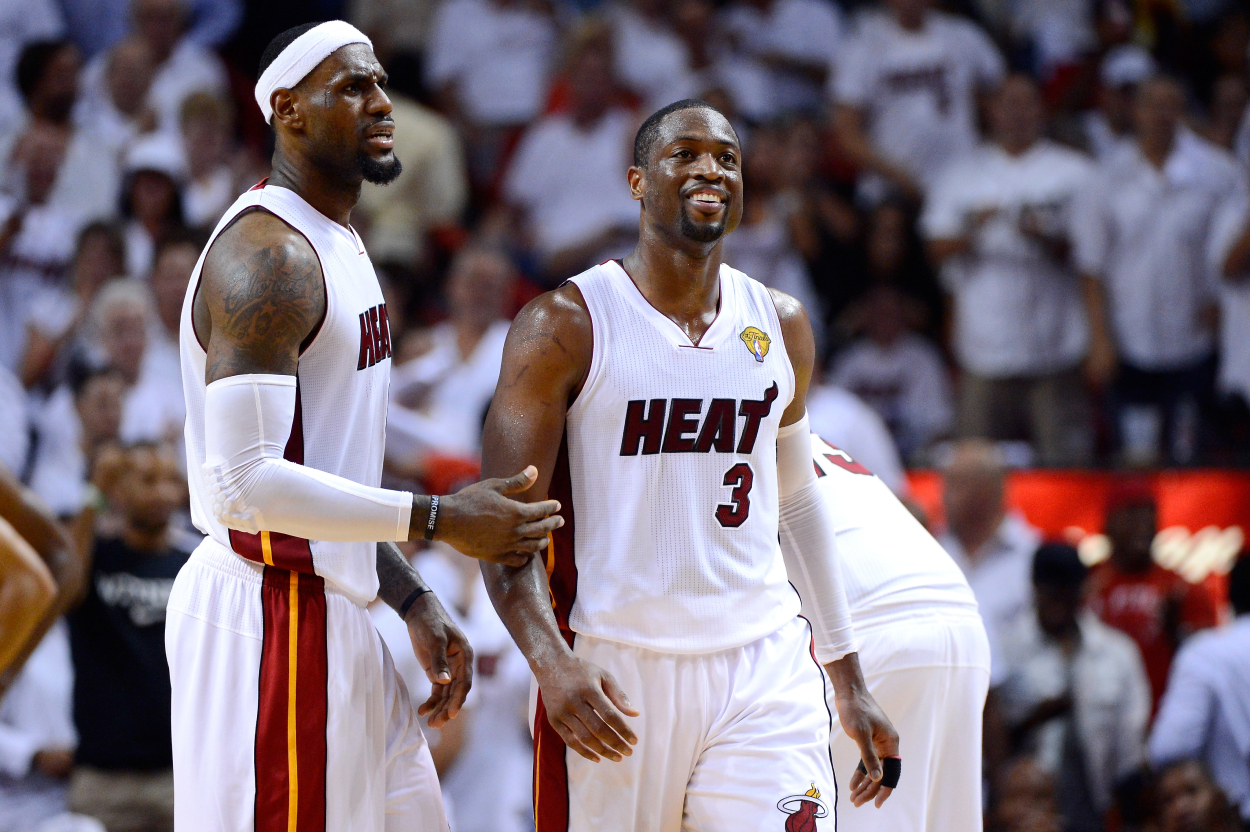 Wade recently spoke to Complex Sports about his Big Three days, and he revealed that he and James never actually discussed teaming up until the summer of 2010, their free agency year.
"I never thought that we would team up. I never thought about it," he said. "… I enjoyed the opportunity to play together at the Olympics. I enjoyed the opportunity to play together in the All-Star games and summertime games. But I never thought we'd play together in an NBA game."
Wade said he was then surprised when the stars started talking about playing on the same squad during that monumental summer.
"When that conversation happened in the summer of free agency in 2010, it was a shock to me, as it probably was to the world," he added. "It probably was a shock to LeBron as well. We didn't plan it. It just kind of organically happened, and a lot of that may be due to you see yourself playing with guys in the Olympics, you see yourself around a guy, you understand his personality fits with your personality. It may have something to do with Olympics and guys being together, but it's not like, oh, we got together in the Olympics and made a decision."
He continued: "The decision was made—we just didn't know it yet—by being around somebody and playing with somebody in those small moments."
Chris Bosh was 'on the edge' of his seat during 'The Decision'
Wade wasn't the only one surprised by James making the move to Miami. Before LeBron made his announcement on a live TV special called The Decision, Chris Bosh revealed his. Bosh essentially said he made his move with the hope James would then join them.
"It was so exhaustive, we stopped talking to each other; we couldn't, it was the last thing that we wanted to talk about," Bosh said on the Real Ones earlier in 2021.
He added: "There was a mode to not knowing, of course. It was a whole thing, program, and I was sitting on the edge of my seat, too, to be honest with you."
LeBron James surprised many people by signing with the Heat, but he's likely pretty happy he did. It resulted in one of the most historic moves in NBA history and helped each of the stars add to their already impressive legacies.
Stats courtesy of Basketball Reference