Dwyane Wade Showers Cavs Rookie Evan Mobley With Massive Praise, Compares Him to Hall of Fame Teammate Chris Bosh
The 2021 NBA Draft class was one of the best in recent memory, but Cleveland Cavaliers big man Evan Mobley has arguably been the biggest star so far.
Mobley's efficient play offensively and dominant presence on the defensive end has helped the Cavs become one of the top teams in the Eastern Conference. And after recently garnering high praise from his future Hall of Fame teammate Rajon Rondo, Mobley just received a massive compliment from NBA legend Dwyane Wade.
Evan Mobley has had a stellar rookie season for the Cavs
The Cleveland Cavaliers have gone from ranking near the bottom of the Eastern Conference the last three years to sitting just 1.5 games out of first place with a 31-20 record this season. And the Cavs' success has had a lot to do with the No. 3 overall pick in the 2021 NBA Draft, Evan Mobley.
Mobley has been a steady presence on the offensive end for Cleveland, averaging 14.8 points and 2.6 assists while making 50.5% of his shots.
However, his defense has set him apart from the other rookies. The USC product is averaging 8.1 rebounds and 1.7 blocks. He's also seventh in the NBA and first among rookies with 2.6 defensive win shares, which looks at the number of wins his defense has contributed to Cleveland's success. Mobley also leads rookies with a 1.7 defensive box plus-minus, an estimate of his defensive points per 100 possessions above an average NBA player.
The league recently named Mobley to its Rising Stars Challenge roster for its 2022 All-Star Weekend, and Dwyane Wade responded to the news by showering the young big with massive praise.
Dwyane Wade compared him to Chris Bosh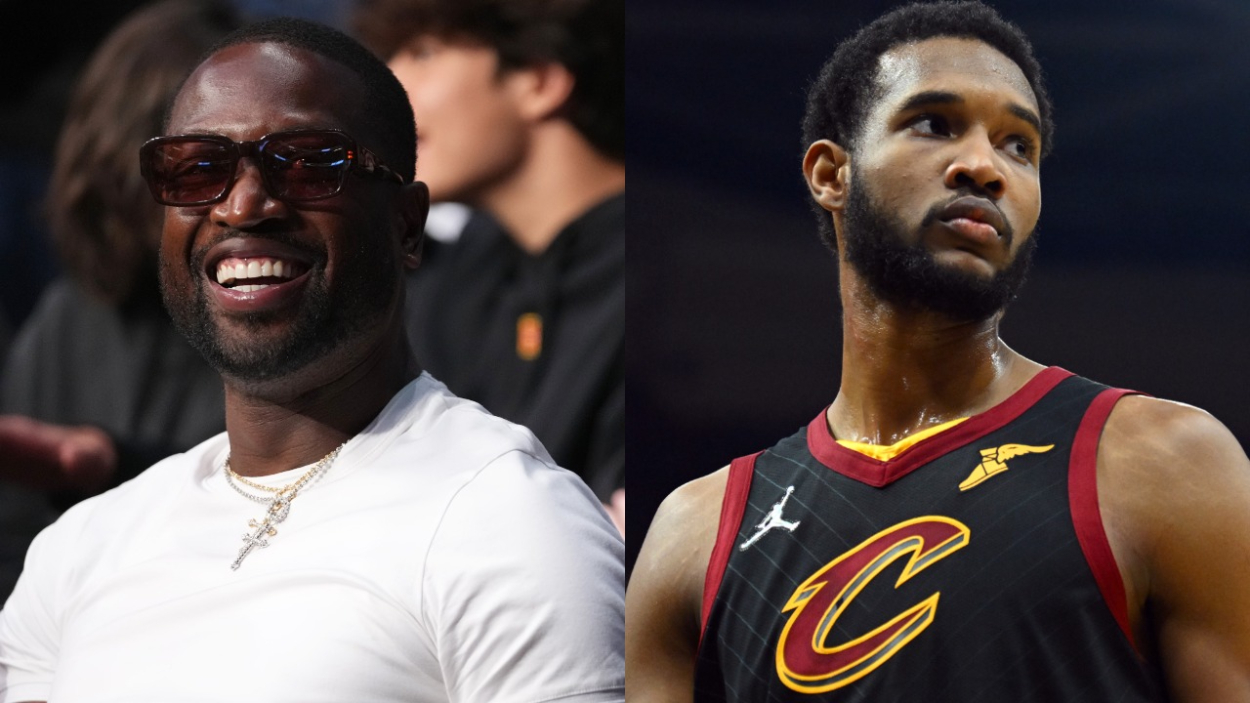 Basketball legend and future Hall of Famer Dwyane Wade recently appeared on TNT's Inside the NBA, where they revealed the rosters for the Rising Stars Challenge. Evan Mobley earned a spot among the players from the 2021 draft class, and Wade had some high praise for him, comparing him to his former teammate who is already in the Hall of Fame, Chris Bosh.
"When I look at Evan Mobley, I see Chris Bosh," he said on the Feb. 1 episode. "I see Toronto Raptors Chris Bosh but a right hand. Just the way he plays the game, the way he can take you inside and outside, his emotions. When he dunks on you, he don't change his expressions at all. And, man, it's good to see this kid be a part of helping this team win. He's not just there to fill up the stat sheet."
It appears Wade is pretty fond of Mobley's game, and his comments may seem pretty significant. But they aren't that far off. Mobley was compared to the likes of Bosh and Kevin Garnett while entering the NBA. And the numbers match up.
Evan Mobley is already on path to becoming the next Chris Bosh for the Cavs … or better
Dwyane Wade said Evan Mobley is like Chris Bosh during his Toronto Raptors years, and he's spot on with that comparison — at least offensively.
Like Bosh, Mobley can score near the rim and work away from it by making mid-range shots.
As a rookie, Bosh averaged 11.5 points and 7.4 rebounds. He also attempted 83.1% of his shots from the 0-3-foot range or from 10 feet to just within the three-point line. Mobley, who is already averaging more points as a rookie, has similar tendencies, putting up 80.2% of his attempts from 0-16 feet.
However, the Cavs star is better defensively than the Hall of Famer. Bosh never had a defensive box plus-minus over 0.5 in his career and never recorded more than 1.4 blocks per game.
So, Mobley might actually be closer to Kevin Garnett.
Garnett, who recorded 10.4 points and 6.3 rebounds per game as a rookie, also took 98.1% of his shots between zero feet and just within the three-point line. His defense was much better than Bosh's, though. The 2007-08 Defensive Player of the Year averaged 1.6 blocks as a rookie and had a 0.9 defensive box plus-minus.
Whether Mobley's game is more like Bosh's or Garnett's, he has a bright future. The young Cavaliers star has Hall of Fame potential.
Stats courtesy of Basketball Reference
RELATED: Cade Cunningham Isn't Worried About Evan Mobley's Stunning Play, Says the Cavs Star Can't Play His Game Better Than He Can