Dwyane Wade Summed up Jimmy Butler in 5 Simple Words
The Miami Heat ultimately lost the 2020 NBA Finals. The indelible image of the series, though, wasn't the Los Angeles Lakers taking their victory lap. It was Jimmy Butler, slumped in the final minutes of the third game of the series. He had given every ounce of himself to that game, willing a depleted Heat squad to an improbable win with an instantly legendary triple-double.
That sort of awe-inspiring moment didn't seem in the cards for Butler. His time in the NBA was marred by accusations of being locker room poison. Of not being the type of player worth building a serious team around. One person, at least, knew what the Heat were getting when they signed Butler, though: His friend and former teammate, Dwyane Wade.
Dwyane Wade didn't mince words when describing Jimmy Butler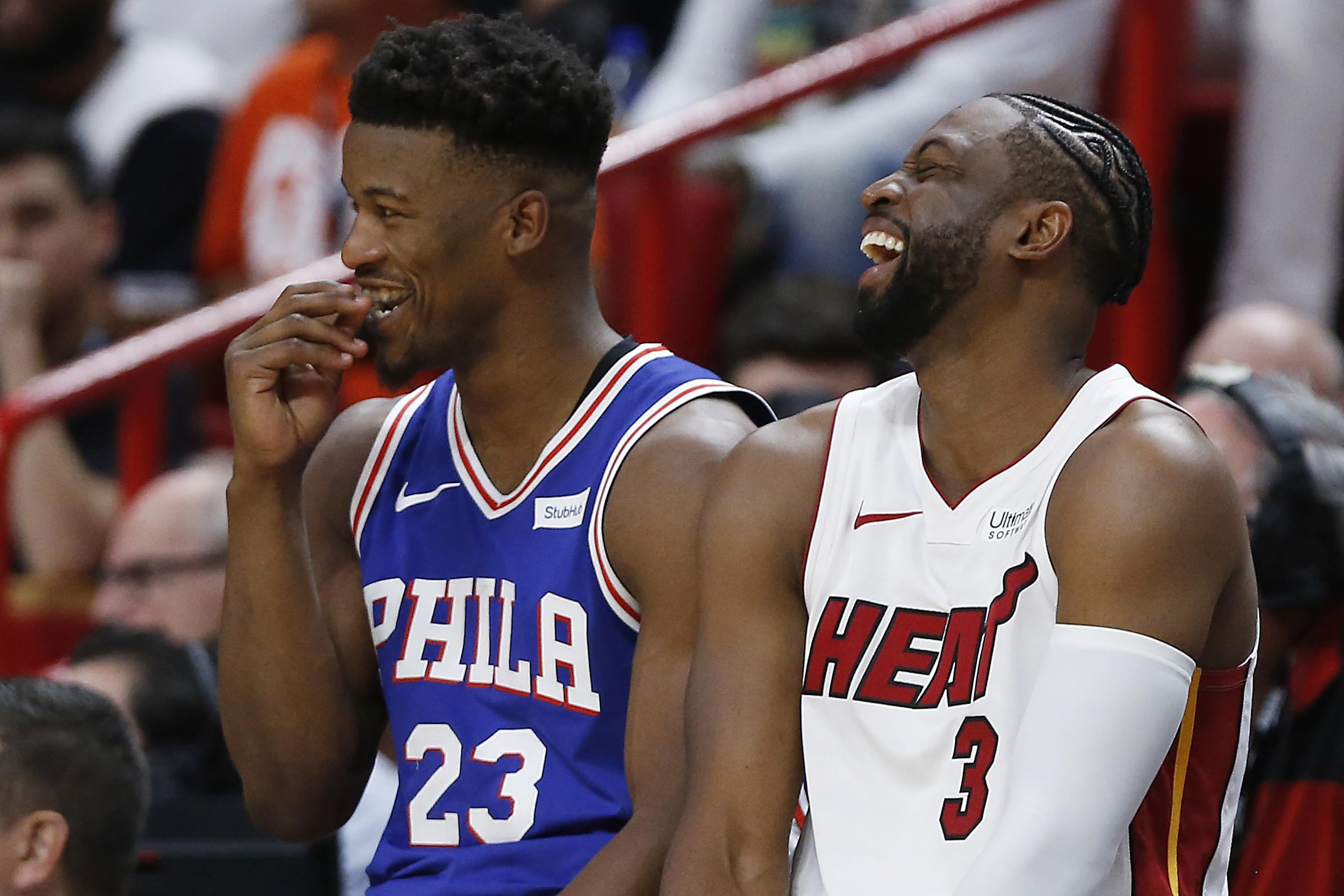 Wade is obviously a Heat legend for life. Yet his heart always pulled him toward Chicago, his hometown, and he managed to play there for a short time during the waning years of his career. That happened to be in the final stages of Butler's fraught time with the Bulls.
Media perceptions at the time were that Butler was a difficult figure to work with and around. The Bulls openly said they weren't interested in building a Finals-caliber team around someone who was not seen as a team player.
Despite what things looked like from the outside, Wade's experience with Butler as a teammate left a positive impression. He told Sports Illustrated exactly why, years later, he pushed the Heat to trade for Butler. "He doesn't give a f***," Wade said, with the same disinterest in mincing words that define Butler himself.
It wasn't a matter of Butler being markedly different from his blunt, often prickly public persona. "I still don't think Jimmy looks at himself as a good guy," Wade continued. "You won't see a change in him."
The former Heat star's feeling was, instead, that the Heat's emerging culture would be a perfect match for Butler's approach to the game.
Jimmy Butler's Michael Jordan-esque focus on excellence finally found a home with the Heat
RELATED: Dwyane Wade's Gambling Once Got So Bad His Financial Advisor Tried To Intervene
Butler's not a nice guy, but he's not a sadist, as Essentially Sports reports. He holds his high standards to himself before anyone else. He simply wanted to be on a team where everyone was putting up their best, from preseason practice until the final game of the season. With the young, hungry Heat team, he finally found his home.
While Butler's game has little in common with Michael Jordan's, his mentality is similar. If you're working as hard as he is, he respects you. The goal is winning, as a team, and that starts the moment everyone returns from vacation and enters the Heat's training facilities.
Butler's reputation was always at odds with his skills as a facilitator on the court. Whether it's an aging player like Goran Dragic or a rookie like Tyler Herro, he shows an incredible ability to step back and let teammates have their much-deserved moments.
Similarly, like in that now-iconic Game Three Finals performance, he is also capable of throwing an injury-laden team on his back.
Will the Heat compete with the star-powered headliners of the 2020-21 season?
The Heat's season, as the Sun Sentinel reports, started on a downbeat. The Orlando Magic stole the opener 113-107, in a game marked by sloppy Heat turnovers from start to finish.
Still, even in that misfire, most of Miami's returning cast looked on point. Tyler Herro is clearly starter material, Bam Adebayo's injury is a distant memory, and Duncan Robinson's improvements are still on display. The future remains bright for the Miami Heat and Jimmy Butler.