Dwyane Wade's 'Ugly' Life Obstacle Actually Proved to Be a Monumental Moment for LeBron James: 'That Helped Me'
Dwyane Wade and LeBron James aren't just two former teammates who won championships together on the Miami Heat. They are best friends. The two future Hall of Famers have discussed their friendship at length in the past, too, as their bond even led to them being there for each other during some difficult times. In fact, James was a big presence in Wade's life during his "ugly" custody battle with his ex-wife. That battle, though, also proved to be a monumental moment for James.
Dwyane Wade and his ex-wife had an 'ugly' custody battle
RELATED: NBA Legend Dwyane Wade Mourned the Tragic Death of His Cousin After She Was Senselessly Murdered for No Reason
Dwyane Wade married his high school sweetheart, Siohvaughn Funches, in 2002. They ultimately had two kids together but split up after being married for five years.
The divorce itself was tough, as Wade said in his documentary D. Wade: Life Unexpected that Funches had "13 different lawyers in the process," per Us Weekly, but his custody battle got "ugly."
"I'm having a hard time having a relationship with my kids, seeing my kids," Wade said in the documentary, according to UsWeekly. "A lot of times she would not bring them out and I would have to get the police involved to find her. … It became ugly and nasty."
Wade then won full custody of his two children, Zaire and Zaya, in 2011.
"My emotions were all over the place because on one hand, you want to celebrate a victory, but on the other end, no one wins," he said, according to Us Weekly. "There's no winner in a custody battle."
His custody battle made LeBron James 'a better father'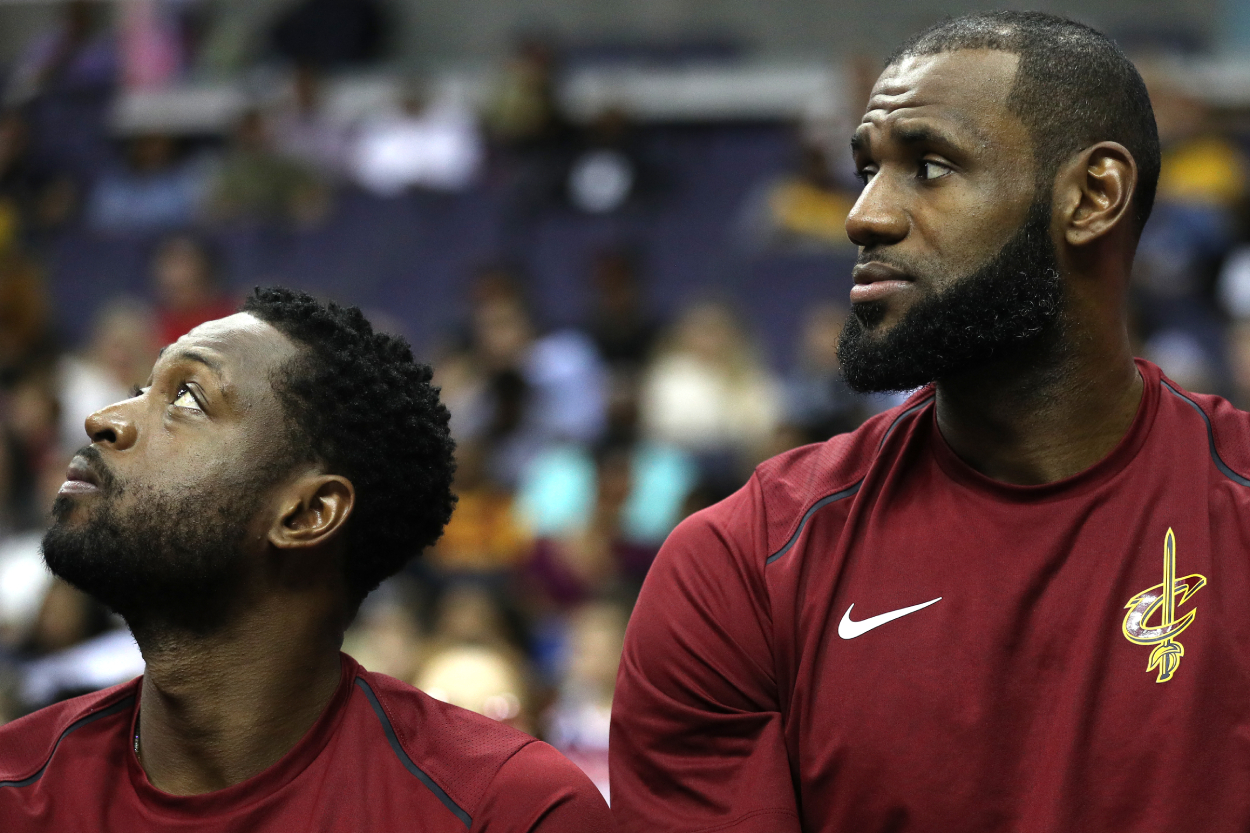 RELATED: LeBron James Won 2 Championships With Dwyane Wade but Potentially Discussed Teaming up With Another Friend Instead
The year Dwyane Wade won his custody battle was the same year that LeBron James was in the midst of his first season with the Miami Heat. Because of this, James saw the challenging time his friend went through up close.
"(Having LeBron as his friend) definitely was huge for me when I was going through an ugly divorce that I went through, and an ugly custody battle with the kids, to know that, 'Hey deal with what you gotta deal with; We got you on this end,'" Wade said to ESPN in 2017.
Despite it being a difficult time for Wade, it actually made James — who has never had a relationship with his father — a better dad.
"The example that that set, coming from someone that never encountered a father growing up, to see one of your best friends gain custody of his kids, fight for it, fight for it and say, 'Listen, I want my kids.' That helped me become a better father as well," James said to ESPN.
That's definitely a powerful statement. It appears that James has helped Wade become a better father, too, though, as Wade admitted to ESPN that during the first few days after winning the custody battle, he had to call James and say, "Yo, I need help."
No matter what happens in their lives, it appears that LeBron James and Dwyane Wade's bond will always be tight.
LeBron James and Dwyane Wade are best friends
RELATED: LeBron James Made $169 Million With the Cavs, but Once Cost Them $150,000 While Still in High School
LeBron James and Dwyane Wade came into the NBA together. James went to the Cleveland Cavaliers with the No. 1 overall pick in the 2003 NBA draft, while Wade went to the Miami Heat with the No. 5 overall pick of that same draft.
They ultimately formed a close bond and have been friends ever since.
"People see the LeBron James and Dwyane Wade that plays basketball," Wade said to ESPN. "They don't see the real-life humans, two real-life people that have a relationship and a bond."
Wade and James are definitely more than just basketball players. But they are pretty good at that basketball thing.
James went to the NBA Finals with the Cavaliers during his first stint in Cleveland and won two MVP awards, while Wade won a championship with the Heat in 2006. The two superstars then joined forces in 2010. Together, LeBron James and Dwyane Wade led the Miami Heat to four consecutive NBA Finals appearances and two NBA championships. James also won two more league MVP awards during those years.
Wade ultimately retired after the 2018-19 season, and he retired as a 13-time All-Star and a three-time NBA champion.
James, on the other hand, went to four more consecutive NBA Finals with the Cavaliers from 2014-15 through 2017-18, and won one title with the Cavs in 2015-16. He then played in his ninth NBA Finals in 10 seasons (and won) with the LA Lakers in 2019-20. James has ultimately earned 17 All-Star selections, four MVP awards, and four NBA championships. He is also third in NBA history in total points and eighth in assists.
LeBron James and Dwyane Wade have certainly become basketball icons. Their friendship, though, might be just as iconic.
Stats courtesy of Basketball Reference