EA Sports and 'Madden NFL 22' Insulted Both Colin Kaepernick and Football Fans in a Single Stroke
Football fans and analysts have spent the last four years arguing that Colin Kaepernick deserves another opportunity in the NFL. EA Sports and Madden NFL 22 are doing their best to single-handedly destroy that argument.
How could that be the case, you ask, when EA Sports continues including the NFC champion as a free agent in the game? All one needs to do is look at ratings and context to quickly realizing that those who work on the NFL's only licensed video game have no respect for Kaepernick or their consumers.
Colin Kaepernick is an 81 overall in 'Madden NFL 22' despite not playing since the 2016 season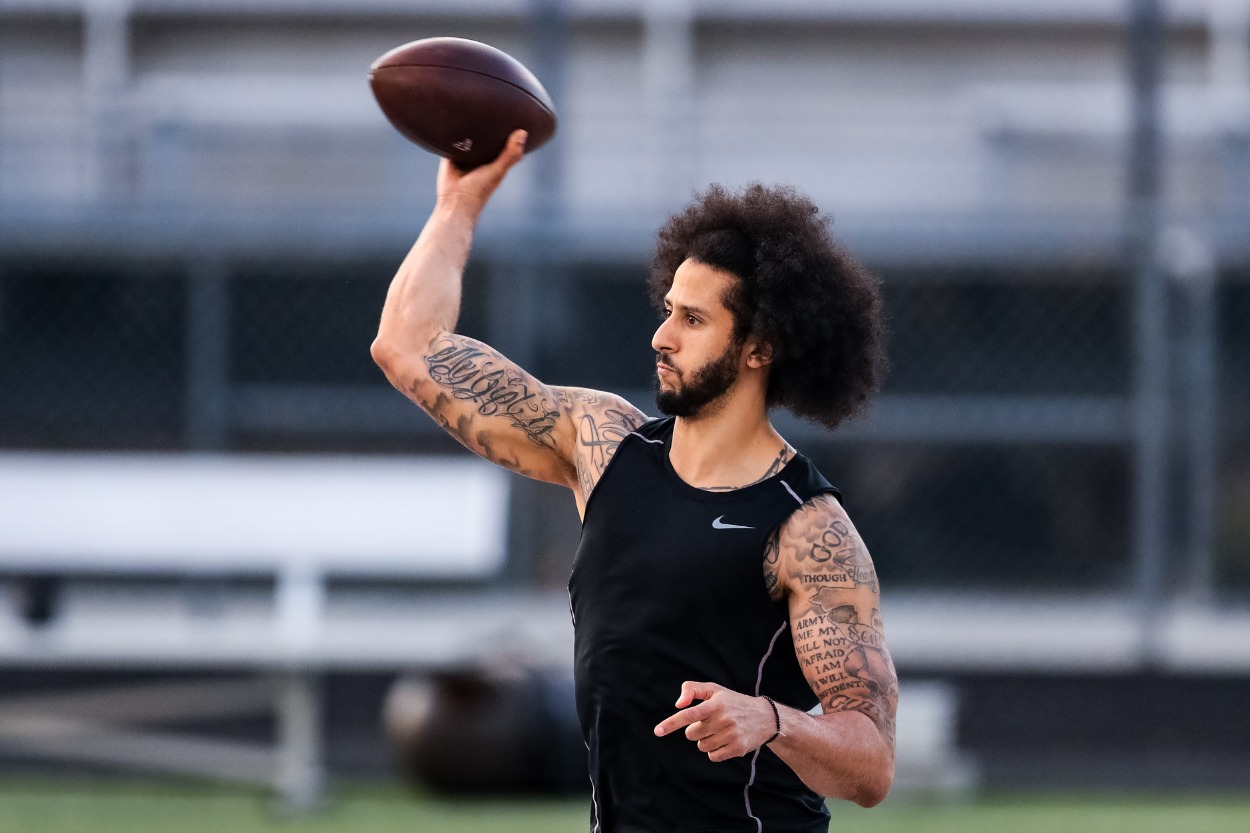 Let's make something immediately clear. EA Sports' decision to include Kaepernick, who last played an NFL down on Jan. 1, 2017, in the game isn't the issue. He hasn't officially retired, and he worked out for teams in 2019, so this isn't like the time they listed Calvin Johnson or Peyton Manning, both of whom are now in the Pro Football Hall of Fame, in the game as free agents.
Instead, the problem is the game giving Kaepernick an 81 overall rating. For those unfamiliar with how Madden ratings work, players are rated on a 0-99 scale. Five players, including co-cover athlete Patrick Mahomes, had a 99 overall when the game launched in August 2021.
Kaepernick, who hasn't played in nearly five years, is currently tied with Las Vegas Raiders veteran Derek Carr for the 14th-highest rating of any quarterback in the game. Los Angeles Chargers star Justin Herbert, the reigning NFL Offensive Rookie of the Year, is an 80 overall.
Your eyes do not deceive you. According to EA Sports, Kaepernick is not only among the top half of quarterbacks, but he's also worthy of a higher rating than someone who had one of the greatest rookie seasons of any signal-caller in league history.
Those wanting to use Kaepernick can do so in franchise mode, either offline or online.
EA Sports continues to insult Kaepernick and its customers
EA Sports has spent decades priding Madden as a realistic football simulator. It's hard to imagine that being even remotely close to true when one glances at Kaepernick's overall rating.
One is free to make the argument that Kaepernick deserves to be on a roster more than Buffalo Bills backup Mitchell Trubisky (69 overall) or Josh Rosen (66), who the San Francisco 49ers recently waived. But if that's the case, Kaepernick should have a rating closer to those two, not one that's higher than Minnesota Vikings veteran Kirk Cousins (79) — or even Jacksonville Jaguars rookie Trevor Lawrence, who clocked in at a 78 overall.
More than anything, what first appears to be a gesture of support toward a talented quarterback who devoted his life to social justice instead comes off as insulting. Instead of simply including Kaepernick in the game last year, EA Sports issued a press release and added a screen that congratulated the player for signing him in franchise mode.
It's strange to think a game would go to great lengths to promote Kaepernick yet not include the pictures of rookie quarterbacks. From a logistical standpoint, why is Kaepernick in the game while Houston Texans running back Buddy Howell, a special teams ace who's played 45 games in the last three years, is missing?
Before EA added Kaepernick in Madden NFL 21, he last appeared in the series in 2017's Madden NFL 18. He had a 75 overall rating that year, up from 74 a year before. So how has he improved seven overall points in that span without playing?
The early reviews aren't looking good for 'Madden NFL 22'
Players hoping for a realistic experience can always lower Kaepernick's overall rating in franchise mode. Then again, those wanting something resembling what they see every Sunday likely aren't playing Madden anymore.
Videos have already gone viral on YouTube and social media of various glitches in the game. One Reddit user posted a picture of the Washington Football Team's former name showing up on a standings screen. Other Reddit users have posted images of players with gray faces.
As of publication, the PlayStation 5 version of Madden NFL 22 had a 73 Metascore rating courtesy of 10 reviews on Metacritic. The user score, however, had an astonishingly low 0.8 score after 152 players left feedback. On the Xbox Series X version, those respective scores sat at 67 (off eight reviews) and 0.9 (132 ratings).
At least those who want to win a Super Bowl with Kaepernick have the ability to do so. They should just hope their game doesn't crash or explode along the way.
Like Sportscasting on Facebook. Follow us on Twitter @sportscasting19.
RELATED: 'Madden 22′: All 32 NFL Teams' Home-Field Advantages Revealed