Eagles 30, Colts 27: 3 Things You Should Know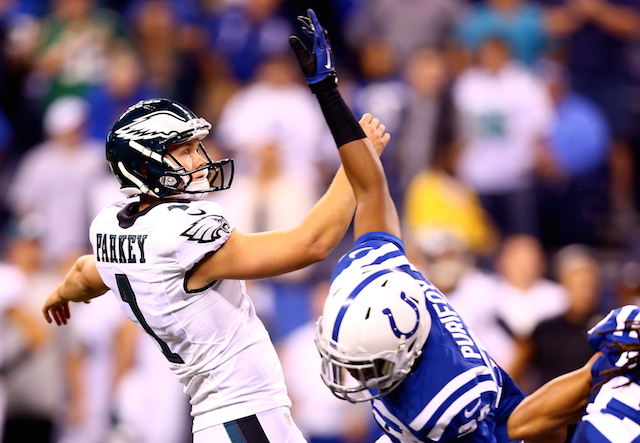 The Philadelphia Eagles rallied for a 30-27 victory at Indianapolis in a Monday Night Football game, erasing a 14-point third-quarter deficit and ultimately winning the game on Cody Parkey's 36-yard field goal as time expired. Parkey actually had to kick the ball twice, as Colts coach Chuck Pagano had called a timeout right before the ball was snapped on the initial try, but both attempts were straight and true.
Third-year Indianapolis quarterback Andrew Luck suffered the first back-to-back regular season losses of his professional career, as his team fell to 0-2. The Eagles, meanwhile, improve to 2-0 and rest atop the NFC East as the division's only undefeated team.
Here are three things you should know from Eagles 30, Colts 27.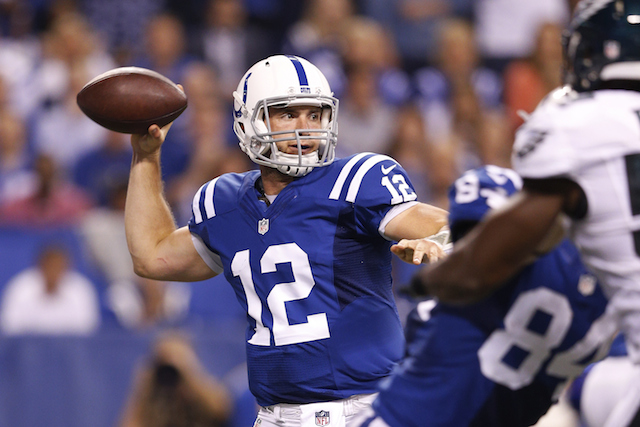 Turnovers did the Colts in
The Colts were in control for much of the game, but two second-half turnovers loomed large for the home team. In the third-quarter, a Trent Richardson fumble on the first play after the Eagles cut Indy's lead to 20-13 set Philadelphia up in prime position, and the visitors quickly moved 26 yards to get a second touchdown and equalize the score.
In the fourth, the Colts found themselves in field goal range with a 27-20 lead and less than six minutes remaining, knowing a two-score margin could possibly prove insurmountable for Philly. On a critical 3rd-and-9 play, Andrew Luck's pass was intercepted by Malcolm Jenkins, and the Eagles turned that mistake into a touchdown drive to again tie things up.
Colts coach Chuck Pagano was visibly frustrated with the turnovers. "Friendly fire — it'll kill ya," he said after the loss. "You can't beat yourself."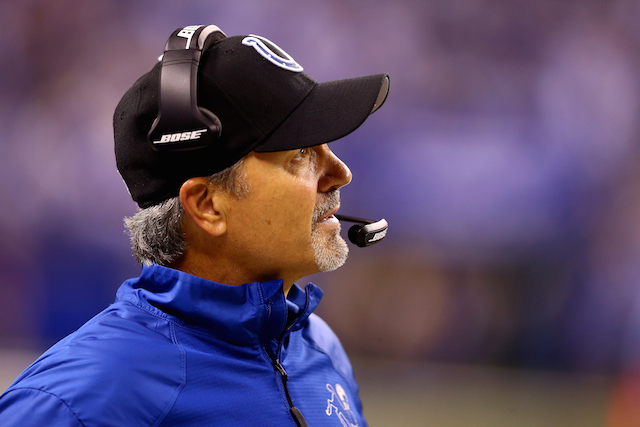 The officiating didn't do Indy any favors
Much of the postgame discussion about the late-game Colts interception centered on a penalty flag that was never thrown. Indianapolis WR T.Y. Hilton appeared to be held or interfered with on the pass, and didn't have any type of chance to get to the ball. The NFL has made defensive holding and illegal contact a point of emphasis in 2014 — receivers can't be touched after they get more than five yards past the line of scrimmage — and a deserved whistle there would have given the Colts a 1st and 10 in the red zone to drain some more time and ultimately add a touchdown or chip-shot field goal to put the Eagles away.
"We knew we had the field goal in the bag," Pagano said. "I think everybody saw what happened on the play. The last thing we said to the quarterback was, 'Take care of the football.' Now, if a guy gets tackled, drug down, whatever it was, there's nothing a quarterback or anybody else can do about it."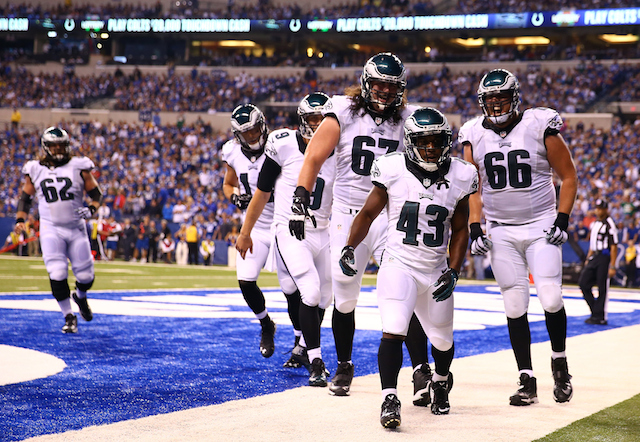 The Eagles are officially a second-half team
For the second week in a row, Philadelphia rallied from a double-digit deficit in the second half to win. (The Eagles trailed Jacksonville 17-0 at halftime in Week 1.) Eagles coach Chip Kelly hopes that falling behind early isn't going to be a trend for his team. "Hopefully we've got this out of our system. We need to come out in the first half and execute," he said.
Quarterback Nick Foles agreed. "It's good to have that in your arsenal to know that your team can stick together through adversity. [But] do you want to go down like this every single week? If that's what it takes, we'll do it, but we need to play better football in the first half."
The Eagles can credit much of their rally — and their victory — to offseason acquisition Darren Sproles, who seems to be well worth the fifth-round pick the team sent to New Orleans in exchange. Sproles caught seven passes for 152 yards, and added a 19-yard rushing touchdown in the third-quarter. As backfield mate LeSean McCoy said, "Without Sproles, we'd be in some trouble, to be honest. We really would."
"I used to always play with him on the video game back in the day, so yeah, I know what he can do," Foles said with a laugh of the versatile veteran running back. Sproles proved exactly what he can do in front of a nationally televised audience Monday night, especially in the deciding second half.