The Eagles' Brainless Decision to Restructure Fletcher Cox's Contract 7 Weeks Ago Makes Him Virtually Impossible to Be Traded
With the NFL trade deadline just a few days away (November 2), the Philadelphia Eagles should be one of the busier teams in the league. Entering Week 8 with a 2-5 record, the Eagles' attempts at competing in 2021 are proving useless.
The team isn't good. The best path they can take moving forward is selling off as many pieces as humanly possible to build up their future draft capital.
The Eagles began this process by trading TE Zach Ertz to the Arizona Cardinals and backup QB Joe Flacco to the New York Jets. However, further moves are being rumored.
Eagles DT Fletcher Cox is generating trade interest
Following Cox's recent outburst of emotion regarding the team's new-look defensive scheme, teams around the NFL have come calling about his availability. With the Eagles' season sinking fast and Cox seemingly unhappy, now is the perfect time for a rival GM to swoop in and snag him for cheap.
However, according to NFL Network's Ian Rapoport, Eagles general manager Howie Roseman isn't parting ways with his star defensive tackle for anything less than a high draft pick.
Eagles defensive tackle Fletcher Cox: Teams have been contacting the Eagles about Cox, figuring they could take a run at him to see if they could get him for a mid- to late-round pick. On the heels of Cox airing grievances about the defense, teams have reacted. Cox is one of the core veterans GM Howie Roseman wants around, so he's unlikely to part with him for anything less than a high pick.

Ian Rapoport, NFL.com
The Eagles should explore trading Cox, but can't
For what it's worth, Roseman and the Eagles should absolutely be open to trading Cox, even if it's for nothing more than a third-round pick. The once-great DT is blatantly regressing, having only recorded one sack through seven games this season.
With the Eagles' season quickly spiraling out of control, trading Cox makes sense. He carries the largest cap hit on the team, and Philly needs as many draft picks as possible.
However, this is where the trouble arises. Even if a team did offer the Eagles a high draft pick for Cox, a recent contract restructure that Roseman implemented makes it essentially impossible.
…Cox's contract is now essentially untradeable this season. Because of the complexity of the restructure (it was actually more like two restructures — in 2021 and proactively in 2022)…

…However, as is often the case, the Eagles were too smart for their own good. Instead of moving Cox at a time when they could have rid themselves of his contract completely while also saving a little money and likely acquiring a good asset in return in a non-contending season, Cox's decline could accelerate, he'll continue to be "a big rock in the salary cap jar" through the 2023 season, and there will no longer be any sort of good asset that the team will acquire in return for him via trade.

Jimmy Kempski, The Philly Voice
Howie Roseman's cap struggles are becoming all too common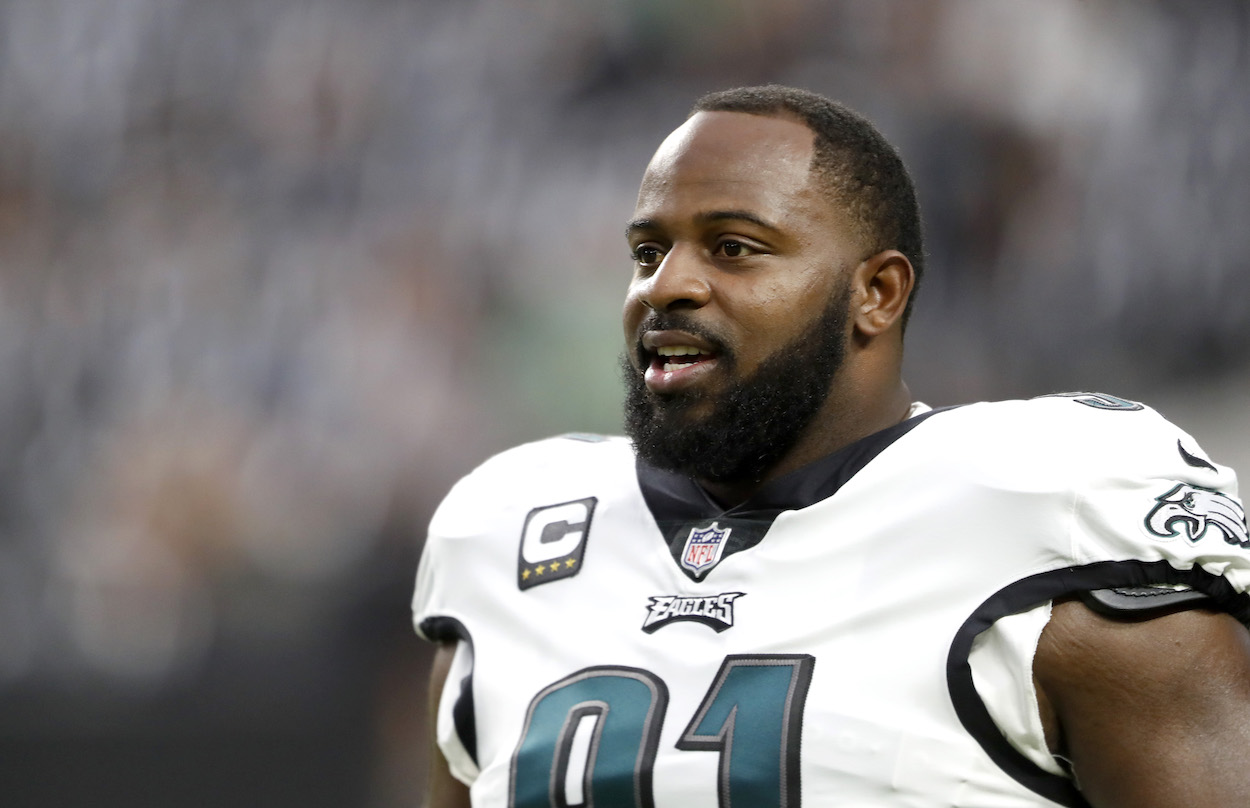 In theory, Roseman and the Eagles could bite the bullet and deal Cox to the highest bidder. However, moving Cox would incur a dead cap penalty of $37 million. In 2022, a Cox trade would incur a dead cap penalty of $24 million.
Thanks to Carson Wentz, the Eagles currently rank first in dead cap penalty and are in line to rank second in 2022. They can't reasonably justify adding more money to that total by trading Cox. Had they not restructured his deal a few weeks ago, this would be a completely different story. In fact, Cox may already be off the roster by now.
Instead, Roseman's constant mismanagement of the salary cap continues to damage the Eagles' chances of a swift rebuild. They're married to Cox, his declining play, and his massive salary through at least 2023.
All stats courtesy of Pro Football Reference.
RELATED: Eagles Head Coach Nick Sirianni Needs to Bench Jalen Hurts for Gardner Minshew to Save His Job