Eagles Center Jason Kelce Just Dropped a Major Clue About His Looming Retirement Decision
One of the best centers in all of football at the moment, Jason Kelce has been considering retirement for several seasons now. He's coming off his fourth All-Pro season with the Philadelphia Eagles in 2021.
Kelce has been dealing with all sorts of nagging injuries and ailments over the past few years. Add in the fact he turns 35 years old in November, and it's understandable as to why he's putting so much thought into the possibility of hanging up the cleats once and for all.
Jason Kelce just dropped a major clue about his possible retirement
Many thought Kelce was set to retire last offseason. He shared an extended moment with former Philadelphia Eagles players Zach Ertz and Carson Wentz following their Week 17 loss. Most interpreted this as Kelce savoring one last moment at Lincoln Financial Field before riding off into the sunset.
Kelce ultimately decided to play out the 2020 season and help the Eagles get off on the right foot as they enter a new era of football. He was exceptional, leading many to believe he could effectively suit up for another season in Philly.
According to Kelce himself, he feels the same way. However, he specified during a radio appearance on SportsRadio 94.WIP that it all comes down to his body and his ability to stay healthy.
"The competitive side of me really wants to keep playing, there is no question about that. It is getting harder every single year and the league has changed so much. I probably wouldn't be able to play this long if Wednesdays weren't significantly scaled-down, if we were hitting every single day. That's why a lot of these guys are going to play for much longer than guys have ever played. We will see. To answer your question, I want to, but I have to make sure it's the smart thing to do and I that I still can do that and be a good teammate, good leader and good player. As long as I can do all three of those, I'm definitely coming back."

Jason Kelce via audacy.com
It feels like the Eagles center is leaning toward returning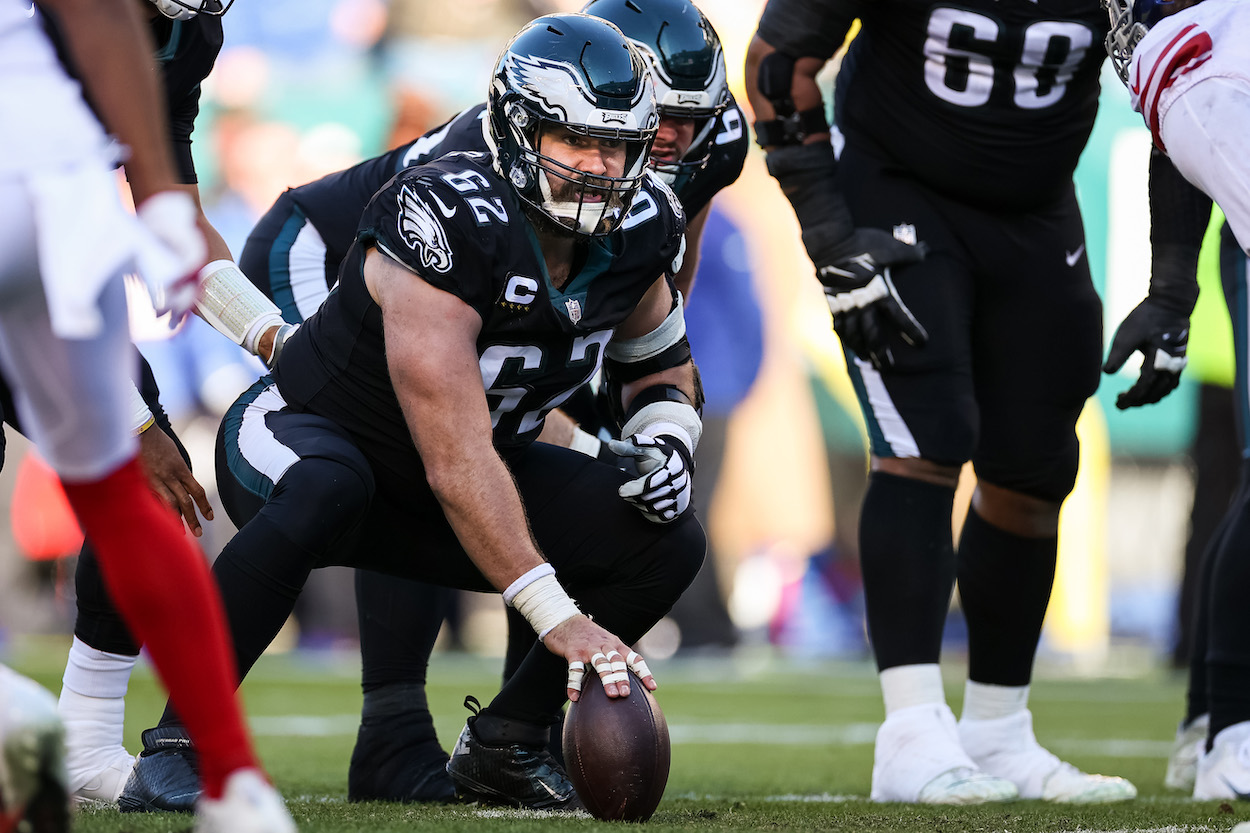 From the outside looking in, it certainly appears Kelce is leaning toward returning for another season. His statement of "as long as I can do all three of those, I'm definitely coming back" screams of someone who still has the itch to suit up on Sundays.
Compare that to Tom Brady this offseason, for example. Brady frequently highlighted his desire to spend time with family when questioned about possible retirement. Those were the words of a man who was looking forward to stepping away from the game.
It's also worth mentioning that Kelce is a free agent this spring. However, common sense suggests he's exclusively looking to return to Philadelphia. He's played his entire NFL career there.
How would the Eagles replace Kelce if he does walk away?
If Kelce does retire, the Eagles have a few secondary options they can turn to at the center position.
Guards Landon Dickerson and Issac Seumalo are both under contract for 2022 and have been cross-trained to play center.
The Eagles also have three first-round picks in the 2022 NFL Draft. They can easily justify using one on a new center.
Philadelphia would prefer for Kelce to return for one final season. His presence is a big reason its run game was so effective this past season. However, the Eagles are also in a half-decent position should Kelce walk away for good.
All stats courtesy of Pro Football Reference.
RELATED: Doug Pederson Is the Perfect Coach to Salvage Trevor Lawrence's Sputtering Development