Eagles Fans Should Be Thrilled With Shrewd Hasson Reddick Addition
After a year of navigating through life with Carson Wentz's massive dead cap number on the books, the Philadelphia Eagles were finally ready to spend some money this offseason. They had a few glaring roster holes that needed addressing. However, Howie Roseman kept true to himself and started the process off by prioritizing the defensive line.
Roseman has always been a general manager who likes building through the trenches. His latest blockbuster signing is proof that he hasn't changed this philosophy in the slightest.
Eagles sign OLB Hasson Reddick to a three-year/$45 million deal
According to several sources (including the Eagles' official Twitter page), Philadelphia has landed former Arizona Cardinals and Carolina Panthers edge rusher Hasson Reddick on a three-year deal worth $45 million. Reddick is coming off back-to-back double-digit sack seasons and immediately becomes the Eagles' best overall pass rusher.
It's unclear what position Reddick will play with the Eagles moving forward. He's proven capable at playing as a traditional defensive end while also rotating in at outside linebacker at times. However, that's not terribly important. He was deemed a priority for Philly due to his elite pass-rushing skills, something the Eagles were sorely missing in 2021.
Philadelphia had the second-fewest sacks last season at 18.0. Reddick recorded 11.0 with the Panthers by himself.
Hasson Reddick gives Eagles DC Jonathan Gannon some much-needed flexibility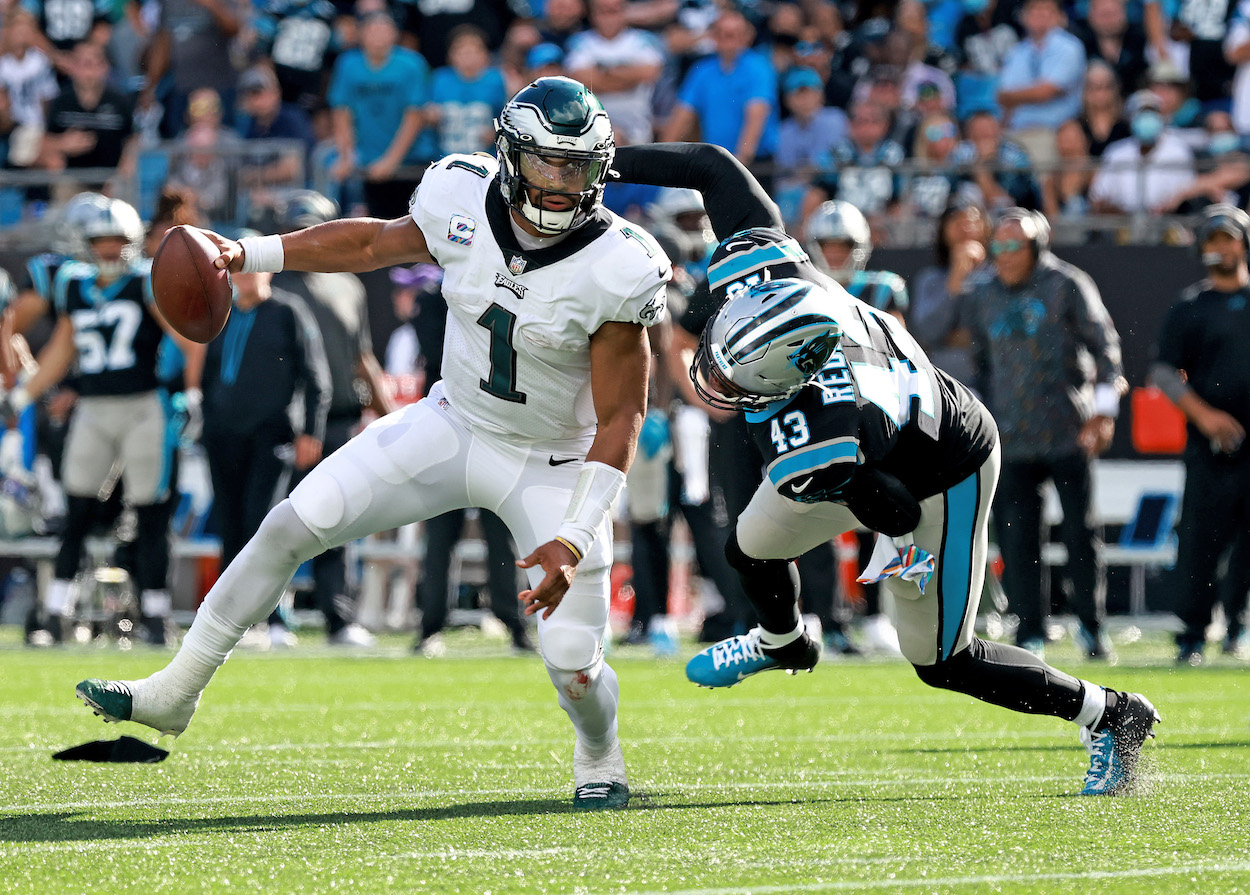 One of the most prominent question marks for the Eagles heading into 2022 (alongside third-year QB Jalen Hurts) is how defensive coordinator Jonathan Gannon can improve. He was an intriguing hire who many analysts hyped up as a future head coaching candidate when he first joined Philly in 2021. However, his gameday performances often left a lot to be desired.
Elite quarterbacks routinely torched Gannon's defenses, and he really struggled to scheme up sacks and pressures.
Now, with an elite edge rusher like Reddick on the roster, all eyes are pointed toward Gannon and how he will use him to attack opposing quarterbacks.
What's particularly interesting about Reddick is his hybrid nature. As previously mentioned, Reddick can get after the QB as an outside linebacker and a defensive end. This gives Gannon the ability to be creative and scheme up pressure from multiple different angles and levels. This was something the Eagles were missing on the roster in 2021.
Philadelphia has the foundations of a good defensive line again
Alongside some elite QB play from Carson Wentz and Nick Foles, one of the biggest reasons Philadelphia won the Super Bowl in 2017 was due to their elite defensive line. They had waves of defensive tackles and defensive ends they could send at opposing offensive lines.
Following the addition of Reddick, Howie Roseman is well on his way to building that caliber of D-Line again.
Reddick, Josh Sweat, Javon Hargrave, and Milton Williams make up a four-person core of young and ascending D-Linemen. Veterans Fletcher Cox and Brandon Graham are still lurking in the background as leadership voices as well.
All in all, this is an excellent signing for Roseman and the Eagles — one that should pay dividends in the short and long run.
All stats courtesy of Pro Football Reference.
RELATED: Jason Kelce Returns to Eagles: Why Jalen Hurts Is the Biggest Winner