Eagles GM Howie Roseman 'Paying Particular Attention' to Malik Willis Is Very Bad News for Jalen Hurts
The Philadelphia Eagles sneaking their way into the playoffs this past season was a huge success. However, that doesn't mean the organization was left without questions to answer.
Jalen Hurts had a strong 2021 season, all things considered. Yet, there are still some serious lingering doubts about his ability to lead a modern-day offense. He struggled to consistently move the ball through the air all season long, an issue that was greatly amplified during the Eagles' embarrassing Wild Card Round loss.
Throw in the fact Hurts just underwent ankle surgery, and even further questions are emerging about his potential inability to be a long-term answer in Philly.
Eagles GM Howie Roseman was 'paying particular attention' to prospect Malik Willis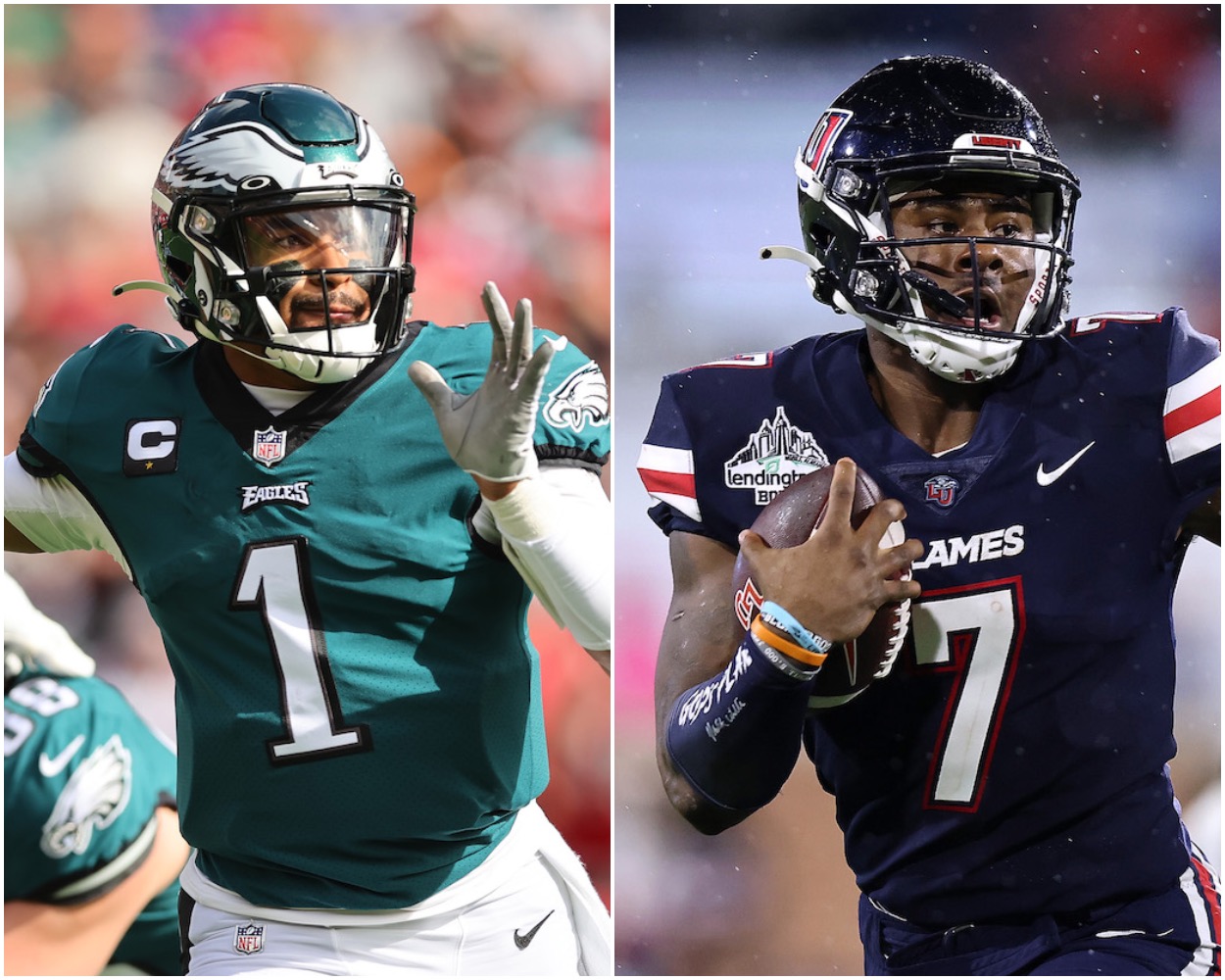 Taking place in Mobile, Alabama, hopeful NFL prospects from all over the country are taking part in this year's Senior Bowl festivities. The Senior Bowl is an excellent time for prospects to raise their stock heading into the draft.
While the focus is primarily on the prospects during this week, it can also be a time to gather crucial information about opposing front offices and general managers. According to Football Outsiders' Mike Tanier, this is precisely what happened with Eagles GM Howie Roseman.
According to Tanier, Roseman was spotted "paying particular attention" to Liberty quarterback and future first-round pick Malik Willis.
Liberty quarterback Malik Willis has the best arm in Mobile, and it's not close. He rifles off medium-range passes, both from the pocket and on the run, with little effort. Willis doesn't have an off-speed pitch, however, and his accuracy was scattershot on Tuesday. Still, some teams are about to have visions of Trey Lance-meets-Josh Allen dancing in their heads. Some Eagle-eyed observers noted Howie Roseman paying particular attention to Willis.

Mike Tanier, Football Outsiders
This is bad news for Jalen Hurts
There's been a lot of conversation about the Eagles pivoting off Hurts for a new quarterback this offseason. However, it's primarily been from the point of view of Philadelphia pursuing a high-profile veteran like Aaron Rodgers or Russell Wilson.
The Eagles have three first-round picks in hand for the 2022 NFL Draft. It'd be malpractice not to kick the tires on using some of these picks on an actual, franchise-altering quarterback.
However, taking into account Roseman's reported interest in Willis. It's worth noting that the Eagles may be exploring all possible Hurts replacements this offseason. This is (obviously) bad news for Hurts and his chances of retaining the Eagles' QB1 job for the long term.
Are the Eagles giving up on the Hurts experiment?
Rewind a year ago, and the Eagles were seemingly all the way in on Jalen Hurts. They pushed Carson Wentz out of the building so Hurts could start, they drafted his former college teammate in DeVonta Smith, and they passed on both Justin Fields and Mac Jones during the 2021 NFL Draft.
The Eagles coaching staff even completely altered their offensive gameplan to accommodate Hurts and his run-first nature. It looked like a full-scale commitment to the former Oklahoma and Alabama quarterback.
It's still speculation at this point, but it's worth wondering if the god-like play of Joe Burrow, Patrick Mahomes, and Josh Allen the past two weeks changed the way Roseman looks at the QB position. Maybe he internally decided having a QB who can move the ball through the air is crucial.
If that's the case, moving up in the draft for Willis — to replace Hurts — makes perfect sense.
Like Sportscasting on Facebook. Follow us on Twitter @sportscasting19.
RELATED: Jalen Hurts Puts the Eagles In 'QB Purgatory' According to ESPN