The Eagles Have a Massive $54 Million Problem That Their Controversial Front Office Can No Longer Ignore
The Philadelphia Eagles have labored out to a 1-3 start this season, and for the most part, it's their defense that's proving to be the biggest issue.
They allowed 41 points against the Dallas Cowboys and 42 points against the Kansas City Chiefs in back-to-back weeks. For context, the Eagles only allowed 40-plus points once under former defensive coordinator Jim Schwartz (86 games).
When assessing the lackluster effort from the Eagles' defense over the past two games, one player sticks out from the rest.
Eagles DT Fletcher Cox is a non-factor at the moment
Howie Roseman, the Eagles general manager, has a unique philosophy when it comes to roster building. He lives and dies in the trenches, prioritizing offensive and defensive linemen over other position groups.
While one could argue this philosophy helped guide the Eagles to their first-ever Super Bowl in 2017, it's since become a frustration point for most Eagles fans. Specifically, on the defensive line, the Eagles are investing a ton of their cap space. With the defense struggling through four games this season, fingers are starting to be pointed at the team's higher-paid D-Linemen.
At the top of that list is defensive tackle Fletcher Cox. Once upon a time, Cox was considered the first or second-best DT in all of football. Over the past two seasons, he's begun regressing into a shell of his former self.
A very expensive shell of his former self, to put it bluntly.
Cox has zero sacks through four games
As the Eagles' No. 1 defensive tackle, Cox's job is pretty straightforward. He's asked to bottle up the run game and get in the face of the quarterback.
Through four games this season, he's doing neither. Cox is yet to record a sack in 2021, and he only has five tackles (zero for a loss). He did recover a fumble for a touchdown against the Cowboys. However, that was more so him being in the right place at the right time. Teammate Javon Hargrave was the one who made the initial play.
A common counterargument for Cox's lack of production over the past two years is that he faces constant double teams. Cox definitely deals with double teams frequently, but not enough to warrant him being completely void of production this year.
According to Philly Voice's Jimmy Kempski, Cox was double-teamed 17 times against the Chiefs compared to 29 snaps facing single coverage. That's concerning.
The Eagles owe Cox a lot of money moving forward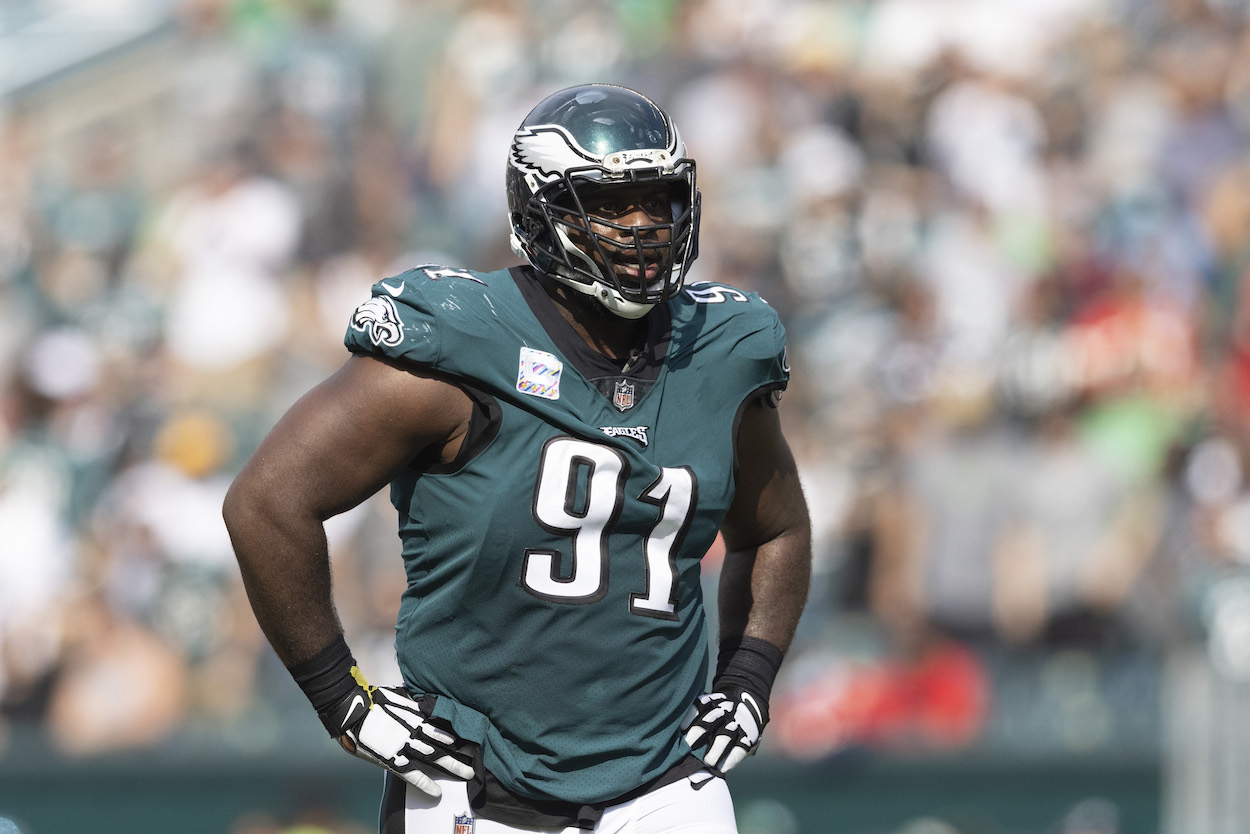 Cox has been in the league since 2012. There's a good amount of tread on his tires. It's not unreasonable to assume he's at the stage of regression in his NFL career.
Such is life in the NFL. Good players aren't good forever. However, a declining Cox presents quite the problem for the Eagles' front office. They still owe him $39.3 million between now and the end of the 2023 season, along with an additional $14-plus million in void years (Spotrac). The Eagles were banking on Cox being elite for another couple of seasons.
The Eagles already have Cox's long-term replacement on the roster in the before-mentioned Hargrave, and rookie DT Milton Williams looks promising. However, Cox carries a $37 million dead cap number in 2022 and a $24 million dead cap number in 2023. Moving off the veteran lineman would be extremely challenging and expensive.
It's easier said than done, but the Eagles need to find a way to generate more production from Cox. They're paying him too much money to be a stat-less player every week, and the odds of moving him to a new team sometime in the coming future are slim.
Unless they're willing to explore a Carson Wentz-type trade involving a huge dead cap hit, this is a player the Eagles can't magically get rid of. They need Cox to perform like the player he's being paid to be.
All stats courtesy of Pro Football Reference.
RELATED: The Cowboys Came Dangerously Close to Drafting Eagles QB Jalen Hurts: 'We Certainly Had Interest in Him'