The Eagles Have a Tricky Decision to Make That Could Completely Derail Their Newfound Offensive Success
Despite an extremely sluggish start to the season, the Philadelphia Eagles have quietly strung together a handful of productive games. They beat the Detroit Lions 44-6 in Week 8, they only lost to the Los Angeles Chargers by a score of 27-24 in Week 9, and they beat the Denver Broncos 30-13 in Week 10.
At the crux of their newfound success is the run game. After weeks of unsuccessfully forcing second-year QB Jalen Hurts to play like Patrick Mahomes, Nick Sirianni and the Eagles coaching staff switched gears and transitioned into a run-first style offense.
The Eagles are slowly becoming the best rushing team in the NFL
It undoubtedly took the Eagles a few weeks to get their ground game going. However, since Week 7, they've been dominant in this aspect of their attack. They rank first in the NFL in rushing yards since, and have the second-most rushing yards in the entire NFL, only trailing the Cleveland Browns.
What makes the Eagles' recent ground success most surprising is that their regular RB1, Miles Sanders, has been out with an injury the entire time. Sanders went down with an ankle injury early against the Las Vegas Raiders in Week 7, which oddly resulted in Sirianni completely flipping gears and committing to the run.
Veterans Jordan Howard and Boston Scott have led the Eagles' rushing attack as of late. Howard didn't even start the year on the team's 53-man roster. Now, he's averaging a team-high 70.3 rushing yards per game on a team-high 13.7 attempts per game. He's seemingly establishing himself as the Eagles' new RB1, with Scott slotting in behind as an above-average second option.
Why is Jordan Howard having so much success?
On the surface, Howard's success in the Philly offense makes zero sense. He's an aging back whose best days were seemingly behind him following his release from the Miami Dolphins in 2020.
Howard had some good years with the Chicago Bears beforehand and a few good games with the Eagles in 2019. However, age and injuries started catching up to him and noticeably slowed his legs down by the time he landed in Miami.
Miles Sanders, on the other hand, is a fresh, young back with much greater speed. On paper, he should've commanded far more touches than Howard when healthy.
However, the one thing Howard does is something Sanders tends to struggle with. Howard is a north-south runner who isn't afraid of going right up the middle between the tackles. This is perfect for an Eagles team with most of its money tied into the offensive line. Howard simply puts his head down and follows the linemen in front of him, whereas Sanders tends to bounce outside and get too antsy.
Will the Eagles return Miles Sanders to RB1?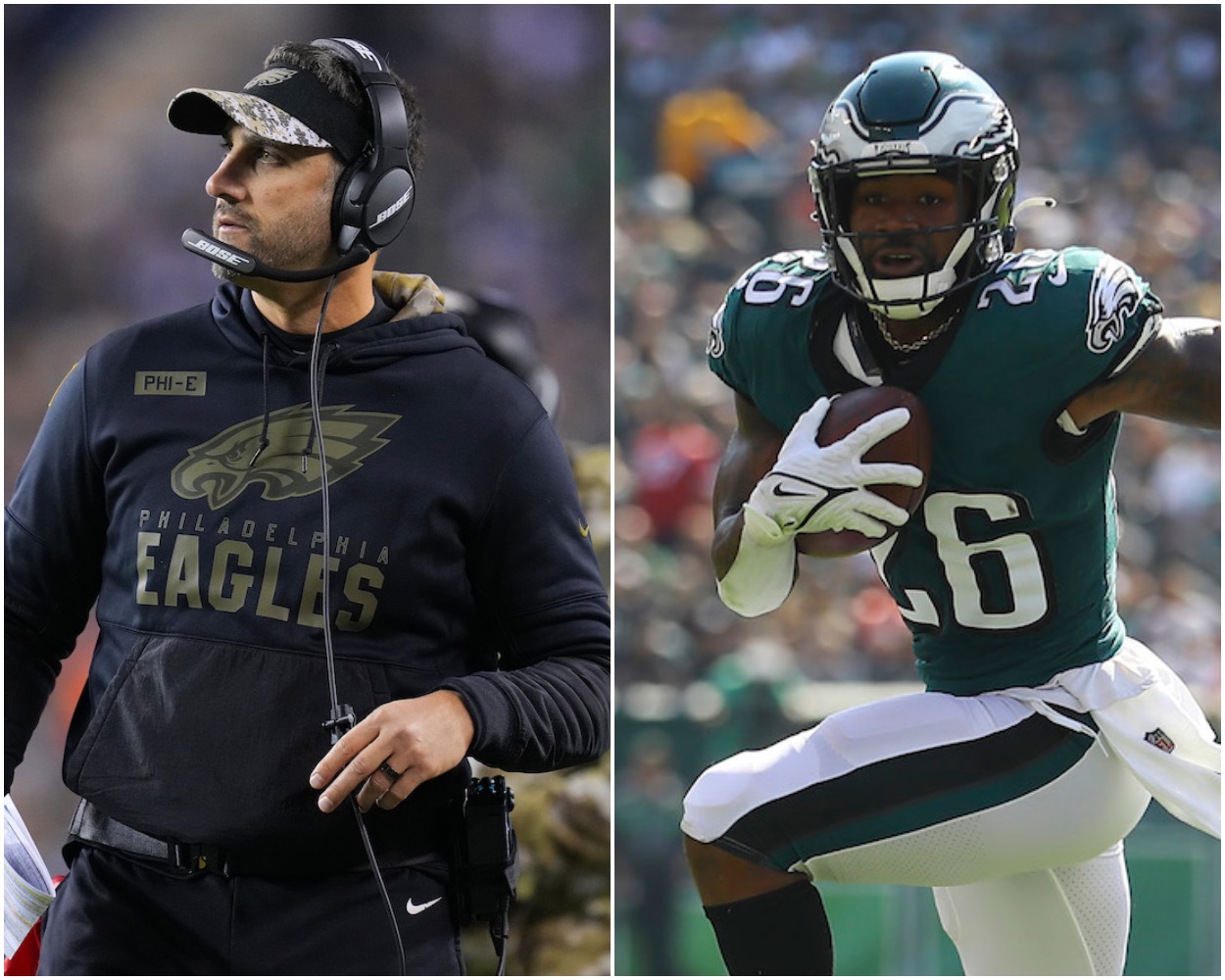 Sanders has recently started practicing again and appears primed to be activated before the Eagles' Week 11 game against the New Orleans Saints. However, there's seemingly no guarantee he'll immediately slot back into the RB1 role he began the season in.
Howard has consistently proven his worth to the offense week over week since Sanders went down, and Sirianni appears to favor his ground-and-pound running style.
With that said, Sanders is a recent second-round pick who's just 24 years old. The odds of him having a long-term future in Philadelphia are far greater than that of Howard. The Eagles may insert him back into the offense solely off that.
Either way, Sirianni and the rest of the Eagles' coaching staff have an important decision to make this week. Going with a running back by committee approach where Sanders and Howard both get touches feels like the likely outcome. However, even that could disrupt the team's newfound flow.
All stats courtesy of Pro Football Reference.