Eagles Head Coach Nick Sirianni Is Furious With a Member of His Coaching Staff, and It Could Lead to an Embarrassing Conclusion
The Philadelphia Eagles' offseason decision to blow up their entire coaching staff was met with odd stares around the NFL.
Sure, they were coming off a four-win season, and pretty much every facet of their organization underperformed. However, the combination of Doug Pederson (head coach) and Jim Schwartz (defensive coordinator) had been a very productive one for the Eagles for multiple seasons. They made the playoffs three years in a row from 2017 to 2019, and of course, knocked off Tom Brady, Bill Belichick, and the New England Patriots during Super Bowl 52 to secure the first Lombardi Trophy in Eagles franchise history.
However, none of that seemed to matter to owner Jeffery Lurie and general manager Howie Roseman.
The Eagles targeted youth with their coaching staff makeover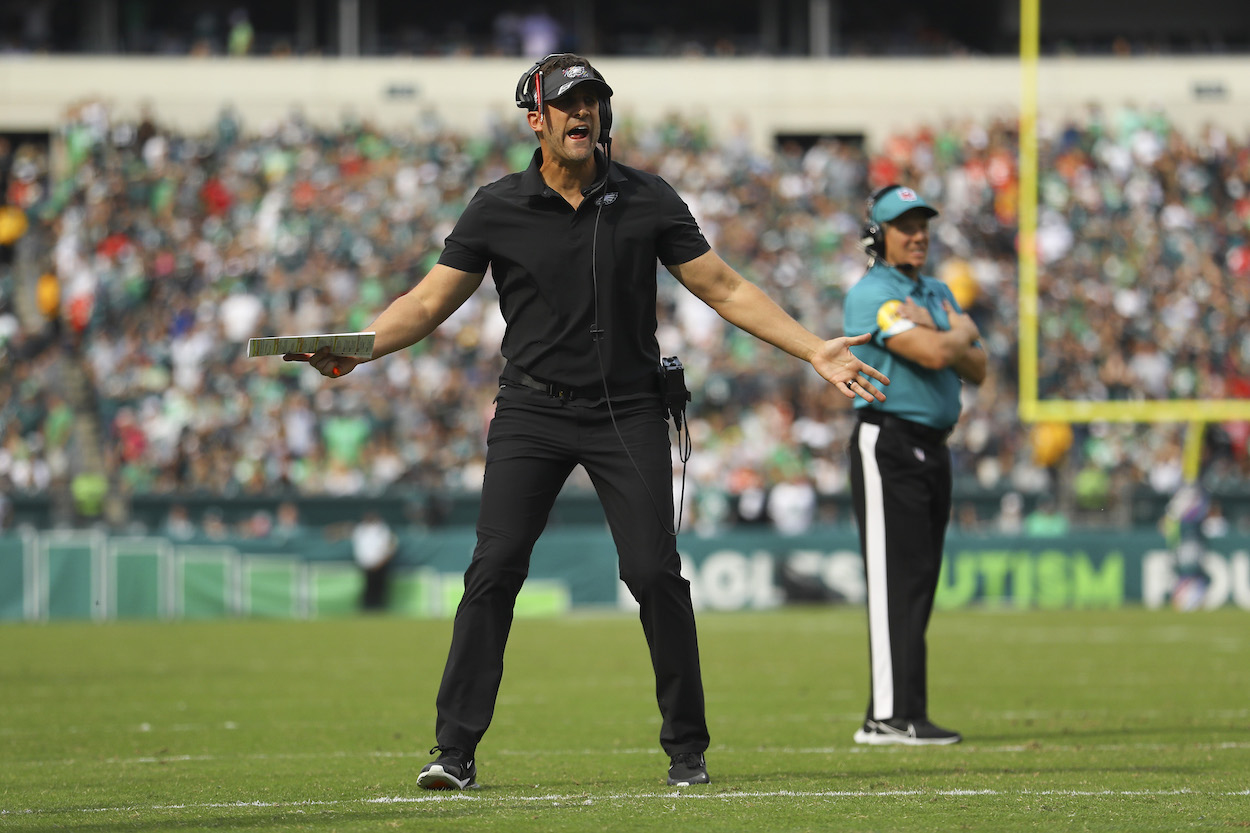 The Eagles' front office and ownership structure have long been rumored to be hyper-involved when it comes to coaching-related decisions. Roseman and his team of analytics people like to have a say in the weekly game plan, while Lurie reportedly flexes his muscle to get certain players drafted.
It's not exactly a healthy way to run an organization, but it's the way the Eagles do business. It made perfect sense to see them target a group of young and inexperienced assistants to fill their coaching vacancies this past offseason.
Despite interviewing several more qualified candidates, the Eagles settled on former Indianapolis Colts offensive coordinator Nick Sirianni. Upon being hired, Sirianni brought along fellow Colts' assistants, most notably defense backs coordinator Jonathan Gannon (who became the Eagles' new defensive coordinator).
We're only a few games into the 2021 NFL season, and yet, it appears the Eagles may be having some buyer's remorse regarding at least one of their offseason hires.
Jonathan Gannon is in hot water
Sirianni is not impressing as a first-year play-caller, but it's the team's defense that looks completely incompetent.
Gannon's scheme allowed 41 points against the Dallas Cowboys during Week 3 and 42 points against the Kansas City Chiefs during Week 4. For the sake of context, the previously mentioned Jim Schwartz allowed 40-plus points once during his five-year career with the Eagles.
According to the Philadelphia Inquirer's Marcus Hayes, Sirianni is beginning to grow severely frustrated with his young defensive coordinator.
League sources said Thursday that, after Sunday's blowout loss to the Chiefs, Eagles rookie coach Nick Sirianni blistered his defensive coaching staff in meetings early this week. He targeted rookie coordinator Jonathan Gannon in particular. Sirianni is frustrated at Gannon's toothless, amorphous scheme; Gannon's timid calls; and Gannon's poor utilization of star players like defensive tackle Fletcher Cox and Darius Slay. "It was some tough conversations in the defensive room this morning," Sirianni said Monday. This, according to the sources, was an understatement. Sirianni was mad.

Marcus Hayes, Philadelphia Inquirer
The Eagles could very well fire Gannon after this season
Firing a first-time defensive coordinator one year into the job feels a tad harsh. However, this is the Eagles we're talking about. They've proven time and time again that they aren't in the business of protecting feelings from being hurt.
Believe it or not, the Eagles considered firing Doug Pederson after his first season in 2016 (phillymag.com). The team was in a similar rebuilding stage as they are now and were seeing promising development from their rookie QB at the time (Carson Wentz). None of that appeared to matter to the Eagles' front office/owner. They internally discussed dumping Pederson at the time.
With that in mind, a swift divorce from Gannon at the end of the year shouldn't be ruled out. It would be an embarrassing result considering how much blame Philadelphia placed on their previous coaching staff. However, such is the nature of the NFL.
The grass is always greener on the other side.
All stats courtesy of Pro Football Reference.
RELATED: The Cowboys Came Dangerously Close to Drafting Eagles QB Jalen Hurts: 'We Certainly Had Interest in Him'