Eagles Head Coach Nick Sirianni Needs to Bench Jalen Hurts for Gardner Minshew to Save His Job
The Philadelphia Eagles' 2021 season is off to a terrible start. Despite promises of development due to a new coaching staff and new quarterback, the Eagles arguably look worse than they did in 2020.
They're 2-5 through seven weeks of football, and their two wins came against the lowly Carolina Panthers and Atlanta Falcons. They've largely been blown out by most of their opponents, only making the score look respectable due to garbage time touchdowns late in the fourth quarter.
The Eagles' offense, in particular, is a reason for major concern. Head coach Nick Sirianni is an offensive-minded coach who was supposed to bring a productive scheme to Philly, and the front office invested a top-10 pick in Heisman-winning WR DeVonta Smith.
Ranking 24th in scoring percentage is not where the Eagles expected to be.
Jalen Hurts can be blamed for most of the Eagles' struggles
While Sirianni's play-calling and overall offensive scheme continue to look vanilla week after week, a good chunk of the blame falls on second-year quarterback Jalen Hurts for his inability to run an NFL-style offense.
Hurts ranks 29th in completion percentage and 27th in overall QBR (quarterback rating). When compared to fellow non-rookie quarterbacks, Hurts is playing like the first or second-worst quarterback in the NFL from a pure passing standpoint. His speed and athleticism are undeniable. However, his inability to hit simple 10-yard passes is killing any chance the Eagles have at constructing a competitive offense.
Hurts' lack of arm strength has forced the offense to predicate itself around screens and RPOs. This is not a scheme that works in the long run.
The former Alabama/Oklahoma quarterback has also shown a tendency to leave the pocket prematurely, forcing his offensive line to block for 4-5 seconds while simultaneously forcing his wide receivers to alter their routes halfway through the play.
This style of run-first quarterback play makes players like DeVonta Smith and Dallas Goedert ineffective, which is obviously not what Philadelphia wants.
It's time to start evaluating Nick Sirianni instead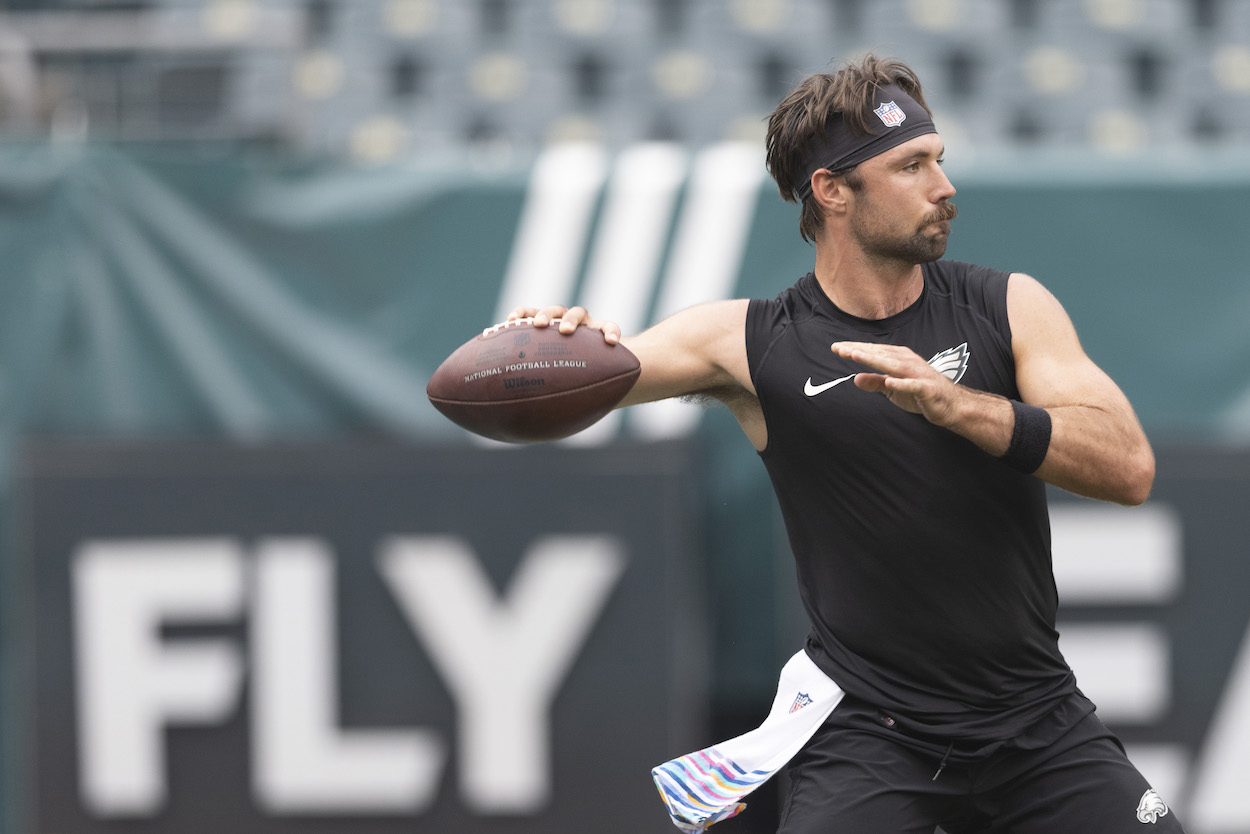 The common argument for riding with Hurts up to this point is that the Eagles "need to see what they have" in him. Eagles general manager Howie Roseman forced former starting quarterback Carson Wentz out of town by drafting Hurts. The consensus hope was that he would blossom into a franchise QB for Philly moving forward.
Across two seasons and two different coaching staffs, Hurts has shown minimal signs of development and progression. His completion percentage is still amongst the league's worst, and his QBR actually regressed (41.0 in 2020, 38.8 in 2021).
It's safe to say Hurts isn't magically transforming into the second-coming of Russell Wilson anytime soon.
With that in mind, attention needs to be shifted away from assessing Hurts and toward assessing Sirianni as a play-caller. As bad as Hurts has looked running the Eagles' offense, Sirianni hasn't looked much better on the sideline.
If the Eagles are serious about progressing this rebuild, they need to determine if Sirianni is an NFL-caliber head coach.
Gardner Minshew gives the Eagles' offense a different look
When the Eagles first acquired Gardner Minshew from the Jacksonville Jaguars this past offseason, they made him their third-string QB. There was minimal thought of him replacing Hurts one day.
However, following Joe Flacco (the Eagles' previous QB2) being traded to the New York Jets, Minshew finds himself one step closer to taking snaps as Philadelphia's starting QB.
Similar to Hurts, Minshew isn't the long-term answer at quarterback for Philly. However, what he offers here in 2021 could greatly aid the Eagles' attempt to evaluate Sirianni. He's a more accurate passer than Hurts (66.1% completion rate in 2020) and has experience running a pass-first style offense with Jacksonville over the course of two seasons.
By slotting Minshew into the starting lineup, the Eagles get a chance to see what Sirianni can do with a different/better quarterback. If Sirianni and Minshew thrive, then you know Hurts was the problem all along.
If Sirianni and Minshew struggle just the same, you fire Sirianni and start from scratch in the offseason.
Either way, the Eagles need to make a change at QB. If things continue at the current rate, Sirianni will be a "one-and-done" head coach. He needs to strongly consider benching Hurts for Minshew to save his own skin at this point.
All stats courtesy of Pro Football Reference.