Eagles QB Jalen Hurts Demands Answers From Washington Football Team and NFL After 'Near-Tragic' Disaster at FedExField
Philadelphia Eagles quarterback Jalen Hurts found himself in a unique position to take pictures with adoring fans after a 20-16 win over the Washington Football Team at FedExField in Week 17. The problem is that it wasn't a planned photo shoot, and Hurts was making the best of what could have been a terrible situation.
When that railing gave way in the corner of the end zone at FedExField, Hurts was able to help pick up the fans off the ground and turned something terrifying into what ended up being a moment of celebration. It could have been so much worse, though.
Hurts seems to understand that, and now he's demanding answers.
Philadelphia Eagles QB Jalen Hurts demands answers from the Washington Football Team and NFL
A few days of space between the incident clearly gave Hurts some perspective. It's not hard to imagine all the scenarios in which things could have gone dramatically worse that evening. Had the railing been higher, or one of the fans fell differently, there wouldn't have been a celebratory picture at the end of that fall.
Credit to Hurts, rather than just stew on the moment and move on, he decided to take some action. Tom Pelissero passed on a note that the Eagles quarterback sent to both the Washington Football Team and the NFL.
"I am writing to inquire about what follow-up action is being considered in response to the near-tragic incident that took place at FedEXField on January 2, 2002," Hurts penned. "As you are aware, many individuals, including fans, media personnel, and myself, were placed in a dangerous situation when portions of the FedExField tunnel collapsed. Although I was able to prevent the barrier from crashing onto me, that was not the same for others who could be suffering from lingering injuries."
Hurts went on to point out that the NFL and its organizations treat player safety as a high priority, and it sounds like he's expecting the same kind of gravity to be applied to this situation.
"What happened on Sunday put both fans and players unnecessarily at risk long after the final whistle," he wrote. "I look forward to hearing from you on this matter."
Hurts wants to see a solution to this safety issue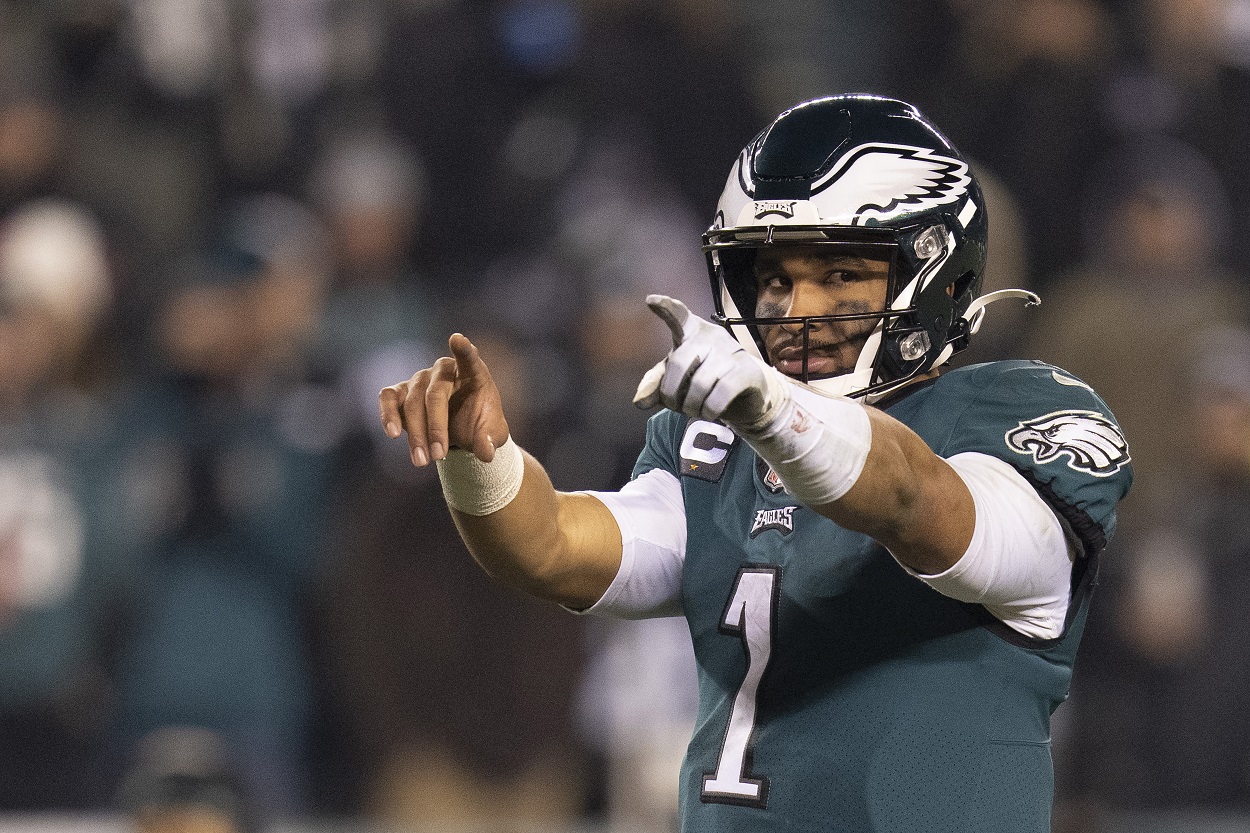 Again, it's not hard to think up scenarios where what happened could have been much worse.
It must have been shocking for those involved and Hurts is right, who knows what kind of lingering injuries could have stemmed from that incident. Still, the NFL, as well as the Washington Football Team, should thank their lucky stars that nobody appeared to be seriously or mortally hurt. If that were the case, a letter from the visiting quarterback would have been the least of their worries.
With that said, Hurts does bring up a good point. The NFL is a multi-billion dollar organization, and it's invested so much money into both player safety as well as fan experience. What happened at FedExField was a complete breakdown of those core tenets. Imagine if one of the fans was seriously injured. Imagine if Hurts was injured, right before the playoffs, nonetheless. Both scenarios were incredibly plausible.
The NFL would be wise to evaluate the situation from every angle to figure out exactly what went wrong and how to prevent it from ever happening again.
Speaking to the media on Tuesday, the Philadelphia quarterback relayed that prevention from here on out is his primary focus, and that's why he sent the letter.
"I tried to handle the situation with a lot of poise and show compassion for the people that fell down, really. I know that it could have been so much worse. It kind of didn't hit me until after the fact. Having some time to reflect on it and think about it, I just wanted to see what could be done to make sure it doesn't happen again," he said, via USA Today. That's all I really care about. That's a very tragic incident, and it could've been much, much worse. I just don't want it to happen again."
Hurts is doing it all for the Eagles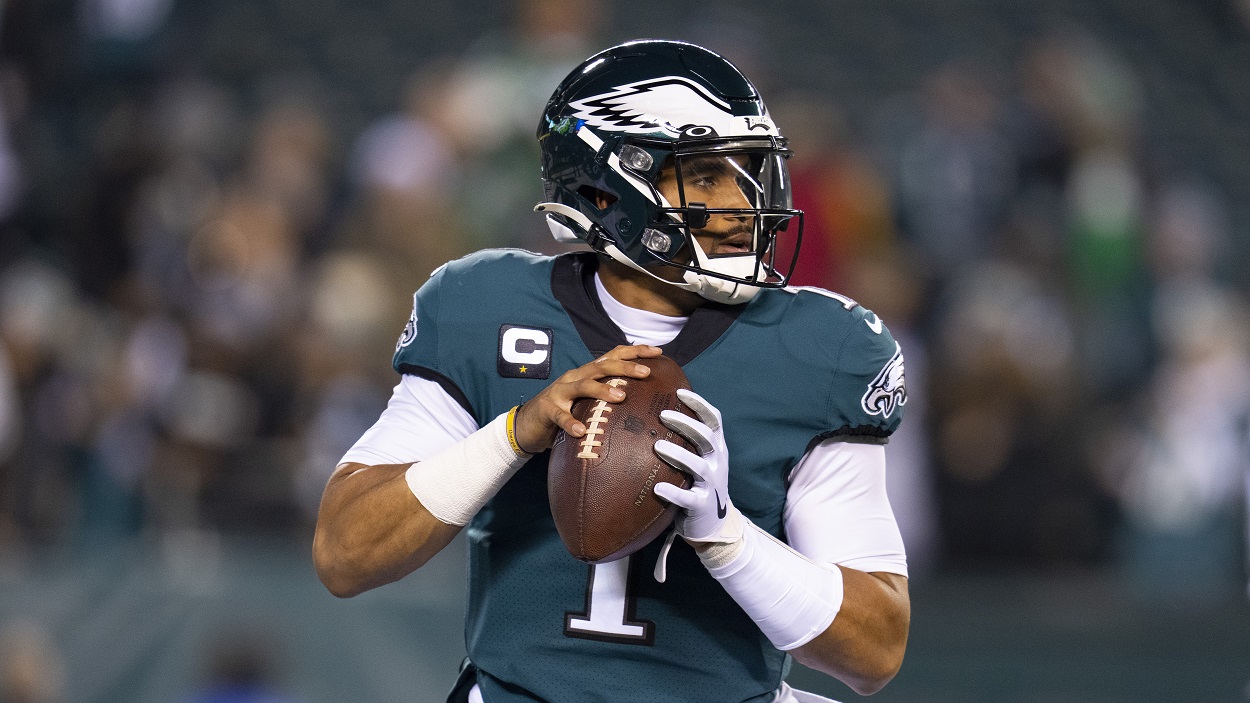 It's worth pointing out that Hurts didn't need to take this stance. He could have simply walked away from the incident and moved on, but it says something about his character and leadership that he's taking the mantle on this and is at the very least publically asking for solutions. Frankly, that's really the only way to get any.
It's clear that Hurts isn't doing this as a publicity stunt, but it doesn't take a public relations guru to see that the Philadelphia quarterback is making all the right moves in his instance. From taking the time to pose with the fans who did fall into the tunnel to publically demanding answers, this is a master course in being the face of a franchise.
Is that what Hurts is becoming?
There have been major questions about his long-term ceiling as a franchise quarterback, but he's certainly led well for the Eagles as of late, and this is despite the fact that he's been nursing an ankle injury.
Philadelphia's win over Washington, plus the 49ers win over the Texans as well as the Packers beating the Vikings, secured the Eagles a spot in the playoffs. The Eagles have now won three games in a row and five of their last six.
During this stretch, Hurts has thrown for five touchdowns with five interceptions, and that's why there are questions about his long-term ceiling. That said, he's been a game-changer on the ground for Philly, rushing for 290 yards and five touchdowns on the ground in those five games.
Playing hurt. Leading hit team to the playoffs. Sticking up for both player and fan safety. Take away the 1-to-1 touchdown-to-interception ratio and that sure sounds like a franchise quarterback.
Stats courtesy of ESPN and Pro Football Reference.