Eagles Legend Ron Jaworski Just Took a Public Stand in the Jalen Hurts vs. Gardner Minshew Debate
Following Gardner Minshew II's impressive starting debut for the Philadelphia Eagles against the New York Jets, questions surrounding the team's starting quarterback position have been swirling left and right. On one hand of the conversation, Jalen Hurts has been the starting quarterback all season long. On the other, Minshew arguably outplayed him from a passing standpoint against the Jets.
Eagles head coach Nick Sirianni has already stated his desire to keep Hurts starting. However, that isn't stopping people from commenting on the team's starting QB job.
Eagles legend Ron Jaworski wants Jalen Hurts to remain the starter
The latest individual to comment on the Eagles QB1 job was Philadelphia legend, Ron Jaworski. "Jaws" Jaworski was with the Eagles from 1977 to 1986, making it to one Pro Bowl during his 1980 season.
Jaworski says Jalen Hurts has earned the right to remain the Eagles' starting quarterback, despite Minshew's impressive game filling in during Week 13.
"Yeah, it is the right decision. Jalen's earned that opportunity," Jaworski said. "He's played well enough to be reinstated when he comes back from injury."
Jaworski isn't ruling out the possibility of Hurts being benched for Minshew later down the road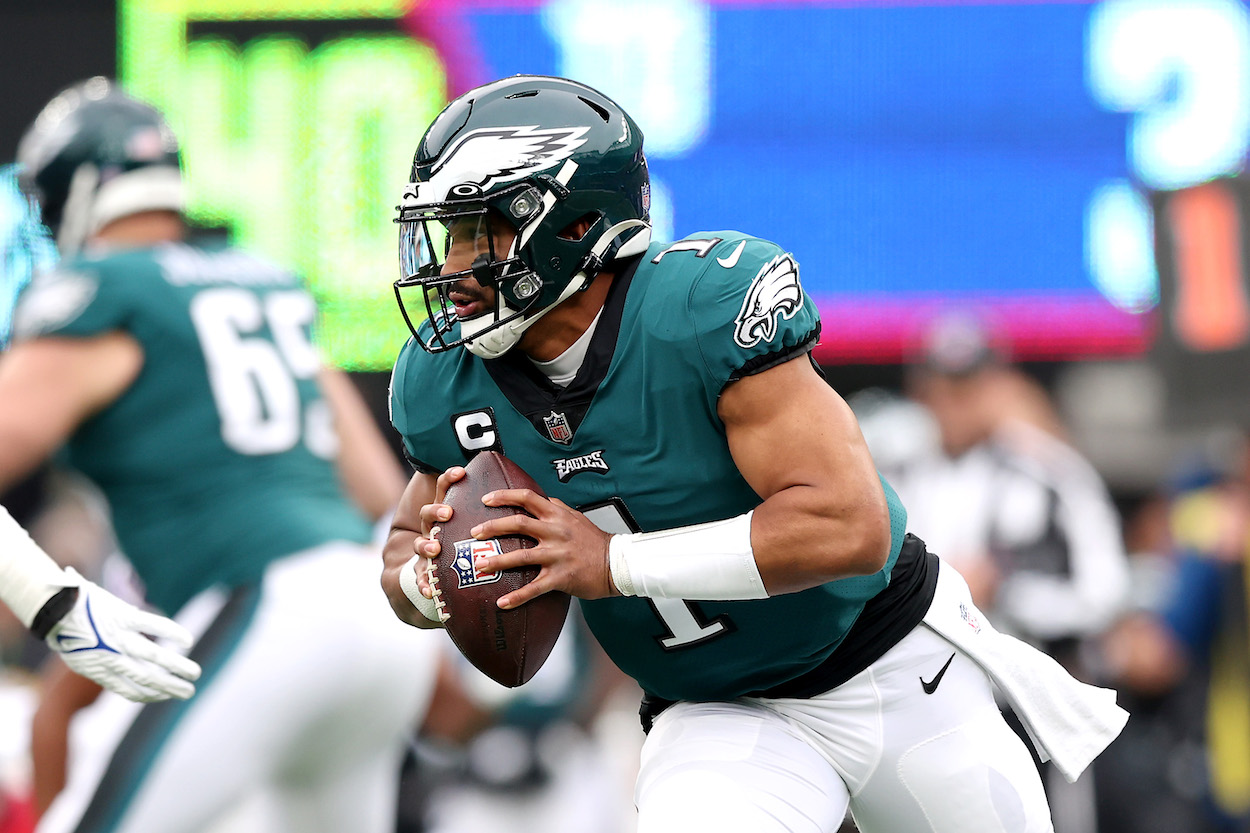 Ultimately speaking, Jaworski's stance on the conversation is pretty cut and dry. Hurts has been the starter all season long, and one of the Eagles' primary goals this year — from an organizational standpoint — was to find out if Hurts has legitimate franchise QB potential inside him. With constant rumors swirling around potential trade targets like Russell Wilson and Deshaun Watson, it would be foolish for the Eagles to pull the plug on Hurts until this experiment is fully fleshed out.
However, Minshew's strong performance shouldn't be cast aside like it never happened. He unquestionably passed the ball better than Hurts, and it happened just one week removed from Hurts' worst game as an NFL quarterback. The Eagles' coaching staff surely took note of the stark difference in playstyles.
Jaworski is no different. Despite his belief in Hurts returning to the starting lineup during Week 15 against the Washington Football Team, he says Minshew's ability will make it an easier decision to turn to him should Hurts replicate his terrible Week 12 performance.
"If Jalen gets into a game like he had against the Giants, I think Nick would be a lot more receptive to making a QB change, knowing he's got a guy like Minshew that gives the team a spark," Jaworski said.
The Eagles shouldn't rush to make their decision
Sirianni was quick to crown Hurts the starter when asked about it after the Eagles' win over the Jets. However, there's no reason for a conclusion to be rushed. Philly is entering their bye week and will have plenty of time to evaluate Hurts' health and the overall status of the QB situation.
If Hurts is less than 100%, turning the reigns back to Minshew for another game or two makes perfect sense. He's proven he can perform like an NFL-caliber quarterback.
If Hurts' ankle is fully healed, inserting him back into the starting 11 makes sense as well.
All stats courtesy of Pro Football Reference.